Article by Columbine Quillen
Recreation – September 2006 – Colorado Central Magazine
"I take lemons and make them into lemonade," replied Monty Holmes when asked what made him think of the idea to open a zip line park on an old mining claim east of Salida.
And sweet it is that he was able to make a desert box canyon that was not producing any gold into a modern- day adventure gold mine that houses five different zip lines, plus caverns, and lime kilns.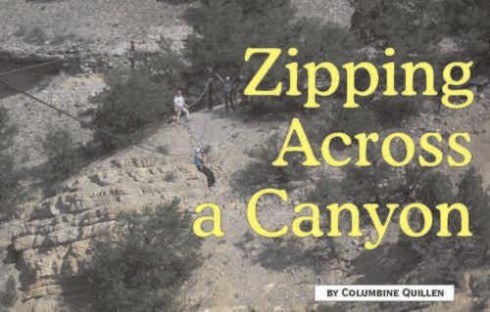 The newest addition to Holmes' Adventure Park are the zip lines that traverse Lost Canyon.
For anyone who has never zipped before, it is a simple process that involves wearing a climbing harness connected by two pieces of webbing to a special pulley device that allows you to roll down a very thick galvanized steel cable.
Zipping is a bit like bowling or playing pool; anyone can do it but it takes some practice to do it well. Good zippists pride themselves on zipping straight without any spinning around.
It is easier than it sounds; it took my group of three about three rides before any of us were zipping perfectly straight. But just like getting a gutter ball isn't necessarily a bad thing, neither is spinning around — as long as it doesn't make you sick. But since most of us prefer to knock some pins down, everyone in my group strove to zip straight, and by the last run, we almost looked like experts.
We were able to go on six zip trips, doing one zip twice. The first trip was slightly frightening for a moment, because after you get hooked up, you find yourself looking down 150 feet, knowing that in less than two seconds there will be nothing between you and that rocky ground far below. But in a minute or so, you are already on the other side of the canyon with a huge smile on your face from the rush of wind in your hair and the exhilaration of flying.
Each zip line works by using gravity. The line has a slight down-grade to it, which in effect pulls you down the cable. The first flight you take is on a line named Zip Trip, which is 261.7 feet long. At the end of this zip you take a short walk through the piñons to the next zip which is named Flight School and is 183.8 feet. This flight takes off from a platform and you land on a different platform, named Pack Rat Penthouse. Below the deck is a pack rat's den, and the beautiful rat-sized cave next to his home is filled with limestone soda straws. Definitely take a look at this small cave before you go onto the next zip, Canyon Flyer.
Canyon Flyer is 373.8 feet and takes off from a travertine flowstone formation. Once you have zipped over to the other side, you are able to view two old silver mines, and an old mineshaft that's deep down in the canyon. After a brief walk, you are able to zip across Zip Trip again, which is not at all scary this time, since you are practically a pro at this point.
THE NEXT ZIP, Cliffhanger, was my favorite since the canyon looks the deepest here. On the short walk over to Cliffhanger you are able to see some limekiln ruins from 1895; make sure to ask about their history because it is fascinating. Cliffhanger is fast and fun, bringing you to the last zip of the day, Gunbarrel which is the longest and steepest of the zip lines.
Gunbarrel is 465 feet long and unfortunately, goes by quick. You arrive at the bottom of the canyon at a beautiful firepot and can go inspect the silver mine shaft (don't fret it has a grate over it) that you saw from high above.
We enjoyed sitting in the sun at the end of our zip trip, looking up at the zip lines that we had just flown across. This is a great way to spend an afternoon in the Upper Arkansas Valley. If you've had you're fill of kayaking, or want to do something after a morning mountain bike ride, definitely give this a go. Since they are quite new, the place hasn't been Disnified yet.
Holmes will escort you to the Lost Canyon from the town of Salida. Make sure to ask him about the property before you alight, since it has many fascinating geological and anthropological sights that will add to your zip line adventure.
Once you arrive at the zip line base camp, Holmes' guides will meet you, and give you the ride of a lifetime. There are very few places where you can go flying down zip lines, so take advantage of this when you have the chance. The cost is $75 for six flights. Other activities are available through Holmes at the Lost Canyon Adventure Park. To book your zip trip today, call (877) ZIPLINE or book your reservation on www.captainzipline.com.
Columbine Quillen — recently voted best bartender in Bend, Oregon — uses her excess energy to sell handcrafted jewelry at www.columbinequillen.com.