By Mike Rosso
Located in the foothills of the Wet Mountains south of Florence, this city-run park offers a variety of outdoor recreational opportunities.
The Newlin Creek Trail, which begins within the park, follows an aged logging road to the remains of an old sawmill. The first half mile begins in a canyon and is relatively easy and then the trail begins to follow Newlin Creek as it gains in elevation. The steep trail winds through a dense forest of evergreens past numerous waterfalls and granite outcroppings. On my visit, I saw at least one rock climber on the trail carrying ropes as well as a safety cushion.
After 2.7 miles and 1,360 feet of elevation gain, you'll reach a meadow where the remains of the old sawmill can be found, built by a man named Nathaniel Herrick in the 1887s, complete with what's left of an old steam boiler and flywheel. Apparently Herrick, who also built the old road, died at the site.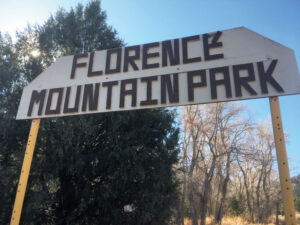 The 5.8 mile roundtrip trail crosses the creek in about 14 spots, so make sure and bring waterproof shoes or sandals, especially in wetter months. Hiking poles can also help navigate the log crossings found along the creek.
Fishing is prohibited along Newlin Creek due to the presence of the endangered Greenback Cutthroat trout. The trail is open to leashed dogs, mountain bikes, horses and primitive camping.
For those who've never hiked in the Wet Mountains, you're in for a treat. As the name implies, they are as lush as forests you might find in the Pacific Northwest and the flora is abundant.
Florence Mountain Park also has an outdoor rustic log amphitheater available by reservation by calling Florence City Hall at 719-784-4848.
There is no hunting, fireworks or glass containers allowed in the park and no firearms except by permit. Overnight camping is prohibited except by license agreement and fires are not allowed except in designated areas/receptacles.
GETTING THERE: From Florence and Colo. Highway 115, turn south onto Colo. Hwy. 67. Follow this road to County Road 15. Keep right for another 2.5 miles until you see the sign for Florence Mountain Park.