By Kim Grant, Colorado Preservation, Inc.
Are there really tunnels under downtown buildings in Colorado's towns? Where do the open staircase entrances in front of many downtown businesses lead to? What kind of businesses occupied these spaces? To find answers to many of these questions and highlight these unique historic resources, Colorado Preservation Inc. listed "Downtown Underground" as a statewide historic resource worthy of protection on Colorado's Most Endangered Places list in 2018. These once common, but rapidly disappearing features, of many downtowns across the state of Colorado include the underground entrances to the lower levels of historic commercial buildings, accessible either directly from the street above or through basement level tunnels and connections. Most of these below sidewalk-grade entrances are accessible by open stairwells from the street level, from which the actual below grade storefronts are still visible. Many are located below the front main facades and have relatively ornate metal stairwell hand railings and balusters, but some are located along the sides or back alleyways of the structures. Many have been creatively adapted for patio seating or for other uses that complement the businesses next to and above them.
Another example of "Downtown Underground" are vaults under the sidewalks that can be accessed from the basement level of retail stores. Clues to their existence can sometimes be found in manhole covers along the sidewalk with colored glass openings that let light into the spaces below. Some vaults offer connections across the streets or alleyways to other businesses, raising questions as to their purpose and engendering all kinds of conspiracy theories about bootlegging, brothels, and other nefarious activities. From Durango to Greeley and from Pueblo to Fort Collins, these unique historic resources are fading away despite their potential for creative, adaptive re-use. Indeed, some merchants have found ways to operate retail businesses and even capitalize on connections to the past. Southcentral Colorado, in particular, has many examples of Downtown Underground in communities such as Salida, Florence, Leadville, Victor, Cañon City, Pueblo, Walsenburg and Trinidad.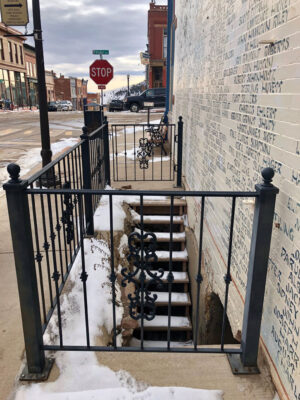 Unfortunately, the uniqueness and significance of the underground entrances and tunnels are not well understood or appreciated today, and many have been filled in, covered up, or simply sealed off. Several underground entrances and tunnels in Pueblo, for example, were silted in during the great flood in the 1920s and sealed up. Others have been lost to streetscaping projects that simply did not appreciate their uniqueness or viewed them as obstacles to a more unified aesthetic and the introduction of new pedestrian amenities. In many places, the store owner does not own the areas directly under the sidewalk and cannot preserve the vaults even if they want to.
Through placement on the Endangered Places list, preservationists hope to highlight the uniqueness of the underground entrances and tunnels and to heighten awareness of their existence and potential for creative use. A historic survey of representative underground downtown entrances and tunnels in Colorado could be undertaken to document their existence and serve as the basis for preservation efforts in concert with a few key interested property owners. By doing so, the "hidden history" of these unique features of our downtowns can be brought to the light and preserved. Salida author Tracy Beach helped to call attention to these resources in her recent book, "The Tunnels Under our Feet," and noted how "the people who have chosen to restore and preserve their historic underground areas set a wonderful example of how this history can be protected."
Kim Grant is the Director of Colorado's Most Endangered Places Program for Colorado Preservation, Inc. and has over 30 years' experience in teaching, state and local government service, and non-profit development, specializing in historic preservation, downtown revitalization, and community planning and development.