By Becki Rupp
It was late March when Brian Beaulieu, executive director of the Boys and Girls Club of Chaffee County, and his board realized that they may not be able to hold their traditional Casino Night fundraiser in Salida in early May. They had five weeks to figure out how to shift gears.
Cancelling was not an option—the event generates critical money for operating the organization's programs for hundreds of kids in Chaffee County. Postponing would have pushed the event too close to the organization's other fundraiser, which is held in the fall in Buena Vista.
Enter Zoom—the virtual gathering platform that became a household tool seemingly overnight. The Boys and Girls Club decided to use it to hold a "virtual event" that included many of the features of their in-person experience, plus an online silent auction.
With a lot of prep work and fingers crossed, they held the kickoff for "Bid Big and Stay Home" on May 2. The 26-minute virtual event included Beaulieu as the emcee, videos of the Volunteer of the Year and the Youth of the Year, and a narrated slide show about the club's "quarantine activities" for the kids.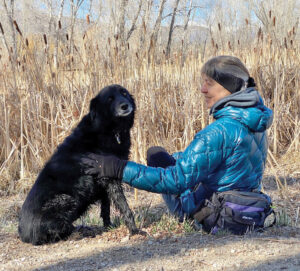 Between those who watched that night, and those who watched later (the recording of the program was posted on the organization's website), the Boys and Girls Club of Chaffee County reached nearly as many people as normally attend the event, plus supporters from as far away as California and Arizona.
And they raised about 75% of what they would during their "normal" fundraising event, thanks to local business sponsors and those who bid on auction items.
"It's better to push through and continue to do what we always do, just in a different format," Beaulieu learned.
While many events are being cancelled or postponed because of COVID-19 public health guidelines, others are being reimagined. Nonprofits in particular are looking at creative ways to hold fundraising events that bring in critical dollars to provide programs and services for the community.
Nonprofits are facing a "perfect storm" of fundraising challenges, according to Joseph Teipel, executive director of the Chaffee County Community Foundation. Events are restricted, individuals are focusing their donations on COVID-related emergency needs, and businesses that usually support them are struggling from the economic impacts of the pandemic.
Meanwhile, many nonprofits have more financial needs than ever to cover. They're getting more requests for help from clients, enhancing technology to deliver services, and adding health and safety procedures.
The Ark Valley Humane Society also realized in mid-March that their scheduled May 17 Tails on the Trails 5k walk/run was likely to be cancelled due to public health concerns. So Emy Leubbering, the organization's outreach manager, did some quick research and found examples of other organizations hosting "virtual events."
So Ark Valley Humane Society responded by shifting their Tails on the Trail spring fundraiser to a "virtual race." Those who signed up could do the 5k walk/run anytime between March 31 and May 17, and participants were encouraged to share photos of their experience on social media with the hashtags #TailsOnTheTrails2020 and #arkvalleyhumanesociety.
The event raised about 40% of what it usually does, according to Amber Van Leuken, the nonprofit's executive director.
They also ended up doing a new virtual fundraiser called "Good Pet, Bad Portrait," which brought in additional money and got more of their volunteers involved. Van Leuken noted that when considering fundraising options, it's important to consider your community resources and tap into them.
As of mid-June, some fall events are still on the calendar, though they're working through contingency plans.
The Crest Crank, scheduled for Sept. 20, is the top fundraising event for The Alliance, which helps victims of domestic and sexual assault in Chaffee County.
The mountain bike event usually includes a shuttle for riders up to the Monarch Crest and back to Salida, medical and mechanical support, an aid station, and a post-ride celebration in Salida's Riverside Park.
The planning team has been exploring how to adjust the in-person event based on public health guidelines, as well as options to offer a "virtual ride" experience in case the in-person event isn't possible.
"At every turn there is something that is impacted by social distancing guidelines," said Kim Bouldin, who originally organized the Crest Crank more than 20 years ago and is now the housing coordinator for The Alliance. "Our event is really based on community and bringing people together."
As challenging as it is to figure out the event, though, Bouldin is on the front lines of the bigger challenges that clients face with economic pressures and more time at home in tense situations. So she and the team know it's even more important than ever to raise money so they can continue to help clients in need.
More than 100 nonprofits provide programs and services in Chaffee County. Although COVID-19 is currently top of mind, these organizations support the health of the community across a broad range of needs. And financial support for these organizations is vital to the community thriving in the future.
Becki Rupp has lived in Salida since spring 2017. She is the coordinator for the Crest Crank and other events for The Alliance, a personal trainer at Kim's Gym, and a member of the events team at Monarch Mountain. She's also a member of the Salida Sunrise Rotary and volunteers with Salida Mountain Trails.