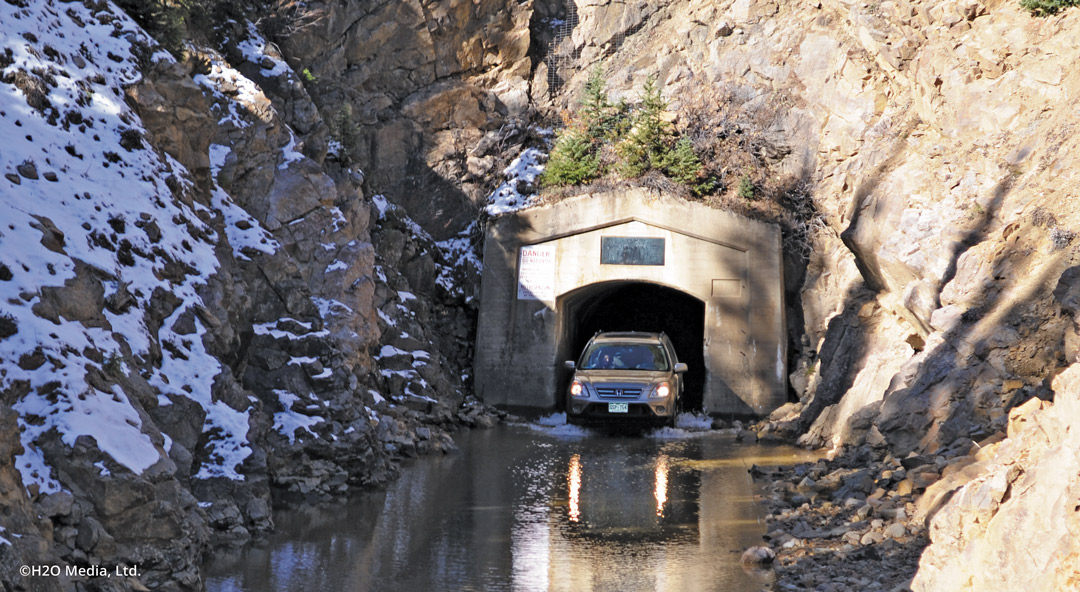 By Frani Halperin, H2O Radio
Glenn and Kim Schryver are the nicest people you could ever meet. The kind of people you'd love to have as neighbors – considerate, handy, friendly, and funny. Only, if you lived next-door to them, your driveway would be four miles long through a narrow tunnel barely wide enough to fit a car – and one that actively carries water. Glenn and Kim are the caretakers of Grizzly Reservoir, just east of Aspen, and the tunnel is, for many months of the year, their only link to civilization.
It's also a crucial linchpin in a very complex plumbing system of ditches, canals and storage that transports water west of Colorado's Continental Divide east to thirsty cities along the Front Range.
And it's on the east side of the tunnel where my co-producer Jamie and I have arranged to meet them to learn more about their unusual job. We've parked on the side of the creek and we're staring intently at the entrance to the tunnel that has a "No Trespassing" sign and a metal gate to keep the curious away. We more expect to see a boat emerge than a car, but after a few minutes, we hear splashing sounds getting louder and louder until, finally, we see headlights, and then a Honda appears from the opening.
Before the Schryvers left home this morning they had to close a gate to stop water from flowing through the tunnel – an idiosyncrasy of their lifestyle that we're about to experience firsthand as we climb into their car to make the return trip. It will be a drive under a mountain that will take nearly 15 minutes to complete.
Kim asks if we're nervous and Glenn reassures us that it's a "walk in the park." Driving in it, it becomes immediately apparent that the tunnel is, in fact, a concrete pipe. Glenn agrees and notes that "It's about four miles long, straight as a gun barrel."
It's so straight that when I ask if he could take his hands off the steering wheel, Glenn says he can because there are driving shelves on the side and a trough in the middle, so it keeps the car centered in the pipe.
It is, of course, completely dark in the tunnel if Glenn were to turn off his lights, which we've been warned he does to humor nervous visitors. The tunnel is actually a 9-1/2-foot-diameter concrete pipe built in the 1930s and paid for by farmers from the town of Ordway, on the southeast plains of Colorado. Glenn says it was built by unemployed mineworkers and was an engineering triumph because they blasted it out from both sides, and when they met in the middle, they were only nine inches off from each other.
The tunnel is part of the Independence Pass Transmountain Water Diversion System and is still owned and operated by the Twin Lakes Reservoir and Canal Co., based in Ordway. In the late 1970s, municipalities were looking for water, so now the cities of Colorado Springs, Aurora and Pueblo own most of the rights. When the gates are open, water will rush east through the tunnel to Twin Lakes Reservoir. From there it flows into the Arkansas River and eventually to faucets some 150 miles away.
Driving through the tunnel feels more like being in a boat than a car, and in fact occasionally Glenn and Kim see fish jumping in the few inches of water left along the bottom. Every so often a big splash of water will smack the windshield from inlets in the ceiling that relieve pressure from springs up above.
The Schryvers travel through the tunnel about once a week to get their mail and groceries. When they first took the job in 2008, they used to go every day to drive their son to school. These days Glenn says it just depends on what's going on and what time of year it is. In May and June it's pretty much impossible to drive through the tunnel because there's so much water they can't shut it off.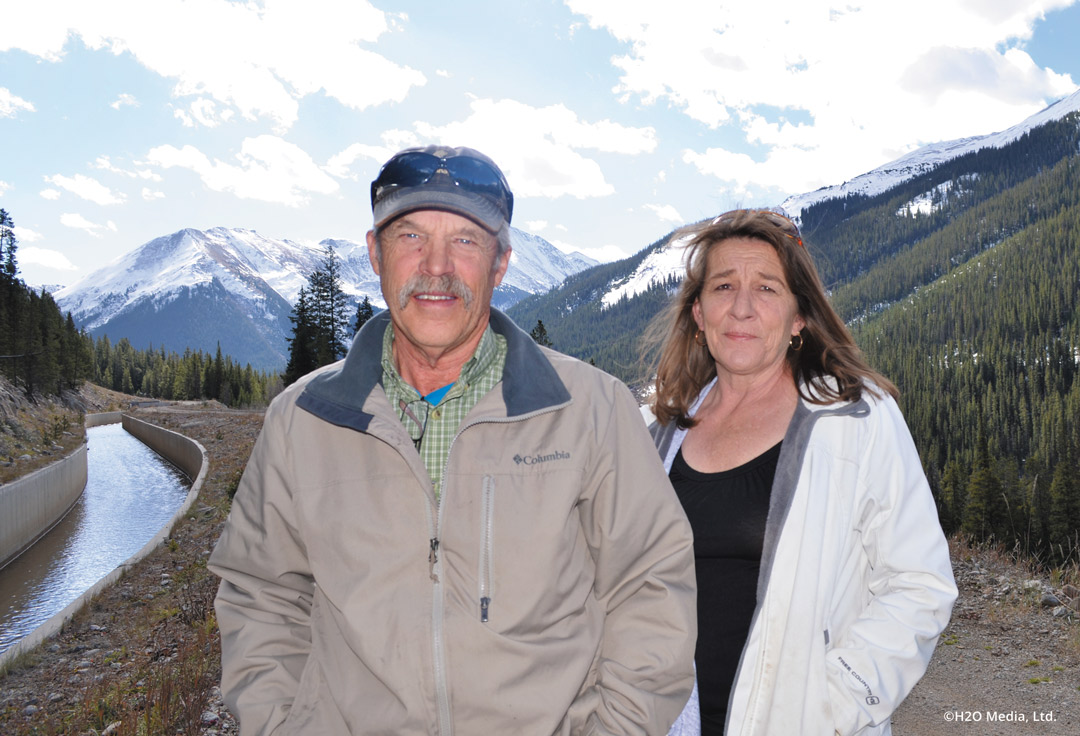 It's not that long before we see what we hope might be the proverbial "light at the end of the tunnel," but it turns out to be a reflection of our headlights on one of the three tunnel gates, which allows water in from the reservoir. We're about 20 feet below the top of the water level at this point.

Glenn makes a hard left up a ramp and pushes a button to open his "garage door." We daylight into a setting of pure Colorado mountain beauty. Before us is the reservoir – aqua blue and sparkling in the morning sun. The lake collects water from several creeks in the 54-square-mile watershed. Those creeks are funneled into systems that each have culverts, spillways and gates of their own, and it's the Schryvers' job to keep them flowing. In fact, we've met them in their "busy season." Fall is when they do much of their maintenance and repair work, which can range from cleaning out diversions and canals, to grading the 25 miles of road like the one we're driving on now as they give us a tour of the different diversions.

They're also responsible for charting how water is moving through the system. Kim reviews logs every two hours and notes the water amount. They have to show due diligence on the water, proving what's coming in and where it's going, as well as how it's being used.

The simplicity yet sophistication of the system is impressive, and Glenn thinks it would be good if folks on the Front Range could see what it takes to deliver their water. They offer tours every so often and people are pretty amazed that there's not one pump in the whole system. It's all gravity-flow.

Their winter routine is more relaxed; time is spent measuring snowpack and repairing heavy equipment, like their bulldozer and front-end loader. They'll put those into use in the spring clearing roads that will be likely under snowdrifts at least nine feet deep. For Kim, this is a part of their gig that's not her favorite. She admits that the scariest part of the job for her is when they plow out in the first part of May. When Glenn is in the dozer, she's cleaning up behind him pushing snow off the sides of the mountain. Being up high on a loader she can see over the cliff and laughs, that "it's the time when she gets caught up on her prayers."

Still, she and Glenn wouldn't trade their job for anything. They clearly love each other's company and the beautiful setting that they share. And frankly, they joke, if they did ever have a spat and threaten to storm out, they'd have to wait two hours for the tunnel to drain. Kim says that by the time two hours would be up "you'd done forget what you were even leaving for."

Glenn reflects on how much they love their job and the surroundings, adding that "the last two guys who did this job died up here, so that's our plan."