Article by Kenneth Jessen
Local History – April 2007 – Colorado Central Magazine
JOSEPH MILTON LAMB came to Central Colorado to search for gold, but before he turned thirty he was hunting for something far more dangerous: Colorado's worst serial killers.
At the tender age of twenty-three, Joseph Lamb traveled by oxcart caravan to Denver to join other "'59ers" eager to strike it rich at Cherry Creek and the South Platte River, and Joseph Lamb and a small group of men were among the first gold seekers to arrive at California Gulch, south of the future City of Leadville. There he learned how to pan for gold and locate good claims. But after the placer gold was exhausted, he moved on to other trades.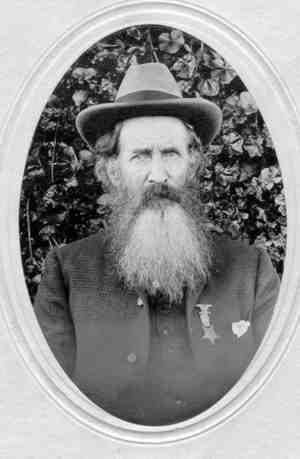 For a while, Lamb ran pack trains from Cañon City to Leadville through land controlled by the Ute Indians. In 1862, he joined Nat Rich, and the two men were hired to drive fifty head of Texas steers from Cañon City to Leadville to satisfy a demand for fresh beef.
Enroute, Lamb and Rich bedded the steers down next to a creek which flowed into the Arkansas River. But during the night, the howl of a mountain lion stampeded the herd, and it took the men two days to round up their steers. In honor of their hard work, they thought it appropriate to name the stream Texas Creek. Lamb really liked the country there, and later returned.
In the meantime, the Espinosa family of New Mexico was growing disastrously discontented. Anglos were pouring into their homeland, and the Espinosas claimed some had settled on their property, were running off their sheep, and had even killed one of their children. In the early 1860s, two Espinosa brothers, Vivian and Jose, started stealing horses.
In the spring of 1863, the Espinosa brothers stopped and robbed a wagon in northern New Mexico, and soldiers from Fort Garland were sent out to capture them. The military men found the brothers at a cabin, but the Espinosas weren't inclined to surrender peacefully. Instead they fired upon the soldiers, killing one and scattering the rest, then escaped into the Sangre de Cristo mountains. That's when their reign of terror really began. The brothers headed north, killing a sawmill operator on Hardscrabble Creek; then another man near Fountain Creek; then a rancher in South Park; then four more men in the Red Hill area.
Although historical accounts vary, the Espinosas murdered as many as 30 or more people altogether — or 22 by other accounts — and managed to elude capture by killing all who could identify them. But near Fairplay, one man was lucky enough to escape, and based upon the description he gave, a posse was formed.
JOSEPH LAMB made quite a name for himself by joining that posse to hunt down Colorado's worst serial killers. The posse knew they were gaining on the killers by examining each successive camp. Finally, they found a campfire that was still smoldering and they realized that if they traveled all night, they would overtake the Espinosas.
The following morning, the posse saw two horses in an open meadow in what was later named Espinosa Gulch north of Garden Park. As they waited, one of the Espinosas came out to unhobble one of their horses. Lamb shot him through the chest, reloaded and waited. As the second Espinosa appeared, Lamb lifted his rifle and took careful aim. As Lamb was about to shoot, one of the posse members shouted that he thought the man in the distance was part of the posse. This stopped Lamb from pulling the trigger. During this moment of hesitation, the other Espinosa fired and the bullet went through the rim of Lamb's hat.
But José Espinosa was dead. The posse members examined the body and discovered that Lamb's shot had cut the fourth rib on each side of his chest.
Possibly out of fear, the posse abandoned the chase then, and soon Vivian Espinosa had recruited another family member. Both were subsequently hunted down by army scout Tom Tobin in the San Luis Valley, where they were both shot and decapitated. Their heads were delivered to Fort Garland.
In 1864, Lamb became a member of the Colorado Volunteers to fight the Indians who were making raids on farms south of Denver. This placed Lamb under the command of the notorious Colonel John Chivington. On November 29, 1864, Lamb witnessed the worst day in Colorado history, the Sand Creek Massacre. Unarmed Indians from several tribes, including women and children, were slaughtered and mutilated, and Joseph Lamb later recalled how appalled he was by the event.
Lamb continued his freighting operation from Cañon City to Leadville until his marriage in 1871. Lamb and his new bride wanted to live in the Texas Creek area, but it belonged to the Ute Indians, and Chief Colorow told Lamb he could not build a permanent structure.
So the Lambs lived in a teepee, and kept pleading with Colorow to allow them to construct a cabin. Joseph Lamb reminded Colorow that he had warned the chief of an Arapaho raiding party coming up the Arkansas Valley, and Colorow finally relented and gave Lamb permission to build a cabin. Soon afterwards, however, the Ute Indians were relocated to the western part of the state.
At his new Texas Creek homestead, Lamb found himself on one of the major supply routes into the upper Arkansas River region. Lamb sold produce to the passing traffic, but his prosperity was not to last. As railroad lines were opened into the mountains, wagon and stagecoach traffic dwindled. By 1885, Lamb was so poor he was forced to sell his farm and move to Hillside.
THERE, HE FILED ON 160 acres and constructed a new home. By this time, he and his wife were raising eight children. They built a four-room house, but disaster struck again, and it burned to the ground. Lamb and his wife had to start all over again and build another home. The family of ten lived in their 16-foot by 36-foot log cabin for seven years — until the mortgage company foreclosed. At that point, one of Lamb's daughters filed on a homestead adjoining the farm so that he could at least have a place to camp.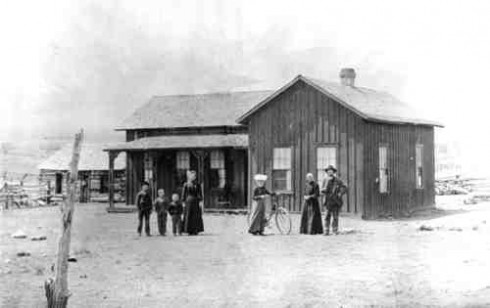 The Denver & Rio Grande Railroad's first rail line from Cañon City to Westcliffe used what seemed like a very logical route up Grape Creek. But the route selected was vulnerable to flash floods, something the railroad didn't realize when it built in that unsettled area.
The line was started in 1880 and completed in 1881, but just two years later, it washed out and had to be rebuilt. Another flood in 1889 washed the tracks away again, and the line was abandoned the following year; whereupon, Lamb contracted to salvage the ties, and purchased the section house located at Blackburn Station. The structure was at the confluence of Dead Mule Gulch and Grape Creek a little over six miles downstream from the present-day De Weese Reservoir, but Lamb moved it to his new homestead at Sand Gulch.
Despite all of his hardships, Joseph Lamb prevailed. He died at the age of 83 at his son's Sand Gulch homestead, and many of his descendants still live in Colorado, including John Lamb in Littleton.
As a side note, the Denver & Rio Grande did not give up on reaching Westcliffe and the mines in the area. In 1900, they started construction on a new standard-gauge line which followed Texas Creek past Hillside. It was completed the following year, and abandoned in the late 1930s.
Ken Jessen is the author of Ghost Towns, Colorado Style; Bizarre Colorado; Eccentric Colorado and many other volumes about Colorado places, legends and lore.