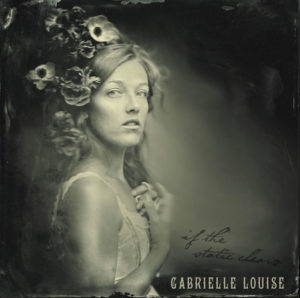 Reviewed by Brian Rill
Gabrielle Louise should be a movie star. Shrouded in stage lights, her enrapturing silhouette inspires lucid dreams. All that is divine moves on light feet and Gabrielle slowly drips her words onto the ear drum, barely striking it. A pseudo-drawl crawls over enticing acoustic guitar chords, vaguely jazz-laden with western flare. She wrote the first tune on a baby Martin guitar given to her at an early age and was forever inspired to become a songwriter.Fans of Gabrielle will be moved by the pristine recording quality that is expected from a musician of her caliber. The compact disk was crowd-funded through 140 donations from loyalists eager to support their favorite performer's decades-long career. After sharing a stage with the likes of Guy Clark and Richie Havens, the young troubadour has come a long way, while striking the Colorado music scene with quite a strong forefinger print.
On track number four, "Love On The Rocks," appears a guest singer who has also made a big name in the Denver music arena, songsmith Megan Burtt. Megan's backup vocals appear even more ghostly and translucent than the low rising whispers of the lead singer. The namesake of this brand new CD, If The Static Clears, confronts the issue of mental illness drawing away a loved one. A catchy riff and folksy hook form the main idea of the song. "He thinks he's got it figured out, he thinks he's got it pegged. I'm someone he can do without if there's static in his head."

If you're looking for an up-tempo Americana sound, then the steady drawn-out ups and downs may make you a bit seasick. Gabrielle sticks to her provincial roots, gradually evolving over the course of 11 songs, using whole notes rather than short vocal bursts, rarely reaching beyond a lulling pace. The most uncharacteristic baritone timbre of her voice often makes one wonder if she is singing within the dense atmosphere of an extraterrestrial planet. At times angelically toned while also delving deep into the subterranean vibration of languid delta blues, she shows a rich range of genre.
Appearing on public radio's
Art Of The Song
allowed Gabrielle to expound on her grand creative theory extrapolated in her TEDx talk,
The Breath Of Experience
. Passion for environmental issues are at the heart of her life. Citizens for a Healthy Community, a non-profit that supports activists against hydraulic fracturing in Colorado's North Fork Valley, is among many organizations that she helps. She wrote the campaign song for "Save the Arkansas River" and has toured using 100 percent biodiesel.
Gabrielle Louise likes to make friends with strangers and always lends musical advice. A poignant personality hides in her offbeat demeanor and there is something likeable within all aspects of her charm. A slow chanteuse- costumed character masked in lights sings at the driest desert nightclub. Will you stop by, drag yourself in and see a vision of beauty tread the boards? Or maybe just drive by with Ms. Louise playing on the car stereo, because after all, in the words of the late, inimitable H.S. Thompson, "this is bat country!"
Brian Rill is a teacher, performer and activist poet. Voted Salida's best musician 2009 and award winning Latin songwriter.