By Mike Rosso
Directed by Bunee Tomlinson, 2019
When I first saw Bill and Bonnie Hearne perform at the former Durango nightclub, Farquahrts, in the 1980s, I decided should I ever get married, I would hire them to play the reception. Their mix of folk ballads, country classics and straight-ahead rock and roll had an appeal which transcended the spectrums of age and musical tastes. They also seemed to know how to have a good time.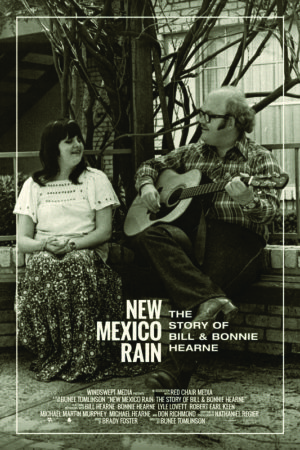 A staple of the Austin, Texas, and northern New Mexico music scenes since the late 1970s, their influence reached far and wide across the American southwest.
I never did tie any nuptial knots, and Bonnie passed away in 2017, but Bill is still out there making music. I had a unique opportunity to see him perform recently at Society Hall in Alamosa, backed up by his old friend, multi-instrumentalist Don Richmond. They were on a tour to help promote a new documentary short, "New Mexico Rain: The Story of Bill & Bonnie Hearne," which was screened before the performance.
The film, directed by Bunlee Tomlinson, consists of old film footage of the duo as well as recent interviews with Richmond, Robert Earl Keen, Lyle Lovett and Michael Martin Murphey, all singing the praises of the Hearnes. Bill is legally blind from birth and Bonnie was totally blind. They met in college in Texas and performed together until 2003, when Bonnie had to quit touring due to health issues. The pair moved from Austin, Texas, to Red River, New Mexico, in 1979, where they became the house act at Chubbier's Tavern until relocating to Santa Fe a decade later. In 1997, they signed with Warner Bros. and recorded John Prine's "Diamonds in the Rough," which climbed to fifth on the Americana chart that year. The film also features footage of Bill and Bonnie in their home, gracefully navigating daily life despite their disabilities. Rare concert footage is also woven into the film, providing a glimpse of their evolving style over the years. This intimate portrait reveals the love and commitment they have toward their music and to each other. Not a songwriter himself, Bill lends his own distinctive voice to performers such as Ian Tyson, Chris Hillman and Chuck Pyle.
The film is an Official Selection of the 2019 Santa Fe, Durango Independent, Taos Short Film, Deep in the Heart, Thin Line Fest, Bare Bones International and Twister Alley film festivals. Even if you are not familiar with their music, "New Mexico Rain," is a beautiful glimpse into the lives of two uniquely talented and beloved musicians.
Bill and his trio can be seen on any given Monday and Tuesday night at the historic La Fonda Hotel, on the plaza in Santa Fe, where he has been performing continuously for 27 years. For more info on the film, visit: www.newmexicorainfilm.com