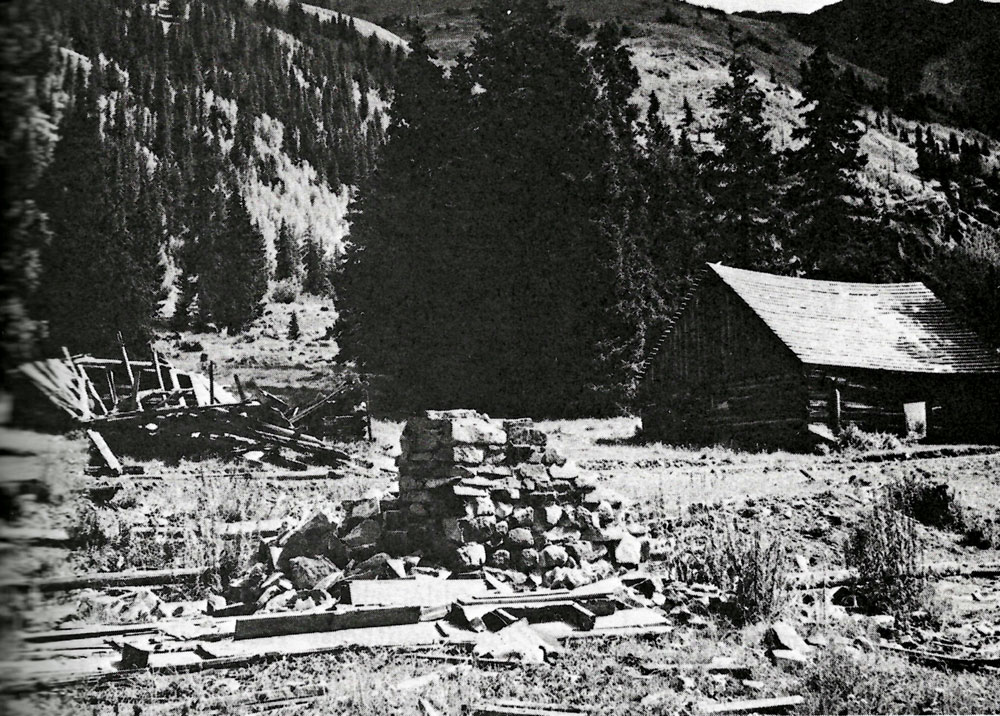 Born in New York in 1835, Rose had made his way to Colorado by 1873, where he took up mining in the majestic San Juan Mountains. He built his home in a gorgeous high-mountain meadow, roughly halfway between Ouray and Lake City. When entrepreneur Otto Mears built a toll road along Engineer's Pass in 1877, Rose's place officially became known as Rose's Cabin, complete with a store, eating house and roughly 50 miners. A passing stage line guaranteed further success, since the coaches stopped at the camp to change horses.Fifteen miles from Lake City, along Engineer Pass, lie the ruins of a dream held by one man. His name was Corydon Rose, and today he is remembered as the courteous host at his namesake mining camp, Rose's Cabin.
Rose's mining endeavors also paid off. By August, his "Blue, White and Gold" silver mine was assaying at $243 per ton. A month later, a travel correspondent for Lake City's Silver World newspaper described the genteel hospitality extended to some proper ladies who spent the night at Rose's Cabin:
"A small log cabin with dirt floor and side bunks partially filled with pine boughs was assigned to the ladies. The roof covered with dirt, a few stones in one corner in which was made a fire, nearby a beautiful, clear, cold rivulet furnished facilities for making their toilets; a couple of miners' candles were substituted for gas, and the sides of the berths were utilized for seats. It was a novel sight to see a bevy of ladies accustomed to luxurious surroundings thus quartered for the night, and from the peals of laughter continually pouring forth, the novelty was evidently enjoyable in the extreme."
Nearby, Merritt's Restaurant contained a cookstove, a "rough plank" table and benches made from planks set on empty powder kegs. A "very creditable meal" was served in tin plates and cups. The writer and his friend slept in this cabin alongside five or six other men. Their accommodations consisted of "blankets spread on the bare, hard ground, with not even the intervention of pine boughs."
In February 1878, Corydon Rose and his partner, Charlie Schafer, were inujred in a rockslide. The two were at Schafer's cabin at the Moltke lode when they heard the slide roaring down the hill. The men "attempted to escape but were caught in it and carried down the mountain and badly hurt," reported the Silver World. Rose especially was "pretty effectually jammed up," leading to speculation as to whether he would live. He survived, but with permanent injuries.
Rose's Cabin continued gaining popularity. In June, the Silver World reported that "the mines above Rose's Cabin and in that vicinity are employing quite a force of men." A post office opened later that year with Schafer as postmaster. Advertisements for the camp offered "meals and lodging, hay and grain, liquors and cigars," as well as a "pack train of 60 animals," and a second floor was added to Rose's original cabin.
Rose typically stationed himself at the door, wearing a long black coat and a high hat. His signature greeting was "Howdy, stranger," followed by an invitation to step inside where a bar ran along one side of the room. There was also a faro table, with a dealer wearing "short sleeves, plush waistcoat and long flowing tie." Upstairs, 22 spindle beds, divided by partitions, awaited the weary traveler.
In 1880, Rose shared his roomy cabin with several others, including two women. One was Cornelia, wife of silver miner William Porter. The other was Jennie Eastman, a divorcee with three children whose oldest son, 14-year-old Ira, worked as a teamster. Male residents of the camp included laborers, miners, carpenters and teamsters, as well as a blacksmith, saloonkeeper, butcher and druggist.
On his wedding night in 1884, Charles Schafer and his wife Augusta, still wearing her wedding gown, walked the whole fifteen miles from Lake City to Rose's Cabin. When the census was taken in 1885, one of the couple's lodgers was identified as mail carrier William Owens. Corydon Rose, meanwhile, was in Lake City and also worked as a mail carrier. Rose and Owens likely stayed at both Lake City and Rose's Cabin as they transported mail back and forth.
That same year, George Crofutt's Grip-Sack Guide of Colorado counted 120 people at Rose's Cabin. For a dollar, the camp could be reached by hack during the summer months. In winter, Crofutt suggested reaching the camp via "winter saddle and snow-shoes." Overall, Crofutt noted, there were "a great many mines and good 'prospects' which, with improved facilities, will make this one of the prosperous camps of the country."
In spite of Crofutt's prediction, the post office closed in 1887. Although about 50 miners continued living in the area, Corydon Rose was in Montrose by 1890. Meals were still available at Rose's Cabin as late as 1895, when a correspondent for the North Platte Semi-Weekly Tribune recalled, "At noon we halted at Rose's Cabin and had a good dinner – the finest in milk and butter."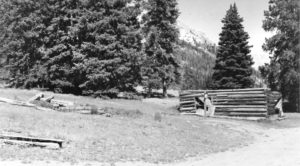 The Schafers remained at Rose's Cabin as late as 1900. In time, larger mining conglomerates moved into the area. One of them, Golconda Mines, Inc., proposed using Rose's Cabin as their headquarters, and a telephone was installed connecting callers to Lake City. The new phone came in handy in September of 1900, when Jos Nevin and Andy McLaughlin scuffled over a card game at Rose's Cabin. "Nevins assaulted McLaughlin with an axe and was shot and killed by the latter," reported the San Juan Prospector newspaper.
The news likely did not reach Corydon Rose, who had moved to Utah. His trail might have been lost but for a 1905 article in the Salt Lake City Herald. "Corydon Rose, an old gentleman who had been a county charge for the last two years, placed an advertisement in the Moab paper inquiring for his relatives in Kansas," the paper explained. "The advertisement was answered by a nephew, who took the old gentleman back to Kansas with him. The young man stated that Mr. Rose was the owner of a farm of 160 acres within ten miles of Kansas City, which is worth $10,000."
Rose's brother, August, had apparently made significant improvements to the farm. Although August died in 1904, Rose's nephew willingly took in his uncle. Rose lived out his life comfortably, dying in 1908. His gravestone bears the simple inscription, "Uncle Corydon." Charles Schafer had also died, in 1907. He is buried in Lake City, where his tombstone identifies him as "owner of Rose's Cabin on Henson Creek." Today, not much is left of Rose's Cabin but the ruins of a chimney and a couple of log walls.
Jan MacKell Collins is a gypsy rogue scholar who can't stop living in the past.