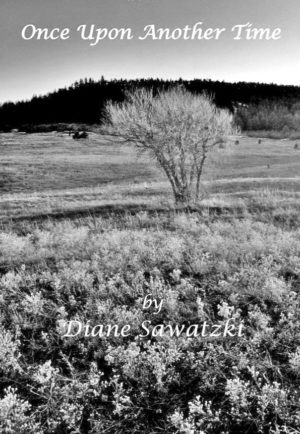 By Diane Sawatzki
Palmer Divide Productions, paper, 306 pages, $9.95
ISBN-10: 1480206318, SBN-13: 978-1480206311
Reviewed by Annie Dawid
North of Colorado City and west of Colorado Springs, there exists a deep cave with a passage to the future and the past, which opens only during the equinox. In the fall of 1863, with the Civil War raging back East, a Ute named Victor accidentally passes through the great hole and finds himself in the 2010s. Our world, with its cars and cell phones, diminished Native lands and asphalt-banded prairies, houses him for years, but it is never home. In spring, Kate MacKenzie, an iPhone-carrying biology teacher, is tending her ailing grandfather in Colorado Springs when a hike across a mesa from her grandparents' cabin takes her to the cave, where she is trapped by a squalling snowstorm, forced to spend the night.
When she wakes, she and Victor find themselves together in the unpeopled landscape of March 1864, where Utes and Arapahoe and Apache share the Colorado territory, often unhappily, with one another as well as white miners, tradespeople and settlers.
Upon leaving the cave, Kate is immediately set upon by two white bandits, who attack and attempt to rape her. Purposely, Victor has followed behind with his pistol and kills them, saving Kate's life. Thus begins a love story between the two inhabitants of different centuries, connecting in one world, though we do not know if their bond will be permitted to transcend time.
The Colorado of Once Upon Another Time contains grizzly bears and raucous saloons, 15-year-old illiterate prostitutes and Mexicans who befriend the Utes, as well as those who contribute to the banditry and general lawlessness. Kate discovers that this world bears some resemblance to the 21st century Colorado Springs she's just flown into from Seattle, where she now lives. However, the Colorado she discovers after her transit is purer, cleaner and more brutal in many respects, as her first experience outside the cave proves.
The narrative focuses on the Utes, however, and all who interact with them, offering a portrait of a lost world, with Bear Dance ceremonies and children fluent in their indigenous tongues. Coming from the 21st century, Kate and Victor know too well what will become of these Utes – as well as the Arapahoe and other tribes still living freely on the land, riding the mesas on horseback, living in dwellings they construct by hand and take with them in their migrations with the seasons.
The contemporary reader also knows what gold mining will do to places like Victor, where greed will rupture the land, leaving behind ruined lives and ghost towns like nearby Goldfield, as well as the disappearance of the grizzly from this part of the West.
Kate and Victor become real to us, though the circumstances of their meeting are fantastic, in the fantasy sense of the word. Both widowed, they are in their 30s and alone, seeking connection, although their romance does not begin automatically. It is dangerous in 1864 Colorado for a Ute to keep company with a white woman. Hence, Kate affects a male disguise, which affords her a freedom of movement not shared by many white women of that time. Eventually accepted by Victor's tribe, she finds a welcoming home in their culture – unlike Victor during his time in the present. Fortunately, Kate is a horsewoman, completely at home in nature.
She's never ridden with a large group, and feels part of a breathing, vibrant creature, moving as one across the prairies. She loves the freedom of the ride … The women ride as well as the men, their legs gripping their ponies with fluid grace, their hair whipping behind them like black, iridescent scarves.
Once Upon Another Time, as its name suggests, is a kind of fairy tale, one in which adults with a fascination for the Old West will delight.