Tiffany Hodges Smith took this month's cover photograph during Colorado Fly Week, held this past July at her home near Villa Grove, Co. The event, celebrating hang gliding and paragliding in the U.S., was the result of more than a year's planning and preparation on the part of Tiffany her hang-glider husband, Larry Smith.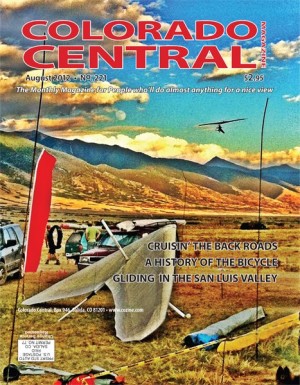 Tiffany traces her interest in photography back to her childhood and her first camera, a twin lens reflex. Having worked in child care in her late teens and early twenties, she came to enjoy photographing children: "I really loved capturing close-ups of young-uns' faces … there is so much expression to be found in those little faces."
In the 1990s she traveled to Europe and began to focus on landscapes, emphasizing critical composition techniques.
"Nowadays," she says, "I'm just grateful to always have a camera on me (my trusty iPhone) to capture moments and sights at a moment's notice. And of course with all the fancy camera apps for iPhones, I compose an excellent image and then tweak it with any number of cool filters … this can consume me for hours at a time."