For a week or so this summer, the majestic Sangre De Cristo mountains served as the backdrop for a colorful array of gravity-defying crafts, catching thermals and drifting on the wind.
Dubbed Colorado Fly Week, an event held this past July just east of Villa Grove hosted nearly 130 hang gliders and paragliders from all over the U.S., testing their skills, enjoying the views and raising money to improve access to their launch point. Flyers enjoy the valley view after launching from a nearby bluff, a fifteen-minute drive up from the landing zone (LZ). Along with various festivities, there is a friendly competition based on a number of factors, including total air time and altitude gain. One flyer managed to soar all the way down the Sangre De Cristo range to Taos, New Mexico, where he reportedly spent the night in a homeless shelter due to the fact that he carried no money on his flight.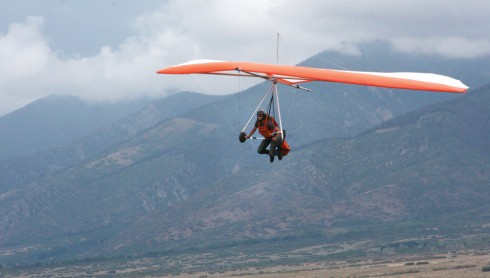 Fly Week is the brainchild of Larry and Tiffany Smith, who live on forty acres on the valley floor. Larry has been hang gliding since he was 16 years old. He purchased the property in 2004 in order to own a parcel with his own LZ where his landings are often greeted by a cold beer and a kiss from his wife.
The couple began hosting gatherings for flyers in 2008 with a Memorial Weekend Home Opener coinciding with the beginning of the flying season in Colorado. About 40 flyers attended. They hosted the event again in 2009 but chose not to do any more organized events until they decided to "go big or go home," and in 2012 threw their largest gathering yet – complete with live music, food, a bar, camping – even burlesque dancers. All the hard work and preparation for the event was achieved, "to give the pilots a middle of the country gathering place to fly one of the premier sites in the U.S., meet other pilots from all over the country, enjoy the very social environment we have created and give everyone a reason to look forward to it again," said Tiffany.
A quick inventory of license plates on the grounds revealed flyers from as far away as California and New York. Also spotted at this year's event was an Amish family from Monte Vista – a curious anomaly among all the high-tech equipment and party atmosphere of the scene – with their gingham dresses and white bonnets. The family – the Masts – were breaking into the food vendor business and were contacted by Larry about helping out. They committed to assisting despite warnings about possible foul language and scantily-clad women, and proceeded to prepare and serve affordable and delicious home-cooked meals, according to Tiffany. "They were super hard workers, delightful to talk to, curious about our lifestyle, intrigued with the flying, and frankly were a wonderful addition to the event." she said.
The event is intended for pilots and their families and friends, so is not open to the general public. The Smiths do hope to have another Fly Week in 2014, but only after taking a year off to recharge their batteries and do a summer road trip. They'd like to visit some of the flyers they've met at the various rendezvous' in Villa Grove. As Tiffany puts it, "When you see the smiles on everyone's faces and the skips in everyone's steps and the gratitude pouring from everyone's souls, it makes thinking about doing it again a no-brainer."
Hang gliding itself had its beginnings in 1890 when Otto Lilienthal, a German pioneer of aviation, built a controllable glider which he would launch from a ridge top and soar to the bottom. His designs went on to influence modern hang gliders. In 1904 a Frenchman named Jan Lavezzari flew a double lateen sail hang glider off Berck Beach, France. 1910 saw the development of the triangle control frame, where a pilot hung behind the triangle in a hang glider. In 1948, Francis and Gertrude Rogallo invented and patented a self-inflating flexible kite called the "flexible wing," a forerunner to the modern hang glider and paraglider. It is known today as the "Rogallo" wing.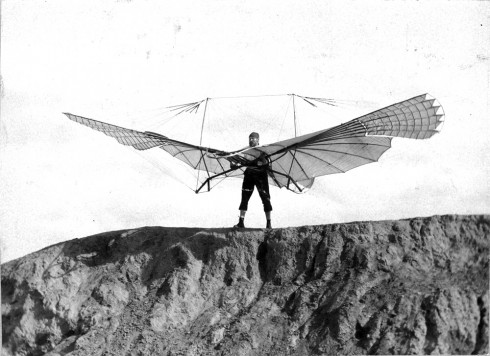 In the early 1960s an American aeronautical engineer named Barry Hill Palmer built the first hang glider based on the Rogallo wing that included four different control arrangements. In 1963 an Australian, John Wallace Dickenson adapted the flexible wing concept to create a water-ski kite glider and was awarded Hang Gliding Diploma in 2006 by the Fédération Aéronautique Internationale for the invention of the modern hang glider.
Hang gliders can be launched via foot-launching from a hill (such as in Villa Grove), aerotowing behind a powered aircraft, a ground-based tow system or by boat. Glider pilots can stay aloft for hours by flying in areas of rising air. In the San Luis Valley, pilots take advantage of ridge lift, which occurs when air is deflected up the windward face of the mountain, according to Wikipedia.
A paraglider, on the other hand, is a lightweight, free-flying, foot-launched glider aircraft with no rigid primary structure. A descendant of the parachute. The pilot sits in a harness suspended underneath a hollow fabric wing or "ram-air airfoil." Paragliders are lightweight and very portable and flights can last several hours with a skilled pilot at the helm. The paraglider is controlled by "brakes" connected to the trailing edge of the left and right sides of the wing, allowing for steering and speed adjustment. Weight shift is also a factor for proper steering. A speed bar is also attached to the harness and connects to the leading edge of the glider wing and is used to increase speed by decreasing the wing's angle of attack.
Most pilots of both types of crafts carry instruments on flights, including GPS units (global positioning system), radios for communicating with other pilots and for training purposes, and a variometer – a vertical speed indicator to assist in maximizing altitude gain. In Villa Grove, flyers were able to download GPS data from their fight directly into a laptop computer at the base station, employing software that plots their flight course, and altitude gain using graphs. It even allows the data to be entered into Google Earth for a visual replication of their flight. Modern competitions use this data for point scoring.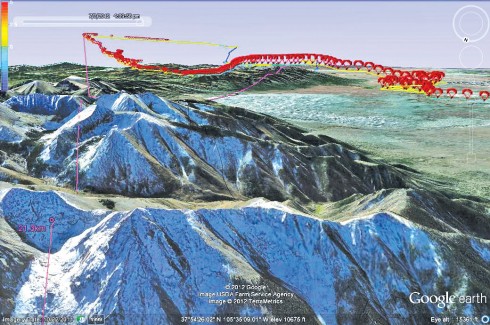 One of the attendees at Fly Week, Allen "Sparky" Sparks, has been flying at Villa Grove since he moved to Colorado in 2005. He has flown over 100 different sites in 19 states and spends a lot of time flying at a site named "Lookout" above Golden, Colorado. He learned about the Fly Week event directly from the organizers. The event was also announced through internet forums as well as the Rocky Mountain Hang Gliding and Paragliding Association (USHPA) website – www.rmhpa.org.
Sparky has been hang gliding for 36 years and paragliding for ten of those (he considers himself "BiWingual"). After seeing a pilot fly a Rogallo standard hang glider at the Jackson Hole Mountain Resort in March 1974, he was impressed enough to teach himself to fly in 1976 at the age of 19 in the Las Vegas, NV area. He has owned and flown 44 gliders since he started including his newest purchase, a single-surface wing called the Falcon.
We asked him what his top altitude has been, "I cannot recall the highest I have ever been because I lost consciousness. It was 1979, and I was flying near Cedar City Utah without oxygen. I was climbing fast under some newly-developed clouds and blacked out while trying to count upwards from 16,000 – the limit of the automobile altimeter I was carrying. I regained consciousness at 9,000 feet above sea level."
Sparky says oxygen is an essential safety item for flying in Colorado. Mountain flyers may often gain heights above 10,000 feet. He uses a pulse-demand oxygen system with approximately four hours of supply. The organizers of Fly Week provide oxygen refills to pilots daily as part of standard operations. He explained that FAA regulations do not allow flyers to exceed 17,999 feet above sea level. He bemoans the often misleading media depictions of the sport. "We are not 'thrill seekers' and this is not an 'extreme' sport. We are bona fide aviators of unpowered, ultralight aircraft. Our sport provides amazing experiences, the closest that a human being can come to fully realizing the dream of human-powered flight." He notes the average age of hang glider pilots is steadily increasing and the population of pilots is slowly declining.
The sport requires diligence and the development of sound judgment, traits that are harder to find in today's youth, who tend to be obsessed with fast-paced technology and the need for immediate gratification, according to Sparky. In the U.S., flying sites are becoming more rare due to several factors, including land-owner perceptions and concerns over liability, as well as restricted access to public lands, despite a relatively low environmental impact (especially compared to motorized use on public lands). In Europe, by contrast, access to lands and transportation infrastructure is commonly provided by local governments and landowners, resulting in a larger population of active pilots and increased revenue for businesses.
Another attendee at Fly Week was Mike Chevalier of Salida. He has been flying since 1983 after drawing inspiration from a group of gliders launching off Grandfather Mountain in North Carolina. He first flew at Villa Grove while on a scouting trip for a new home in 2002. He considers the big, wide open, flat valley "low stress" to fly over, and notes that the thermal activity can be very strong in the summer.
He described the view while flying near Villa Grove: "The Sangres are rugged. More so several miles north of launch and especially around Crestone. Get a bit higher and to the north of launch you can look over the back and see Hunt's Lake and Bushnell Lakes. Coaldale and Howard are also visible. Past those towns is rugged canyon land. Near the north end of the Sangres you get a good view of Salida. From 15K ft on a clear day you can see the Tomichi Valley to the west. To the southwest are the snow-covered San Juans. To the northwest you can see the Sawatch range and the Arkansas River Valley. Looking farther north, the big, high valley of South Park is a prominent feature. Pikes Peak is also visible. To the east are the Wet Mountains and the far-off eastern plains. Heading south you fly over the Orient Mine, which looks like a gaping mouth in the mountain. Fly over Valley View hot springs and you can sometimes see nude bathers. Farther south, the ridge near Gibson Peak is very rocky and rugged. Once over Gibson, you've got a good view of Crestone and the shimmering Great Sand Dunes."
Mike also likes to fly Willow Creek near Gunnison, William's Peak near Green Mountain Reservoir, Steamboat Springs from the ski area, Cliff Ridge in Dinosaur and Whale Mountain, across the valley from the Villa Grove site.
According to spokesperson Nick Greece, the USHPA has been around since 1971 with over 10,000 pilot members. Number-one on their mission statement is to "help to promote the growth of sport flying in foot-launchable soaring aircraft." He notes that hang gliding and paragliding currently have a similar number of participants.
He said a hang glider is a faster craft that can fly in a much wider array of wind/meteorological conditions. On the other hand, a paraglider can fold up into a backpack, so is much easier to travel with. When asked about current obstacles to the sports, he responded, "In the U.S., land-use issues are a serious problem. Dealing with the misperception at how extreme our sports are. While they are dangerous, they are not extreme. They are active sport aviation, and with proper risk assessment and training can be safer than motorcycle riding. Also, as with any outdoor adventure sport, getting people to get outside and play can be problematic. Hang gliding is an art form, so like anything that is amazing, it takes a time commitment to become good."  By Mike Rosso
For more information on gliding, check out:
ColoradoFlyWeek.com
www.ushpa.aero
www.rmhpa.org