By Kim Grant
Colorado has many significant historic mining and mill sites across its vast landscape, but few have as much intact infrastructure, technology and machinery in place that lend itself to historic interpretation and potential educational tours, as does the Paris Mill near Alma in Park County. The Paris Mill was placed on Colorado's Most Endangered Places list in 2004. Constructed in 1895, the Paris Mill was considered at the time to be one of the richest strikes in the Alma District, producing gold, silver and lead until major mill operations ceased in 1937. Today, the property retains much of its original machinery that represents generations of mining methodologies. It is one of the few intact mills remaining from this era in Colorado. Because of this, it truly has the best potential for development of strong interpretive programs and high visitation than many other mining sites in Colorado.
The State Historical Fund has provided critical support and funding to the Paris Mill project over the years as the site progressed from vacant and endangered to a designated Park County Landmark. In 2019, two major phases of rehabilitation were completed in one summer by contractors Waddle and Daub, including two unplanned complications that necessitated removal of large mortar boxes by crane after it was discovered that their weight had collapsed the floor sections they were situated on. The work completed in 2019 included foundation rehabilitation, reconstruction and reinforcement of the east wing, central section, tower section and tank house. On the interior, temporary safety rails and walkways were installed to improve access for future tours. Environmental hazards from small rodents and other animals were cleaned up and disinfected. All told, four major grants from the History Colorado's State Historical Fund have supported work on the Mill, supplemented by matching funds from Park County and grants from the Bill and Carol Gossard Preservation Fund, the Peter Grant Preservation Fund, the Colorado Division of Reclamation, Mining, and Safety, and private donations.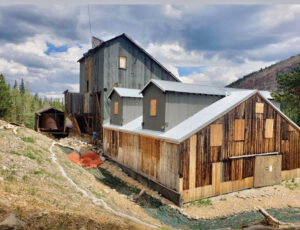 The South Park National Heritage Area organization has already installed informative interpretive signage in front of the Mill complex in recognition of public interest in the site. As explained by Jon Grams, SPNHA Preservationist, "The Mill saw numerous visits this summer including Colorado Preservation, Inc.'s board, mining historians from in and out of state, and Park County employees. Everyone was impressed with the Mill's old-growth timber construction and vast array of machinery, hinting at the interest to be seen when the site is opened to the public."
The project also benefitted from a volunteer workday with help from the Rocky Mountain section of the Association for Preservation Technology, which included demolition of a non-historic equipment shed. The Mill was then buttoned up at the end of the construction season and a security system with lights, cameras and signage was installed to deter vandalism. In recognition of all this progress, CPI will award its Endangered Places Progress Award to the Paris Mill in 2020. Ordinarily, the award would have been presented this May at the Annual Dana Crawford Awards ceremony in Denver, but the program has been re-configured to account for the Covid-19 virus and will not be a live event this year. However, awardees will be honored at next year's dinner, when videos highlighting their project will be shown.
Kim Grant is the Director of Colorado's Most Endangered Places Program for Colorado Preservation, Inc. and has over 30 years' experience in teaching, state and local government service, and non-profit development, specializing in historic preservation, downtown revitalization, and community planning and development.