by Mike Rosso
With wildfires currently raging in Arizona, New Mexico and here in Colorado, it is shaping up to be dangerous year for western firefighters.
One of the leaders in wildfire training is right here in Central Colorado, providing needed skills to combat potentially devastating conflagrations.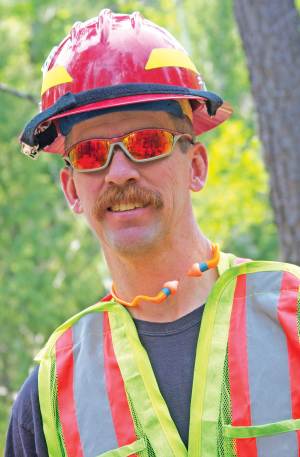 Colorado Firecamp, based in Chaffee County, was conceived in 2002 by Kent Maxwell, an area volunteer firefighter. It was the same year as some of the largest fires in recent Colorado history, including the Hayman, Iron Mountain and Missionary Ridge fires. Rural landowners were anxiously clearing defensible space for their properties and in the process creating cumbersome slash piles. Concerned with these piles, Maxwell consulted with Paul Janzen, a district forester in Chaffee and Lake Counties for the Colorado State Forest Service. Janzen suggested a tub grinder to help mitigate the slash piles. It is a device that grinds wood, limbs and other forest waste in smaller, more manageable pieces. Maxwell then got busy and by the summer of 2003 had helped the fire district to lease four tub grinders through grant funding.
Discussions between the two men also turned to the shortage of trained firefighters "ready, willing and able," to fight the numerous fires breaking out in Colorado that summer. What they discovered was a dangerous shortage of available manpower.
Maxwell then began to consider the benefits of fire training throughout the year and approached his parents, Dick and Enid Bauer about the possible use of their resort, the Ponderosa Lodge near Maysville, to provide the facility for classes, meals and lodging.
He was also put in contact with Wendy Fischer, the coordinator for the Colorado Wildfire Academy – now known as the Colorado Wildland Fire & Incident Management Academy. The original idea was not to start a new school, but merely offer a place for classes to be taught.
The Wikipedia entry for "fire camp" states: "According to the National Incident Management System (NIMS), a fire camp is one of five predesignated temporary facilities. Fire camps provide certain essential auxiliary forms of support, such as food, sleeping areas, and sanitation for Wildland firefighters."
Talks with numerous agency personnel led to the incorporation Colorado Firecamp as a 501(c)(3) non-profit in December 2002 and memorandum of understanding with the Rocky Mountain Coordinating Group in November 2003. They began by offering basic training in wildland firefighting towards receiving a "red card" with their first class taught in May 2004. The red card is an agency-issued document that certifies that an individual has the training, experience and physical fitness to perform the tasks of a specified position on a wildland or prescribed fire. The first red card is usually for the position of Firefighter 2 (FFT2). The FFT2 position  involves working as part of a 20-person hand crew digging firelines and removing timber during a fire incident. There are a variety of class categories offered from the S-130/190 Basic Firefighter & Introduction to Wildland Fire Behavior class to S-290, Intermediate Wildland Fire Behavior. Course offerings are primarily targeted to volunteer firefighters from Colorado fire departments and sheriffs' wildfire crews seeking qualification from firefighter type 2 (FFT2) to engine boss (ENGB).
Trainees come from a variety of backgrounds. Some are already employed by a state or federal agency such as the U.S. Forest Service, while others have no training or experience and are trying to get hired by an agency. Other students attend in coordination with Sustainable Forestry Training through the Southwest Conservation Corps (SCC), a non-profit agency which, according to their website, "provides young women and men with structured, safe and challenging service and educational opportunities through projects that promote personal growth, the development of social skills, and an ethic of natural resource stewardship."
Tim Foulkes is a current SCC crewleader up from Durango this summer, helping to oversee chainsaw training for red card training. "I got out of the office and am living the dream right now," he said during a break in chainsaw training. His crew worked a prescribed fire up Burns Canyon outside Pagosa Springs this past spring as well as near the Acoma Pueblo in New Mexico.
Also affiliated with the SCC are the Veterans Green Corps (VGC) in a program to help provide employment and training opportunities to current era veterans interested in natural resource and wildland fire careers. "They are a good fit with our program," explained Maxwell. Many of these returning vets are having to transition directly from the battlefield back into society. They are accustomed to working in teams under high-pressure situations which make them an excellent fit as firefighters. "We'd like to get it back to vets leading vets," said Foulkes. The VGC program assists in the training and with providing contact with future employees. A group of vets working with the SCC out of Durango recently participated in the Wildland Fire Chain Saws course (S-212) held by Colorado Firecamp on private land northwest of Nathrop, learning to become "sawyers" and "fallers." Field exercises for other classes involve burning slash piles, assisting ranchers with ditch burning and weed mitigation – in May and June 2011, classes worked at burning thistle patches on Tenderfoot Mountain for Salida Mountain Trails.
Instructors for the Firecamp come from a variety of backgrounds although most are firefighters with Chaffee County Fire Protection District and Salida Fire Department. In the past year the Firecamp classes were taught by 22 different instructors to 490 students. Colorado Firecamp is pursuing accreditation as a post-secondary vocational school and was granted "candidacy" status in February 2011 by the North Central Association Commission on Accreditation and School Improvement.
In order to operate as a training school the Firecamp is required to file an annual operating plan with the Rocky Mountain Area training committee. Training at the Firecamp is also advised by the Upper Arkansas Valley Wildfire Council.
Since that first class in 2004, the Colorado Firecamp has seen nearly 2,300 students, and the way this summer is shaping up in the wildlands of the west, these crews may be in for a very busy season.