Article by Marcia Darnell
Roadside Attraction – June 2007 – Colorado Central Magazine
CALLING THE COLONEL PFEIFFER grave site a roadside attraction is a bit inaccurate. Although the signs guiding visitors to the site begin on U.S. 160, the trek is a little more challenging than just pulling off the highway. But that's only fitting for a man whose life was filled with challenges.
Col. Albert Pfeiffer was born in the Netherlands in 1822 and came to America in 1844. He became a Ute Indian agent in Abiquiu, New Mexico, dealing with food shortages, refugees, and violence between the Utes and Navajos.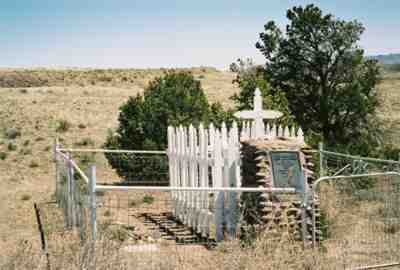 When the Civil War broke out, Pfeiffer enlisted with the New Mexico Volunteers. He served at times under Col. Kit Carson, who was his good friend and the godfather of his son.
In 1863, Pfeiffer was wounded and his wife killed by a raiding party of Apaches. His injury kept him from joining in the Navajo Campaign, which forced the tribe onto a reservation near Ft. Sumner, New Mexico. But he later helped build Ft. Nichols in New Mexico, and ran it for a few years.
Upon his retirement in 1866, he moved to the San Luis Valley and homesteaded a ranch near Del Norte, where he raised cattle with his partner, Christian Stollsteimer, who had also been a Ute Indian agent.
Because of his work with the Utes, Pfeiffer was summoned out of retirement in 1872 to help resolve a dispute over land between the Utes and Navajos near Pagosa Springs. It wasn't a peaceful negotiation, however. Each side picked a fighter to resolve the disagreement, and Pfeiffer killed his Navajo opponent. The Utes claimed the land, and stayed in the area for several more years.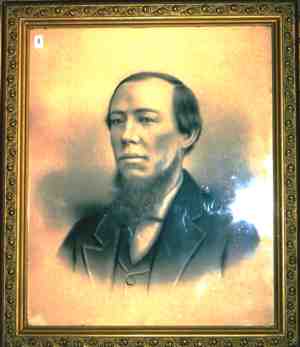 Col. Pfeiffer died April 6, 1881. His grave is on the land he homesteaded in Rio Grande County.
To appreciate this off-roadside attraction, first stop at the Rio Grande County Museum at 580 Oak Street in Del Norte. In addition to loads of other historical goodies, the facility has a small, permanent display on Col. Pfeiffer.
To reach the grave, drive west from Del Norte on U.S. 160 about 11 miles. A couple of signs point to the turnoff. Turn right, and follow the road over the Rio Grande to the T intersection and turn left. A couple more miles will take you to the main sign. There's no parking lot, so just pull over. Squeeze through the stile and hike the short-but-steep trail to the grave site.
Pfeiffer's grave is fenced off and marked with a memorial that includes a wooden cross. Next to his final resting place is the grave of his great-grandson, with a tinier stone cairn.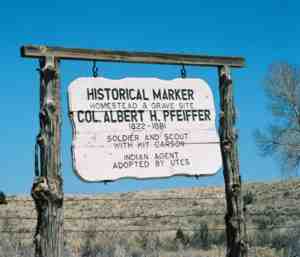 Wear shoes with good traction and maybe take a walking stick. This isn't a good picnic spot, but you may see some wildlife and snag some piñon nuts. If graves aren't your thing, just enjoy the view — verdant farmland backed by rolling hills and snow-capped peaks. It's as bucolic as it is educational.
Marcia Darnell lives, writes, and sometimes explores in the San Luis Valley.