By Brian Rill
Rupert Wates is not a Colorado native, although he currently has a residence in Salida. Born in London, England and based out of New York City, Rupert travels the world playing an average of 120 yearly shows. Now he finally comes home with the release of his highly anticipated eighth album, Colorado Mornings, True Love Songs. "The Manhattan skyline may be good for a week or two, but I'm over it now. Don't need it anyhow. And the Paris boulevards trump Second Avenue until you run out of wine, then you run out of time. I've said my goodbyes to the place I came from. I threw it away for the price of a song."
Rupert takes his listeners on a delightful cruise over sweeping tones with his vocals. Flawless guitar picking and a noble English tenor weave into jazzy chords. Vocalist Stacey Lorin sings on the Irish shanty The Green and Good Valley, as Bartosz Hadala mirrors the cool jazz style on piano. Trifon Dimitrov's stand-up bass playing helps shape the tone, making this album an eclectic masterpiece. Fluent percussion from Chris Howard blends arrangements together, creating a full aural experience.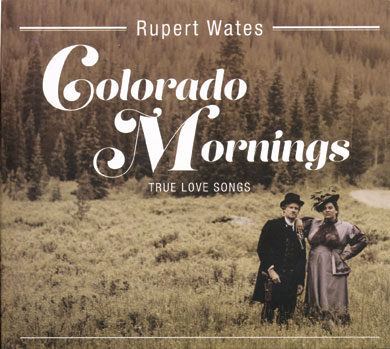 This work depicts a timeless tale of two lovers embarking on a life-changing journey. Traveling dusty roads until sunset then lying beside campfires, they finally arrive at the end of their course. Waking up to a Colorado morning that echoes somewhere in our minds. "While the icicles hang from our eaves and the Arkansas waters run free, as they rush through the rocks and the trees. I sing to my guitar to show the world how beautiful you are, and tell the story of a dream that once came true on a Colorado morning with you." Pastoral landscapes of sepia and forest green manifest into one's imagination while 12 solidly constructed tunes tap dance through the ear.
Dressed in Wild West period clothes provided by Disguises Costume Superstore, they wield Colt .45 revolvers wearing rattlesnake boots and water moccasin shoes. Rupert and Stacey appear as the cowboy dentist and his wife who have jumped off a stagecoach in Tombstone, Arizona. They pose in the album inserts in vintage photographs by Salida photographer Beth Grimes. The only hint of modernity is the white miniature puppy Stacey is holding while slyly smirking into the camera.
Rupert Wates is a consummate professional who graces this CD with his satisfying folk style. Lady Grey becomes a legendary psychedelic ballad via a 1965 influence from Syd Barrett of Pink Floyd. Fear of Flying embraces playful sounds, preserving the lush harmony of Scots-Irish folk music, reminiscent of artists such as Donovan and Gilbert O'Sullivan. A striking composition from start to finish, Colorado Mornings, True Love Songs boasts an array of pleasing acoustic singsongs. I highly recommend this collection for anyone who loves a great compilation of musings and appreciates the subtlety of sublime folk hymns. Not all who have wandered are still considered lost, and we're lucky to have been found by Rupert Wates. www.rupertwatesmusic.com
You can purchase the new CD at www.cdbaby.com/cd/rupertwates6