By Ann Marie Swan
Claire Mechtly of Poncha Springs daydreamed of fruit trees weighted with fragrant, sweet orbs of all things good, then tenderly harvested. While riding her bike around town, Mechtly noticed neglected apple trees, hairy-looking with branches gnarled and elbowed. She imagined cutting those limbs to bring in light and air, and restoring the trees to their full glory. Her ideal world is one of healthy, productive fruit trees, in schoolyards and on lands public and private, where apples, plums, peaches, cherries, pears and apricots feed the people. And none of this food goes to waste.
"I was checking out these trees and thought, if only we had an apple-tree club," Mechtly said. "Oh, if only those trees were pruned."
Mechtly wasn't alone in this vision. As serendipity happens, the next day, Wendy Weiner of Salida sent out a call on Facebook for community members to help map and identify local fruit trees. Weiner had seen all types of trees loaded with fruit that fell to the ground, uneaten. "I wanted to create a community that would join in my interest in harvesting the surplus," said Weiner, a longtime professional gardener.
Weiner was inspired by the work of the Montezuma Orchard Restoration Project (MORP), which guided the cities of Basalt and Boulder in mapping trees and taking tissue samples to identify heritage species. She wanted to make the same project happen in her area.
Weiner and Mechtly connected, and along with Laurel Biedermann of Coaldale, the women founded the Ark Valley Fruit Tree Network (AVFTN), with its mission of identifying food-bearing trees in the Upper Arkansas Valley to catalog, maintain, expand and celebrate this important resource.
The momentum has been swift. So far, AVFTN has hosted two successful grafting workshops for potential backyard orchardists. The first was with MORP in Salida in March, then Eric Johnson of Boulder led one in Poncha Springs in April.
Johnson is a modern-day Johnny Appleseed, growing and giving away apple trees. A lot of apple trees. He spreads the word at widespreadmalus.com on the horticultural and historical value of finding lost varieties among elder trees from the golden era of growing apples in backyards before supermarket chains popped up.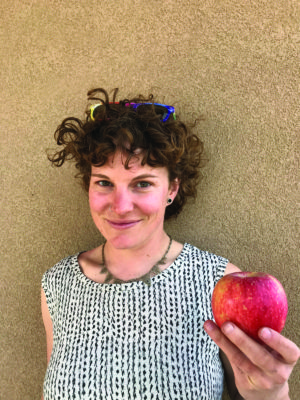 With the precision of a surgeon, Johnson taught participants the finer points of grafting. He wiped alcohol onto gardening shears and grafting knives before slicing into apple-tree rootstocks. Participants then inserted specially prepared twigs or scions from local, hardy cultivars into the incisions, and wound waxy-feeling grafting tape around them like ribbons on gifts.
Johnson adjusted his cap, rocked onto his heels and opened his arms like a preacher in front of his congregation. "Graft a whole lot of apple trees, have a whole lot of fun and plant them everywhere!" he said. "And eat the apples!"
Johnson, a database manager, found his apple-tree calling while drinking hard cider with his neighbor Brant Clark in his yard. "We said, 'We could make this,'" Johnson said. "We could grow the fruit."
The men were particularly interested in apples with a bitter taste that would lend something to the finished product. But these varieties, such as Gros Frequin, common in France and Great Britain, are in short supply here. They're working to change that.
In 2016, Johnson and Clark worked with a farmer in Boulder to plant 240 trees of about a dozen varieties. Considering the impact of climate change, they also decided to include wild-apple genetics from central Asia. They'll grow out seedlings from those trees and propagate the ones that show promise.
"Those are the apples of the future," Johnson said.
Planting apple trees is for forward-thinkers, willing to wait at least six years for fruit. It requires patience. But it's lovely to think of children, generations ahead, climbing onto each other's shoulders and into trees, reaching high to pick fruit.
This image resonated with Nikoll Livaccari of Salida. Livaccari's children Kaya, 9, and Anji, 7, grafted apple rootstocks along with mom, whose 3-month-old, Omni, was wrapped onto her. Livaccari and her husband, James, are renovating a place in Swissvale, and that's where she'll plant her newly grafted rootstocks. That's where she pictures trees flourishing, trees of plenty, feeding not only her children, but her eventual grandchildren and great-grandchildren. She attended the workshop to "learn how to feed the future. To restore the earth."
During the workshop, Mechtly took in the scene of multiple generations aligning their scions and rootstocks just right, delicately bandaging the wounded stalks, and talking about the pies and cobblers they'll one day bake. The progenies of their efforts.
"It's the being here now, but also considering future generations," said Mechtly, whose concept of vast organic food production in the valley is on its way.
Afterward, Mechtly swept up the detritus and put away the tables and chairs. She then mounted her bike on a mild afternoon that teased of springtime and rode home under branches of vibrant apricot trees that will likely be dotted with golden-orange fruit by late summer.
For more info on AVFTN, visit www.facebook.com/groups/409356226486230/ or email:
clairemechtly@gmail.com
Ann Marie Swan is a freelance writer and editor in Salida, and she can't pass up hot, homemade apple pie on a frosty, fall day.