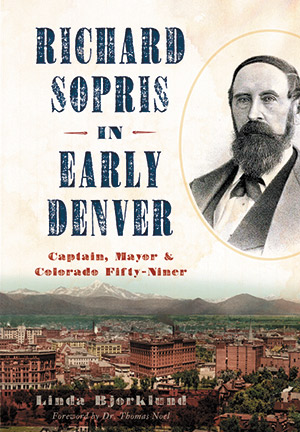 Richard Sopris in Early Denver
by Linda Bjorklund
History Press 2016, 138 pages
ISBN 978.1 46713.593.1
Reviewed by Forrest Whitman
Richard Sopris is one of the least known of the early Colorado influential leaders. This book should help correct that. A "fifty-niner," arriving during the 1859 gold rush, he was one of the earliest miners and explored many possible gold panning streams. He "discovered" Glenwood Springs and a mountain near there is named for him.
Sopris is best remembered as mayor of Denver from 1878 to 1881. During that time he worked to develop a park system and is best known for establishing City Park. He went on to be one of the founders of the Colorado Historical and Natural History Society (what today is History Colorado and the Natural History Museum). Wherever the action was, Sopris was in it or around it.
Particularly interesting are several accounts of early Denver. The "Bummers wars" were wild affairs. This group of ruffians fought with the vigilance committees during the so-called "turkey wars." The bummers were quick to steal things, including a cartload of turkeys. This war led to Richard's career in law enforcement. In 1865 he was elected sheriff of what was then Arapahoe County, Kansas Territory. Later he was put in charge of the Denver jail. He also worked for the new Denver Pacific Railroad that hooked Denver up to the rest of the nation.
Richard's military career is little known. He was important at the "Gettysburg of the West," the battle of Glorietta Pass in 1861. His company of Colorado volunteers, Company C, saw hot action against the confederates. He was always calm and thought strategically.
It's unfortunate that his son Eldridge, who participated in the massacre at Sand Creek, was not so calm a leader as his father. Eldridge never regretted killing the Indians there, saying: "The right was on the side of the whites."
Other figures in the long family history are fairly interesting. The feisty Indiana Sopris was named honorary president of the Colorado Pioneers. She was Denver's first female school teacher. Son Simon worked for the Rocky Mountain News. Son Levi said he was once a farmer, "but now I'm doing nothing." Daughter Irene taught Sunday school. The titles of these chapters say it all: The rest of the family and And the family tree grows. Probably only genealogical hobbyists will read those.
Any book opening our minds to what early Colorado was like is a good thing. That's particularly true of this book about the little-known Richard Sopris.
The general reader may tire a bit of all this family history. It is carefully detailed, however, and Linda Bjorklund has the files to draw on. She lives in Fairplay and edits the newsletter of the Park County Local History Archives. It is a long-lived family, generally. A descendent of Richard Sopris, Betty Farrington, is still very much alive in Buena Vista and is said to be nearly 100.