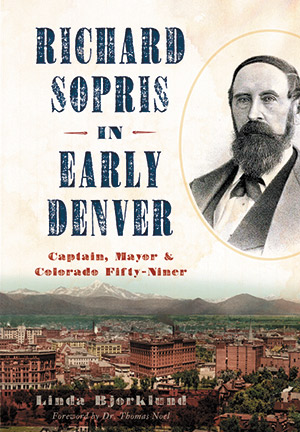 Richard Sopris in Early Denver
by Linda Bjorklund
History Press 2016, 138 pages
ISBN 978.1 46713.593.1
Reviewed by Forrest Whitman
Richard Sopris is one of the least known of the early Colorado influential leaders. This book should help correct that. A "fifty-niner," arriving during the 1859 gold rush, he was one of the earliest miners and explored many possible gold panning streams. He "discovered" Glenwood Springs and a mountain near there is named for him.
Sopris is best remembered as mayor of Denver from 1878 to 1881. During that time he worked to develop a park system and is best known for establishing City Park. He went on to be one of the founders of the Colorado Historical and Natural History Society (what today is History Colorado and the Natural History Museum). Wherever the action was, Sopris was in it or around it.
Particularly interesting are several accounts of early Denver. The "Bummers wars" were wild affairs. This group of ruffians fought with the vigilance committees during the so-called "turkey wars." The bummers were quick to steal things, including a cartload of turkeys. This war led to Richard's career in law enforcement. In 1865 he was elected sheriff of what was then Arapahoe County, Kansas Territory. Later he was put in charge of the Denver jail. He also worked for the new Denver Pacific Railroad that hooked Denver up to the rest of the nation.