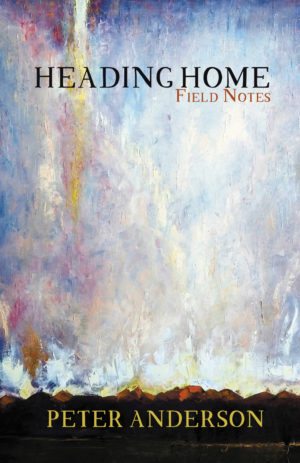 By Peter Anderson
Conundrum Press, 2017
978-1-9422-8021-7; 84 pp.; $14.99


Reviewed by Lynda La Rocca

Short, but sweet – and wistful, sad, thoughtful, funny, poignant, or filled with longing. That's how I'd describe the essays that make up Crestone-based writer, teacher and poet Peter Anderson's latest book, Heading Home: Field Notes.

These lyrical musings, which the author describes as "a collection of flash prose and prose poems," are true songs of the open road, a road that stretches invitingly and seemingly endlessly before this man who starts down it independent, unencumbered, eager to learn and experience and explore.

It's a lonely road where, paradoxically, one is never alone and "everyone [is] a good buddy just waiting to happen."

It's also a road Anderson is still traveling, albeit now with the quiet certainty that it always circles back to family and to home.

Along the way, Anderson revels in the vast sweep of the West with its moon-cast shadows and wide-open spaces, snowdrifts and high deserts, mountain ranges and deep forests.

He encounters mule deer and cougars, watches turkey vultures soar the thermals, and waits for bats to emerge from an abandoned mine. And he introduces us to rodeo clowns and waitresses, long-haul truckers in backwater cafés, a Navajo family stuck with his own family in car-repair limbo at the Econolube, friends separated by distance and death, and friends reunited over a beer. He falls in love and becomes a father who teaches the basics of pond hockey and air guitar and comforts his two girls after their ducks fall victim to a stealthy predator.

I laugh out loud when an elderly woman in "Christmas in Yellowstone" asks a ranger "when the erection would happen," and laugh some more as, a mile from the trailhead in "Barbies in the Backcountry," Anderson discovers that his younger daughter has strapped several Barbie dolls to her pack. After she strips the dolls naked, floats them in an icy mountain stream, and plunges them into the remnants of a snowbank, he pictures the miniature beauty queens squealing, "Get me … like … out of here …. We didn't … like … sign up for this."

And I get teary when Anderson writes about his father, makes choices that preclude the possibility of other choices, or attends a wake in a small-town bar for a friend who just couldn't take it anymore.

Sometimes I simply admire his clarity, as when he considers the nature of God and remarks on a shopper who believes that Jesus led her to the supermarket aisle with the cheaper turkey: "Those who fret over the 'G' word will say the universe willed it. I say the universe has better things to do. They tell me you create your own reality. I say, sorry, the weather arrives on its own."

Several of the essays in Heading Home were originally published in "Dispatch from the Edge," a bimonthly column in Colorado Central Magazine; others were written for appearances with the River City Nomads, a five-person, Salida-based, performance-poetry troupe whose members include Anderson and me.

So I'm accustomed to Anderson's humor and humility, his keen powers of observation and his quirky, endearing way of looking at the world.

And frankly, I'm glad that he's "given up anywhere for somewhere," as he declares in a "letter" to Jack Kerouac, another master of the open road – because that means he'll have time to record even more anecdotes and experiences.

So write on, my friend. This world needs more of your gentle insight.