DO YOU EVER THINK ABOUT where your recycling goes after you place it in the bin? Do you ever contemplate the ever-increasing mounds of trash in the landfills and wonder how it is affecting climate change?
Well, John Armstrong, of Salida, thinks about these things all the time. He has been re-imagining a state-of-the-art recycling facility for Chaffee County. "I have always had a passion for sustainability and clean infrastructure," he said, citing a college entrepreneurial attempt at a badly timed, but well-intentioned, biodiesel company. "Although that company did not survive, I never lost the drive for entrepreneurship and doing something that helped the environment and the community."
When Salida's Angel of Shavano Recycling facility closed in 2021, Armstrong felt a call to put all of his passion and energy into finding a solution. Having previously worked in the medical device industry, he is well aware of the challenges that our growing mountains of recyclable waste present. He wanted to find a way to recycle better.
Angel of Shavano decided to close its doors due in part to falling profits related to the United States' dependency on China and India to purchase most of our recyclables. Those countries stopped taking our trash beginning in 2018. Also, despite the laudable act, recycling is a dirty job. Many people do not understand what items are allowed or leave food on them. This results in a messy sorting process that can be time-consuming and often presents threats to clogging or breaking the equipment.
Local trash collectors were asked to take up the task of taking care of our recyclable waste after Angel of Shavano shut down. Chris Lyons, of Shamrock Disposal, has been put in the position of hauling these items to a Colorado Springs processing facility. These trips have added many work hours and expense due to the extra fuel and repairs on the trucks. "These vehicles just weren't designed to commute long distances," Lyons said.
No federal law mandates recycling in the U.S. Therefore, recycling legislation is localized through city or state governments. Individual municipalities can basically create their recycling goals and programs, or not.
All of these complications got Armstrong thinking about ways to create a circular economy through a more efficient recycling platform. A circular economy is based on renewable energy, eliminating waste and pollution, keeping/repairing products and materials in use and regenerating natural systems. It is accelerated by invention and creates local jobs. While some of the processes described here might sound complicated, Armstrong's passion is infectious and the employment of these innovations will be beneficial to everyone.
He had his first breakthrough for bringing his ideas to fruition after discovering Revolution Systems out of Denver. They have created a recycling platform that works well for the specific and unique needs of rural, lower-population areas. Their circular sorting machine has a smaller footprint, taking up a fraction of the space that current platforms require and they can be run by as few as one to three workers. Traditional material recovery facilities require about 30 workers and more than twice the space to run.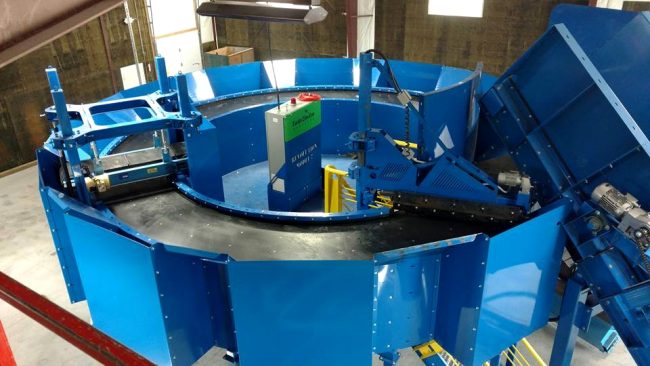 "We provide the smallest recycling platform in the world," said Kevin Andresen, Revolution's head of sales. "Our Steamboat Springs installation has been very successful." Revolution's clever re-design of conveyors and sorting bunkers efficiently feed into balers. Those bales of recyclable material will then be sold not to China but to Denver and other U.S.-based manufacturers. Revolution also prides themselves on being "one-touch," meaning that because of the unique set-up of the system, workers will only touch the recyclable waste once.
Revolution's founder and head engineer Dan Alsop prioritizes reducing the amount of energy used to run his machines and is designing them to permit customization on many different levels. "As we progress we'll just keep finding ways to make our platform more efficient," he said.
Implementing the Revolution system is just the beginning of Armstrong's ambitious plan. Phase II will address plant-based material. Recent EPA studies have shown that this waste, when left in the landfill, might be creating even worse methane gas emissions than cows emit.
Enter anaerobic digestion. As odd as that term sounds, it is not a new idea. Some of the agriculture/ranching industry has been using this method as a means to deal with animal waste since the mid-1970s. As animal and food waste decompose, biogas is created. Using an anaerobic digestion system, greenhouse-effective methane from biogas is converted to low-cost renewable energy. Anaerobic digesters harness this natural process, also reducing odors and pathogens, according to the EPA.
Armstrong hopes to contract with Chomp Energy of Seattle to acquire their anaerobic digester system. According to Chomp's website, their systems act similarly to a cow's digestive process. The system uses a series of "stomachs" and naturally occurring microbes to automatically break down organic matter. These microbes generate gasses that are then captured and safely stored for energy use.
That energy would not only power the new recycling facility. But the additional liquid produced from the process also provides an organic fertilizer that Armstrong hopes will be used by local farmers, helping to complete the circular economy philosophy.
Further out Armstrong would like to explore transitioning from single-stream to multi-stream capability, accommodating tough-to-recycle items like construction materials and batteries. Nearly all of Colorado's, if not the nation's recycling platforms are single-stream. Single-stream has been the popular method since it is easier for the resident and encourages recycling in the first place. Multi-stream requires the resident to begin this sorting process at home and helps prevent contamination among recyclables that can reduce the total amount that can be processed. To accommodate multi-stream, residents would need additional bins at home and collectors would need multi-bin trucks or use one truck for each. Otherwise the Revolution sorting platform accommodates multi-stream. This update would require the initiation of a county policy change according to Armstrong.
Armstrong and his company, B1 Energy, have already acquired a grant from the state's Office of Economic Development to get started on the first phases of his plan. "Fortunately," he added, "there are several grants to be had at the state and federal level for updating the recycling infrastructure, especially in rural communities."
Education will be a big part of this project. "Most people don't know that even just a little bit of grease from a pizza box can contaminate an entire two-ton bale of cardboard. He hopes to partner with the Greater Arkansas River Nature Association to help educate the community.
When asked if there would be a change in cost to the consumer, Armstrong said that barring any fee changes by trash collectors, the cost of recycling should actually go down.
Acquiring that first grant helps lead to future grants that focus on sustainability and circular economy systems such as this plan. Armstrong has also enlisted the help of some green angel investors.
First steps will be to break ground on a new building this summer that will house the updated equipment at the landfill. "This is a logical location," says Armstrong, "since all waste is there anyway plus it is conveniently situated between Buena Vista and Salida. Being at the landfill gives us the opportunity to divert more waste in a closed-loop fashion rather than so much of it going in the ground." Once the building is completed, B1 will order the sorting machine from Revolution and get things started. While Phase I gets established, Armstrong plans to secure funds for the anaerobic digestion system. The entire project is budgeted at $5 million.
In the meantime, folks eager to responsibly dispose of their plant-based waste can turn to Salida's Elements Mountain Compost, which provides local compost pick-up for a fee. They transform that waste into organic fertilizer. Elements founder, Julie Mach and Armstrong are aligned in their mission to collaborate in boosting the output from organic waste in the area as efficiently and sustainably as possible.
The national average for recycling is 30%. Colorado recycles at a rather pathetic average of 16%. In early May it was reported that the Colorado Department of Public Health and the Environment is working towards free household recycling state-wide by 2026 in order to boost that number. Although the details for this plan have yet to be announced, Armstrong felt good about establishing his recycling platform with this prospect on the horizon and supporting a much more sustainable future for us all.
Jill has lived in Colorado since she was three years old and happily ran barefoot under the strong sun in the vacant fields of her family's home. She is a freelance journalist.