In Memory of Ted Fish
On March 10 of this year, Salida artist Ted Fish died due to complications from heart surgery at St. Joseph Hospital in Denver. Ted was born in New York City in 1946 and grew up in East Stroudsburg, Pa.
In 1971 he received his BA in political science at East Stroudsburg University and four years later married his wife Louise. In 1982, the couple moved to Denver where Ted earned a BFA with an emphasis in ceramics in 2001 at Metropolitan State College. He exhibited his trademark clay heads throughout the state and in Texas, New Mexico, Alabama, North Carolina, New Jersey, Florida, Massachusetts and New York. He was the author of a book, 500 Figures In Clay, published in 2004, and won the Laguna Clay Award at the Colorado Clay Exhibition in 2003. In 2005, the couple moved to Salida.
Ted's work was hand-built with a modified slab coil technique generally using paper clay. Pottery shards or other items were often embedded prior to bisque firing. Low fired glazes or slips were applied and the work was fired at 1,950 degrees F. For many pieces, a third firing in a raku kiln followed and the work was then removed from the kiln and sprayed with ferric chloride. He named this process Ferriku. Other pieces were finished with acrylic paint and some were placed on a found object metal base, marble, wood, or other materials. Ted also enjoyed painting with acrylics.
From his artist statement: "All of the work results from my interest in the power of primitive and ancient sculptures and how such sculpture connects the meditative, contemplative mind with emotions ranging from restful loving to excited anger."
We asked two Salida artists, Mel Strawn and Richard Tyler to share their thoughts on Ted Fish.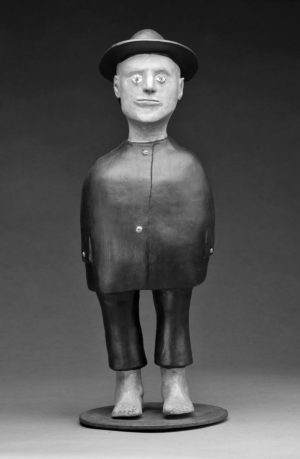 Mel Strawn:
There was a crack in the glaze. We could see it on Ted's Facebook page showing his kiln's previous night's production; he was upset and apologetic about it. I suggested it might do (not all art works are without damage or "imperfection") – suggesting Leonard Cohen's reflection that "There are cracks in everything. That's how the light gets in." But he wouldn't have it for this new piece with its otherwise elegant crackle glaze – that was as it was supposed to be.
Quiet, gentle, caring and wryly supportive is the way he seemed to me over the many years we shared here. All the while he pursued his own reactive and imaginative path. He'd found a Way, his way. It was a path that had its whimsical side, producing, as a sample, blue ceramic dogs who offer themselves to us without barking, wagging tales or begging in other rough or gentle, fawning fashion.
In his role as artist, as well as just being here, Ted was a bit of the magic glue that makes community, our community. And we are grateful.
Richard Tyler:
Ted loved to laugh. It was so much fun to make Ted laugh because his laugh was generous, genuine and infectious. He also loved to sketch – he said it made meeting girls easier.
When Ted and Louise moved to Salida, he soon began showing his work at cultureclash and the Art Post Gallery in Coaldale. Ted and Louise made many steadfast friends here. And they laughed.
Ted's heads began popping up all over the county, including one on the bank of the Arkansas River. Many people judge the river flow by Ted's "head" located in front of the SteamPlant.
Ted began his local radio career at KHEN-LP in Salida with a program he named Art Talk. He hosted the show under his unusual pseudonym, Dr. Rico Pesce, and provided local artists a forum to discuss their lives, influences and philosophies.
He was a great friend with a terrific sense of humor – which is one of life's great gifts. Thank you, Ted. We still hear him laughing in our hearts.
A video of Ted at work can be found at: www.youtube.com/watch?v=50i40vY96aQ