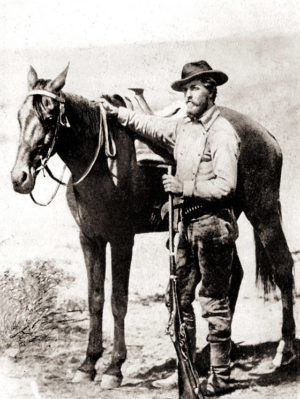 By Mike Rosso

The cover photograph of Southern Ute Chief Ouray and Colorado railroad builder and entrepreneur Otto Mears was taken by famed American photographer William Henry Jackson sometime around 1878.

Printed on the board on which the photo is mounted is "Department of the Interior, U.S. Geological Survey of the Territories, Prof. F.V. Hayden in Charge."

After serving in the American Civil War for nine months including the Battle of Gettysburg, Jackson worked as an artist before moving West in 1866 where he learned the photography trade. In 1869, the Union Pacific Railroad offered him a grant to photograph scenery along its routes to use in their promotional materials. His work was discovered by Ferdinand Hayden who asked Jackson to join him on a geologic survey of the Yellowstone River region. In 1870 he was invited to join the U.S. government survey (predecessor of the U.S. Geological Survey) of the Yellowstone River and Rocky Mountains led by Hayden, which eventually led to the creation of Yellowstone National Park.

Jackson travelled and shot with a variety of bulky glass-plate cameras. He coated, exposed and developed his photographic plates in the field and employed a team of five to seven men to carry his equipment using mules.

Early in his photographic career, Jackson became familiar with and engaged the Native Americans in the Omaha, Nebraska, area and did many now famous portraits of Osages, Otoes, Pawnees, Winnebagoes and Omaha Indians. He continued working on the Hayden Surveys until the final one in 1878.

Otto Mears spoke the Ute language and worked as an interpreter for Ouray in peace negotiations during the 19th century mining boom in Colorado (see the article on page 8). He helped to negotiate the Brunot Treaty of 1873, which led to the appropriation by the U.S. government of thousands of acres of Ute land. The treaty was signed at the Los Piños Agency west of Saguache so it is possible the cover portrait was taken around that time.

The print is part of the collection of the Denver Public Library and is a 5 x 7 inch albumen print mounted on an 11 x 14 inch mat board. Albumen is found in egg whites and was used to bind photo chemicals to paper in the early days of photography.