By Kenneth Jessen
Halfway up Fairplay's main street stands a curious monument made of dull gray cement adorned with ore samples from many of the mines in the Fairplay-Alma area. Etched in the cement is the following expression of respect to one particular burro called Prunes. It reads, "Prunes—A burro—1867— 1930. Fairplay, Alma—All Mines In This District." Expressed in this simple inscription is the heartfelt praise to this shaggy little servant of Colorado. Ripley in his "Ripley's Believe-It-Or-Not" syndicated cartoon made Prunes and his monument famous. Prunes was also featured in 1943 on the radio version of "Death Valley Days."
The last mine where Prunes worked was at the Hock Hocking mine in Mosquito Gulch. Prunes became a pet, shuffling back and forth with ore cars in the dark, damp passages. Superintendent Harry Radford maintained that Prunes was his top jackass. When Prunes became too old, his owner Rupe Sherwood freed the jack of his collar and traces, then retired him to roam in the sunlight at will.
When Sherwood was 12, he ran away from home, and after a trip in a covered wagon, ended up hunting with Buffalo Bill Cody. After wandering around the West, Sherwood settled in the Fairplay-Alma mining district. For almost five decades, he owned Prunes and boasted that Prunes worked every mine of any consequence in the district at one time or another.
After Sherwood "pensioned" his faithful jack, the animal spent its final years making the rounds of Alma's back doors begging for food. Residents eagerly gave the old jack food. Flapjacks fried in sowbelly grease made old Prunes hee-haw with delight. As the animal aged, his health began to fail. An examination of his mouth revealed that Prunes was losing his teeth, affecting his ability to eat.
A blizzard struck Alma in 1930, and the snow drifted deep. The temperature plunged below zero, and Prunes took refuge in an old shed. During the blizzard, the door blew shut, and a snowdrift prevented the old burro from pushing the door open. Residents noticed that the burro was not making his usual rounds. After searching, they found Prunes half starved in the shed, weak in the legs and unable to walk. He was showered with food and affection, but he did not recover from his exposure to the blizzard.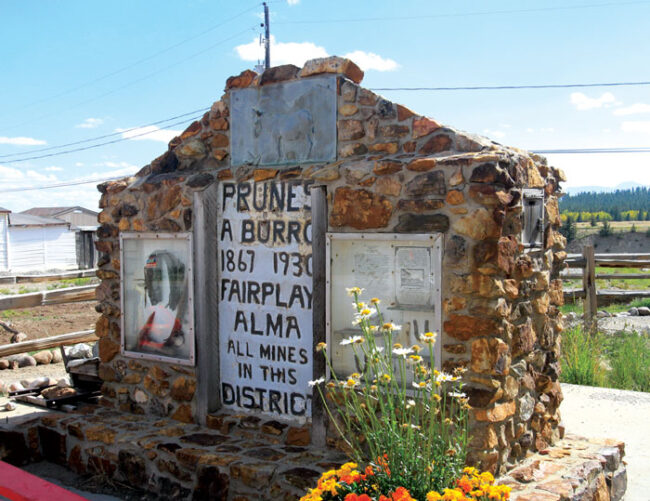 The miners met in May 1930 in Alma to decide what to do about the suffering animal. It was a difficult decision, and the miners elected to put an end to the suffering of their little long-eared friend. Prunes was shot as some of the old-timers, including Sherwood, wept. His little gray carcass was discarded in a local garbage dump.
A Fairplay cafe owner, with the help of other willing admirers, dug a grave on Fairplay's main street, and here they deposited the remains of Prunes. Over the grave, the miners in the area erected the unique cement monument studded with ore samples from the mines Prunes had worked. Never before had an animal been so honored by a Colorado mining town.
Columnist Arthur Brisbane wrote this about Prunes:
An old donkey that worked in Colorado mines so long that few could remember when he started is dead at last. He worked until he could not work anymore, or even eat. They shot him. Now he is to be honored with a memorial, built of ore samples from all the mines in which he worked. A touching picture, it will be appreciated by many a two-legged worker, including white-collar men … they are less fortunate than the old mine burro. Nobody builds a monument to them and nobody shoots them when they can no longer earn a living. They are turned adrift.
Rupe Sherwood composed a long poem titled "Me and Prunes," which begins:
      So poor old Prunes had cashed in.
         too bad, still in a way,
      I'm glad the old boy's eased off
         and calling it a day.
      I'm going to miss him scandalous!
         The world won't seem the same —
      Not having him a-standin' here
         hee-hawing in the game.
A year later on August 23, 1931, at the age of 82, Rupe Sherwood died in the Fairplay hospital. On his deathbed, he realized he was on his last trail. He asked to be cremated and have his ashes buried behind the monument under which the bones of his faithful burro were buried. The funeral was attended by about 500 people. A bronze plaque was added to the top of the monument.
Kenneth Jessen's classes at Colorado State University are on indefinite hold giving him plenty of time to write more articles!