by Mike Rosso
In the summer of 2008 the Bureau of Land Mangement Royal Gorge Field Office in Cañon City released it's Travel Management Plan after a three-year public process. The plan involves management of BLM lands from Cañon City to Browns Canyon in Chaffee County.
The biggest change in the plan is a restriction of motorized and mechanized travel, limiting their use to specific designated routes.
The BLM arrived at this decision due to resource damage resulting from recreation, especially high impact motorized uses like dirt bikes and ATVs, some ridden without concern for issues of erosion, and disruption of wildlife and plant life. Trash dumping on public lands was also becoming a big problem. A goal under the BLM Plan is to provide appropriate recreational access based on the resource qualities while protecting public lands from damage caused by illegal use.
A recreational shooting ban was also put in place on BLM lands on the south side of U.S. Hwy 50, again due to abuses and lack of oversight.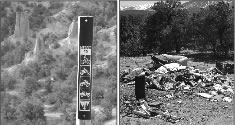 But, due to a lack of funding at the federal level the restrictions are only good on paper, the BLM does not have fully adequate resources for proper enforcement of the regulations or for public awareness programs.
In Chaffee County a local non-profit has stepped in to fill the void. The Quiet Use Coalition has been working with the BLM to help implement the plan, suggesting ways to stop abuse of public lands.
One of their first projects involved attempts to limit access to the Castle Gardens area southeast of Salida. The land is home to a rare plant species, a type of wild Buckwheat, which only grows in an area of 1.27 square miles worldwide.
Over the years the area has seen more and more destruction due to unchecked motorized use, shooting, dumping and paintball activities.
In late February, with resources gained through donations and grant money, QUC volunteers began attempts to limit access to the area by employing large boulders and information signs, informing users of the closures and new designation.
Some of the work was immediately vandalized by those who disagreed with or did not understand the new rules, deciding not to abide by them. But in many cases, the closures are working and the land may stand a chance of recovering, according to members of the QUC.
On the other side of the Arkansas River, another route was closed to four-wheel traffic to protect environmental resources. The road, east of the cattle sale barn, was sometimes used by car campers and fishing access. Camping is still allowed but campers will have to walk or bicycle a short distance in and abide by regulations for camping established by the BLM. And fishermen, especially bipeds, can still walk in to the area and find any number of easy access points to the river.
The BLM Travel Management Plan is available for public viewing at it's website: www.blm.gov/co/st/en/fo/rgfo.html
Info on the Quiet Use Coalition can be found at: www.quietuse.org