The electric car making strides in Salida
story and photos by Mike Rosso
A Salida-based automotive electric conversion business is getting ready to amp up its profile on a national level.
Evolve-it Motors, formerly Salida Conversions, soon will begin training auto shops across the country in the process of converting existing internal combustion vehicles into either gas/electric hybrids or full-on electric, says owner Pete Hansen.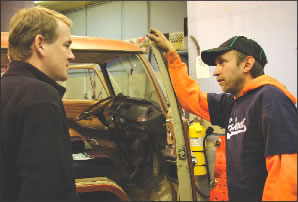 Started in 2007 strictly as a conversion operation (adding a secondary electric motor to existing vehicles to increase mileage and efficiency), the company quickly found itself very much in demand as gas prices skyrocketed in 2008.
Now, with the help of a board of advisors and willing investors, Evolve-it is going national, teaming up with other manufacturers helping to thrust the electric vehicle into the mainstream. The first joint venture is with Special Edition, Inc., a pioneer in "pre-assembled body packages" allowing hobbyists to create replicas of classic roadsters on Volkswagen Beetle frames. They also manufacture two unique, retro-style roadsters; the Beck Speedster and the Beck Spyder, assembled in Indiana with bodies made in Brazil and German engines.
Hansen discovered Special Editions while doing research on smaller domestic auto manufacturers. After his initial contact, he flew to Indiana and met with the owner, offering assistance to develop, engineer and assemble electric versions of the Beck automobiles. The company liked what they saw and agreed to a joint venture, thus merging with Evolve-it for the electric versions of their roadsters. They hope to have their first prototype, an all-electric, plug-in version of the Beck Spyder, completed by June 30 of this year with an expected range of 75-100 miles without a recharge.
Evolve-it will be also be featured in the upcoming June edition of Popular Mechanics. There is also an opening planned for the company in Los Angeles this coming August, although Hansen wants to keep the base of operations in Salida. He hopes to help the national economy in his own way by, "hiring and training mechanics in conversion technology in a variety of states and using green technologies,"
Hansen began his experiments with electric propulsion with a self-crafted electric skateboard fitted with a 90-volt battery and capable of achieving speeds up to 35 mph. Further research led him to discover a company that manufactured and sold hybrid kits, NetGain Motors, Inc., of Illinois. In May 2007 he started Salida Conversions as an exclusive Colorado dealer and installer for NetGain products.
Their first project involved converting a 1999 Chevy Tahoe into a hybrid (half internal combustion, half electric), essentially doubling the highway mileage from about 11 mpg to 18-22 mpg. Soon afterwards, Chevrolet introduced their own hybrid version of the Tahoe but only producing a 10% increase in fuel economy, according to Hansen.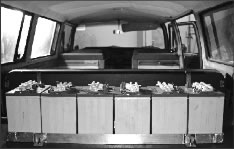 In January of 2008, Hansen's shop was featured in a news segment on ABC Channel 7 in Denver. Soon afterwards, according to Hansen, "we got swamped." Gas prices also started to rise and customers inquiries began coming in from around the country. In some cases, buyers requesting that Salida Conversions purchase specific cars in Colorado, do the conversions, and ship them on to the new owners. Soon after, they company designed their own conversion kit with the help of UQM Technologies of Frederick, CO, a research and development company.
Hansen's big break occurred at the National Electric Vehicle Conference held in Washington, D.C. in late 2008. Sponsored by the Electric Drive Transit Authority, the event brought bigwigs from throughout the automotive industry. He met a large number of business owners and managers who are working to move the auto industry away from the internal combustion engine towards electric. Hansen even had an opportunity to buy a beer for Dave Lake, the man in charge of the Chevrolet Volt (an electric car) project who was receptive to his ideas. From this conference came the idea to begin offering conversion training to auto shops around the country.
Meanwhile, Hansen continues to do conversions at his shop in downtown Salida and hopes in the near future to have a Beck dealership there – a future that looks bright for Evolve-it as gas prices continue to climb and consumers seek alternatives to traditional gas-guzzling vehicles.
For more info visit: www.beckspeedster.com and www.evolveitmotors.com