By Lynda La Rocca
"It's what you fail to imagine that kills you."
This quote, from Michael Lewis's new book "The Fifth Risk," refers to the dangers facing America under the Trump administration, specifically those posed by incompetent and unqualified government leaders.
But it also applies to the residents of the southern Lake County hamlet of Twin Lakes, who could never have envisioned the deadly tragedy that literally tore their community apart 57 years ago.
In the early morning hours of Sunday, January 21, 1962, an avalanche roared down a mountainside just west of this bucolic village.
The massive snowslide, estimated at one-quarter mile wide and four miles long, swept away five parked vehicles and ripped out a grove of aspen trees "like they were toothpicks," according to one local business owner. Worst of all, it demolished four houses, burying nine members of two families beneath the snow-packed rubble as they slept, and killing seven of them.
Preceded by a blizzard packing 70-mile-per-hour winds that loosened the snow on 12,682-foot Parry Peak, a lesser summit of Colorado's highest peak, 14,433-foot Mount Elbert, the slide gathered speed as it thundered down a natural avalanche chute known as Gordon Gulch. Moving as fast as 200 mph, it first slammed tons of snow, rock and ice into an unoccupied cabin belonging to Joe Shelton, whose family had recently moved to Glenwood Springs. It then engulfed the residence of Joe's 42-year-old brother G.L. Shelton, who was asleep inside with his wife Marie, their 15-year-old son Steve, and daughters Linda, 10, and Vickie, 7.
The impact pushed the structure 25 feet off its foundation, killing Shelton – who once speculated to the village postmaster that the area's geological features and barriers, such as a huge boulder behind the house would safely divert snow in the event of an avalanche – and his entire family.
Their bodies, still on their mattresses and covered with bedclothes, were discovered later that day. Compounding the horror, Shelton was found with his hands over his head, while the girls were locked in each other's arms in a final embrace.
And the slide wasn't finished. After destroying the Shelton residence and pushing another unoccupied house off its foundation, it barreled clear across state Highway 82 and struck the home that Bill and Barbara Adamich shared with sons Billy, 8, and Michael, 7, and a small, pregnant, mixed-breed dog named Pepe.
Billy's body was found that same afternoon, 30 feet from the ruins of their house and under just 14 inches of snow. Michael's remains, buried beneath 12 feet of snow and debris, were not recovered for two days.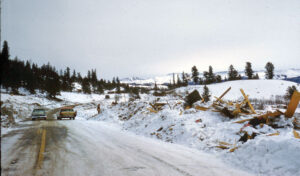 Their parents were pulled alive from the rubble by rescuers that included members of the Lake County Sheriff's Office, employees of the Climax molybdenum mine, and their own neighbors – most of whom had heard nothing and remained oblivious to the calamity until around 8:30 a.m., about three hours after impact, when someone happened to look outside and realized that several nearby houses had vanished.
Bill Adamich, whose only warning had been a bright flash and what sounded like a peal of thunder, said later that he survived because he'd been pinned beneath a door that created an air pocket. While waiting for help, he periodically called out for his wife and children, checked his watch, prayed and wondered how a prayer book that had been left on a dresser wound up lying on top of his chest. Barbara, entombed for nearly six hours, credited her survival, in part, to having gone to bed wearing a heavy, insulating sweatshirt.
But they weren't the only ones spared. Pepe, found huddled under what was left of the kitchen table, was also rescued. That same night, she gave birth to seven puppies, the size of her litter equaling the number of avalanche victims.
The puppies, named after famous Leadville mines, miners, and historical characters like silver magnate H.A.W. Tabor, his mistress-turned-second-wife Baby Doe, and the "unsinkable" Molly Brown, were auctioned off to loving homes, and the proceeds donated to a fund for the survivors.
According to a Colorado Central article written by Sharon Chickering and published in 2000, Bill and Barbara Adamich, who lost an infant daughter to a congenital heart defect seven years before their boys perished in the avalanche, subsequently moved to Leadville and lived there until 1981.
They had two more sons, one adopted and the other born in 1962 on Christmas Eve.
Today, it is almost impossible to find the area where the avalanche actually struck if you don't already know where it is. There's nothing but open space and a meadow on the shore of upper Twin Lakes to commemorate that fateful morning – unless you look upward, that is, and trace the path of the Gordon Gulch avalanche chute gouged into the side of Parry Peak.
A RESCUER'S RECOLLECTIONS:
Some memories never fade.
On January 21, 1962, the day an avalanche killed seven residents of Twin Lakes, Howard Tritz was a 25-year-old mill worker at Lake County's Climax molybdenum mine who wanted to join the county search and rescue squad.
So when a childhood friend, who was already a squad member, telephoned to ask Tritz if he could assist at the scene of the avalanche, the former Lake County Assessor, now 82, readily consented.
"He told me, 'I just heard there was an avalanche out at Twin Lakes,'" Tritz remembers. "'Want to grab a shovel and come help me? It's not a bad one; we'll just have to clear off peoples' walks.'"
Instead, when they arrived, they were stunned by the extent of the devastation.
"We couldn't believe it," says Tritz, who was assigned to work on what had been the home of Bill and Barbara Adamich and their two young sons. "The house had completely folded in on itself."
Climbing atop the snow-packed rubble, the rescuers heard moaning – a welcome sign that someone was alive. But this was also a warning to the team to be especially careful that their combined weight didn't further collapse the debris onto those entombed below.
"The first thing we handed up through that mess was the dog," says Tritz, referring to the family's pet, Pepe, who gave birth to seven puppies on the night of the avalanche, an event locals called "the Miracle of Mount Elbert" because the size of her litter equaled the number of human victims.
"But it wasn't only the same number," Tritz reveals. "The pups were also the same sex as the victims, four males and three females."
Despite the passage of almost six decades, random images from the tragedy remain clear in Tritz's mind. For instance, he remembers glancing up while digging and spotting a dead mule deer that had been caught in the slide. Then there was the black horse that somehow managed to dig itself out of the snow and was "running down the road [State Highway 82], frantic."
After Bill and Barbara Adamich were pulled alive from the rubble, and the body of their older son Billy had been recovered, rescuers continued to search for seven-year-old Michael.
"The part of the house that the boys were in had gotten swept way downriver [toward Upper Twin Lakes]," Tritz explains. "We were still digging two days later, and I was hitting debris from the house and thinking, 'I hope that's not him, I hope I don't find him,' even though I know that's what I'm here for."
Ultimately, he didn't discover Michael's body. But he did help to remove it.
"And that was just as bad," Tritz recalls. "He was this little red-headed boy …"
His voice trails off before he adds, "You never forget something like that."
A resident of Twin Lakes for 16 years, Lynda La Rocca now lives in Salida, where it's easier to avoid avalanches.