By Hal Walter
My life in fishing began, literally, because I could not be held in captivity, as evidenced by my escape from the daycare facility by digging a tunnel beneath the fence.
The tunnel – inspired by episodes of the sitcom Hogan's Heroes – was really not much more than a trench beneath the chain link, but it was large enough for a skinny kid to wriggle through. My partner in crime elected to not follow me under the fence. Within seconds a general alarm had been sounded, and I was apprehended in the side yard between the daycare and the neighboring house by a woman who contained and tackled me with all the deftness of Von Miller.
Since it was clear I was not happy at the daycare and was possibly an escape risk, my mom elected to turn me loose with a fishing rod along one of America's great rivers. I was perhaps 8 years old. This was before the advent of "Free Range Kids," and I thank her for this experience to this day.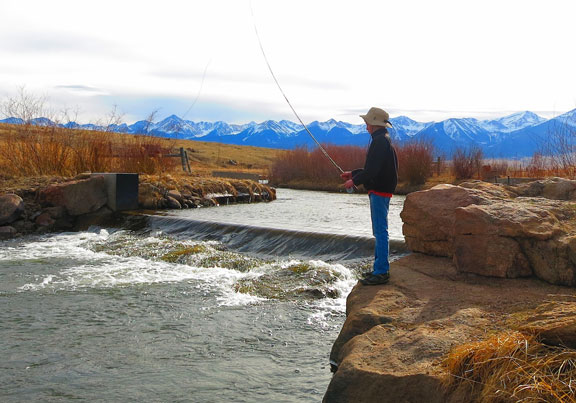 What began as an escape quickly turned into a primal obsession, as I imagined myself to be providing for the family and quickly filled the freezer with more fish than we or the neighbors could eat. But beyond this, I think fishing served as an escape for me, and remains so to this day, particularly in the springtime when I just want to get outside.
For some reason, the idea of catching fish on a fly was attractive even though bait was much more effective. By age 9, I had cobbled together a "fly-fishing" outfit using a short fiberglass baitcasting rod and a cheap Kmart fly reel. I fashioned flies from bait hooks, aluminum foil, duck feathers and my own hair using sewing thread and model airplane glue to hold them together. Surprisingly I caught a lot of fish with this setup, including trout from the river and dozens and dozens of bluegills and crappies from a neighboring park pond.
In my early teen years I put together an outfit that included a Garcia fiberglass fly rod and a genuine G.L. Herter's reel from the thick catalog that in those days served as a wish list for young outdoorsmen such as myself. With this new rig I caught hundreds of fish, as it followed me around throughout my teenage years, into college and on to young adulthood. It simply worked just fine so why would I spend hundreds of dollars on new equipment?
But eventually I did upgrade and kept the Garcia-Herter's outfit around mostly out of nostalgia, and partly as a collector's item.
When my son Harrison first started fishing, I bought him a spincast rod and reel, figuring this would be the simplest way for him to learn. But the nuances of casting and timing, and managing the line tension on the spool, never seemed to click within the challenges of his neurodiversity, and often we spent valuable outdoors time untangling monofilament and re-rigging after snags.
Harrison never came close to catching a fish because this gear was always in the way of … well, actually fishing. He watched me catch fish with my fly gear and one day asked when he could fish with a fly rod. I thought, why not? It might actually be simpler for him to learn to fish by literally just flipping the line, and perhaps the thick fly line would be less easy to tangle.
And so this spring, on one of our first ventures out to a nearby trout stream, I turned the old Garcia-Herter's rig over to him. I took a couple of trial casts with it beforehand and was startled by the familiarity of its cast. Harrison hooked into three fish. He managed to get one of them to shore and it flopped off the hook and back into the creek. The other two ran into the current and got away. But this was enough to trigger something primal.
Meanwhile and ironically, I sat out most of this excursion on a nearby rock trying to fix my fancy Ross reel, which had detonated into a handful of screws and parts upon my first cast.
What happened next was even more illuminating. The fishing had suddenly turned to obsession. Harrison did not want to stop. When it was time to leave, he threw a tantrum only an autism parent can understand, screaming and striking out, and making loading him and the gear a real challenge. Plus the cold spring wind had begun to rage. I just wanted to get on the road home.
I had made an appointment for the next day to pick up a load of hay from the Seven Diamond Ranch near this stream. So I thought we'd load up the hay and then get in some more fishing. When I went to swap the fishing gear over from the car to the truck, I could not find the fly rod Harrison had been using. I suddenly realized I must have left it behind in the blur of his tantrum. I try not to be too attached to material possessions, but I'd had this fishing rod and reel for four decades and something really bothered me that I'd probably lost it forever.
I found some other gear for us to use and we went on to load up the hay and then to the stream. The Garcia rod and Herter's reel were not where we had parked. I asked a couple other fishermen if anyone had seen or noticed the rig. Nobody had. We fished and I began to brood over the loss, especially the reel. This brooding continued on into the evening, when I decided I just needed to accept it was gone and forget about it.
The next morning, I drove Harrison in the car to the bus stop, which is about 2.5 miles away. On the way home, about a mile from the house, I saw the butt section of the rod and the reel laying in the middle of the road. A little ways later I found the tip. Everything was completely undamaged.
Now, am I to believe that this fishing rod rode on the top of my car probably 25 miles over dirt roads, bumpy country pavement, at speed on the highway, and with high wind, and then over four miles of dirt roads and six cattle guards to the house? Was it possible I never noticed it on top of the car all the previous morning? And that it just fell off the roof on the way to the bus?
The mystery of this fly rod's journey now becomes part of our own, like the puzzle of fishing, the seemingly hardwired obsession that can attach to this activity, and the escape it creates in the mind.
Hal Walter is a 30-year resident of Custer County and the author of Full Tilt Boogie – A journey into autism, fatherhood, and an epic test of man and beast.