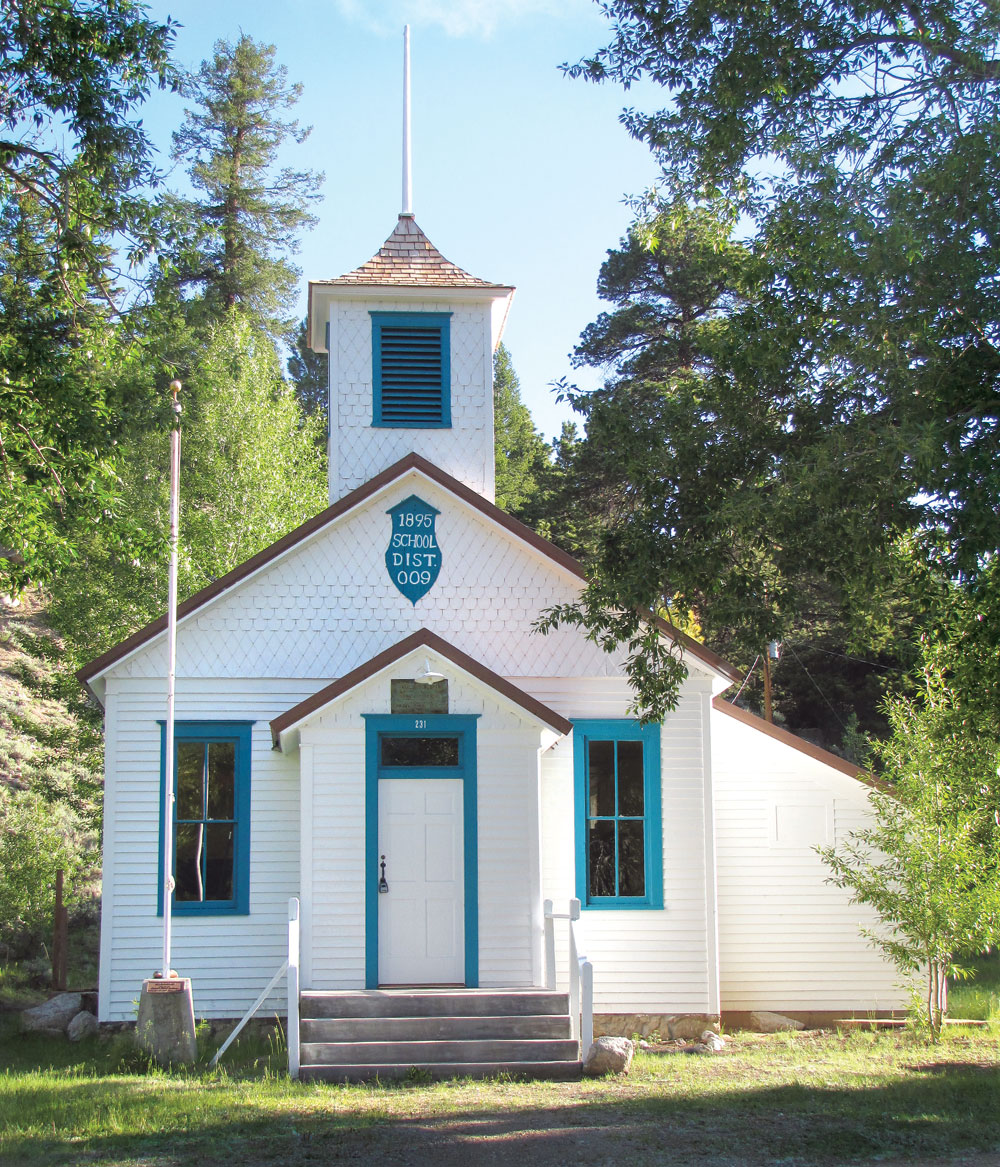 Demonstrating a "can-do" spirit.
By Linda La Rocca
A few years ago, the 1895 schoolhouse in Twin Lakes was little more than a reminder of the days when this southern Lake County village, nestled in a scenic glacial valley near two sparkling, sub-alpine lakes, was the hub of a small gold-silver-lead-zinc mining district and the main stop for freight wagons and passenger stagecoaches traveling the Leadville-to-Aspen route over 12,095-foot Independence Pass.

But that was before the Friends of Twin Lakes (FOTL) began eyeing the school, which continued to welcome students until 1959, as a prospect for historic preservation. After much discussion, the group proposed a plan to restore and maintain the structure, re-establish it as the heart of the village, and reinvent it as a de facto community center.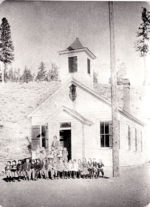 At that time, the one-room, 936-square-foot, clapboard-sided schoolhouse "was in such a horrible state," says Kelly Sweeney, recently elected president of the FOTL, a non-profit organization focused on such objectives as "preserving the many historically significant aspects of the area."
The building's belltower-topped exterior needed everything from foundation work and roof repairs to lead-based paint remediation and repainting. Rotted siding and broken window glass had to be replaced, outside steps resurfaced, and a new door installed.
Outbuildings – a wood-frame privy and a well house – required refurbishing, while the interior was in desperate need of fresh paint, new drywall and replacement flooring.
It was enough to make most individuals – and organizations – cry. But not the Friends of Twin Lakes.
Led by past president John Kester, an FOTL founder and the driving force behind the schoolhouse restoration, the group rolled up its collective sleeves and went to work.
In summer 2014, the FOTL signed a 10-year lease with the building's owner, Lake County School District R-1, for the token sum of fifty dollars, payable in whopping annual installments of five dollars.
The following spring, the FOTL secured a $20,000 grant from Freeport-McMoRan Inc. through its Freeport-McMoRan Community Investment Funds program.
The group then hired Leadville-based mitigation and restoration company K.W. Construction & Restoration to tackle the building's exterior. And it put out a call for volunteers to do interior "painting and nail-pounding," along with cleaning and outside landscaping, says Sweeney.
Twin Lakes has always attracted self-sufficient folks unafraid of getting their hands dirty. So it's no surprise that some 30 locals were soon hard at it, donating numerous hours in "sweat-equity" valued at more than $15,000.
"People came and did whatever they could whenever they could, using whatever skills they had," Sweeney recalls. "And in the process, they showed the best of what our community has to offer."
Despite such temporary setbacks as a construction-crew cherry picker accidentally hitting and damaging the building, most of the major renovations were completed within months. And while work continues on less labor-intensive tasks like installing window shutters and creating an interpretive display, the village now boasts a bright, clean, restored schoolhouse and gathering place containing features like finished, solid-oak flooring.
"The schoolhouse is a real jewel," says Sweeney, "not only because of its historical significance, but also because of its social significance to residents."
And that social significance is no small thing, given that Twin Lakes pretty much shuts down after Independence Pass closes in late October in anticipation of another long, snowy winter.
"In winter, when the rest of the village is quiet, this [the schoolhouse] is a place for people to meet," Sweeney explains.
The refurbished schoolhouse hosts events that include the FOTL's own meetings; informational gatherings of government agencies; fire-mitigation sessions; and planning, training and security meetings related to the various bicycle races and endurance footraces that pass through Twin Lakes and its environs each summer. There are dinners for groups like Bike & Build, an organization of young adults who travel across the country by bicycle to work on affordable housing projects; "lunch-and-learn" educational talks on topics like area geology; and holiday get-togethers and potlucks.
Initially restricted to FOTL-sponsored events, the building is now available for use by a limited number of private groups under pilot-program guidelines drawn up by the FOTL and approved earlier this year by the county school board.
Currently, the schoolhouse is hosting a series of five seminars on Native American nations that began in June and continue through October. These free, hour-long seminars are led by Judy Leaming, a Catawba/Cherokee attorney and educator who has worked with Native American tribes for three decades – and who also happens to be the secretary of the Friends of Twin Lakes.
So if you want to see what dedicated, determined and caring individuals can do to make their little corner of the world a better place, look no further than the Twin Lakes Schoolhouse.
For additional information on the Twin Lakes Schoolhouse and the Friends of Twin Lakes, visit
www.friendsoftwinlakes.com
. For more on the Native Nations seminars, go to
www.friendsoftwinlakes.com/meetings/native-nation-seminars
.
Lynda La Rocca has lived in Twin Lakes since 2001, and there's no place she'd rather be.