By Hal Walter
I was running with Teddy the Junkyard Jack down Music Pass in preparation for the upcoming pack-burro races when I first saw the smoke from the Hayden Pass fire. I knew at once these were not cumulus clouds with their billowing heads, amber undersides and dull rainbows in the folds.
I had failed to reach the top of Music Pass that Sunday, not due to anything physical but rather because of time constraints so common to the steel-jaw trap of family life. The summit would have to wait for another day.
From this vantage at the south end of the Wet Mountain Valley I could not get a pinpoint on the fire, only that it was somewhere in the range north of Westcliffe. Judging from the height of the smoke I figured it was mid-altitude on the range, and large.
I watched the smoke boil and fan eastward with the afternoon wind as I changed out of running clothes. Then I began driving toward town, where I could clearly see the fire was in the Coaldale area.
Back home, the edge of the smoke towered overhead, with a breeze cleaning the air at ground level. I knew this would change.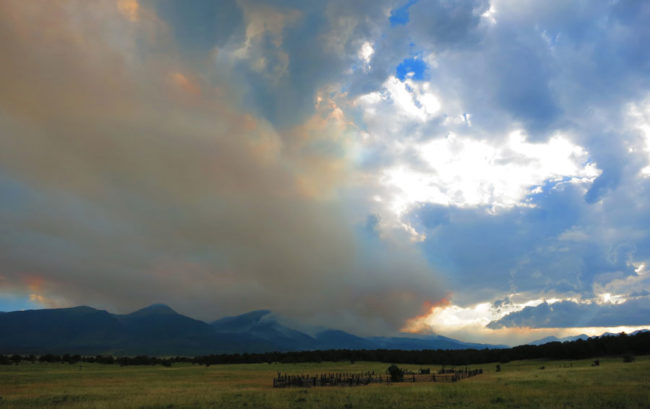 The fire presented a new dilemma. I'd committed to taking my son Harrison to the Mountain Vibe Youth Camp in Salida starting the next day. The day camp's leader, Michelle Ricci, has been gracious in accepting Harrison and the challenges presented by his autism, even though the camp is set up for neurotypical kids.
The commute to Salida would take us right by the fire. As we headed out Monday morning, the fire had lain down over the evening, leaving only smoke at ground level from Fremont County Road 1A, known locally as "Cotopaxi Cutoff," to just past Coaldale. As I drove, Harrison was clamoring to take the longer route through Texas Creek because he wanted to "see the end of Highway 69." I told him it was a waste of gas and time as we were already running late.
When we arrived at the church where the camp is held, Harrison erupted in a fit. Soon it became clear that the Montessori School sign on the church had him freaked out – he'd surmised I'd brought him to "school" rather than camp. After showing him a poster in the window for the camp, Michelle was able to get him calmed down and inside.
Thus began camp. I passed the time running on trails around Salida, eating expensive lunches and walking around town where the air was crisply clean despite being only a few miles upwind from the inferno. A firefighter camp went up on the east end of the city and aircraft buzzed overhead. On the return trip a "staging area" for the media was set up in Coaldale so reporters could be fed their daily pabulum of number of acres burned, percent containment, fire classification "type," evacuation orders, number of firefighters, which way the wind is blowing and other absurd trivia.
In the cyber world, the fire now could be seen in pictures taken from outer space, and had its own Facebook page with more than twice as many likes as Colorado Central.
Everywhere I went I heard the same things from people, "sad," "terrible," "scary." The fiction that this fire was brought about by beetle kill had become common-held belief, when in fact what's really killing the trees is Western Spruce Budworm that has infested fir and spruce at mid-elevations. It made me realize how out of touch our society has become with our environment, that we consider Nature's very act of cleansing and renewal something sinister. So much of this is wrought in our egoic vision of life in the mountains where everything is white in the winter, green in the summer and golden in fall. There is no spring. Anything that threatens our material possessions, or our freedom to move freely about or breathe pure air is "bad."

Every afternoon, the fire would erupt with the hot wind. The roads remained open but a flashing sign now said "No Stopping." For at least 20 minutes in each direction, each day, Harrison demanded loudly to go through Texas Creek. I repeated that we could only go that way if the Cotopaxi Cutoff was closed. He was undaunted and continued relentlessly to lobby for the longer route. During these times my brain feels ready to spontaneously combust and I ask myself questions about my own values. Is it really worth driving through smoke and ash in an attempt to provide "normal" experiences for someone who processes the world so differently?
Honestly, I keep on going only because I believe it is.
Then one evening on the smoky drive home from camp, Harrison out of the blue asked me about my childhood. What was it like for me when I was a kid?
Huh?
I checked the back seat to make sure I'd brought home the correct child. What was it like? Where did I live? So I told him about how my biological father was in trouble a lot, left when I was 7 and that I never saw him again. That I was born in Virginia, lived in Nevada and Northern Virginia, then moved to Colorado. He listened and seemed to absorb all this. We drove on through the surreal firescape and smoke.
On the last day of the camp I was to pick up Harrison from the Salida pool. When I arrived Michelle greeted me at the door and said, "Good timing – Harrison is naked in the hallway."
I found him in a meltdown, not wearing a stitch of clothing. Other kids leaving and entering the locker rooms seemed perplexed and embarrassed, and looked away. I quickly discovered that he'd inadvertently been given his towel, and his shirt and shorts – but not his underwear – thus triggering this outburst. Michelle quickly found his bag out in the pool area and I directed him to the locker room to get dressed. Another episode in the life of an autism dad.
On the way home that evening he once again pleaded persistently to go through Texas Creek. I told him no, that I just wanted to get home. When we turned off at Cotopaxi there was a barricade: "Road Closed."
So we continued on through Texas Creek, at last topping the hill near Hillside, looking back at the orange sunset through the smoke.
That following weekend I returned to Music Pass with Teddy, ran to the summit, down the other side to Sand Creek and back up, bagging it twice. A cooling trend was on the way, and blue sky highlighted slopes of brown and gray trees. The Spruce Budworm had been at work here too. A few thunderheads were brewing.
Like everything in this life, it's only a matter of time.
Hal Walter's short book, Endurance: A season in cross-country with my autistic son is now available from The Book Haven in Salida, The Village Shop in Westcliffe, and directly from him.