by Mike Rosso
Nestled in the pines at 11,380 feet, a few miles east of the Continental Divide and just outside Leadville, sits Uncle Bud's Hut, a true gem in the 10th Mountain Division hut system. Below lie the shimmering waters of Turquoise Lake, and across the valley stand two of Colorado's mightiest peaks, Mount Elbert and Mount Massive. The hut was built in the late 1980s in honor of Burdell S. "Bud" Winter, who died in Italy during World War II, 70 years ago this April, while serving with the Army's 10th Mountain Division.
Uncle Bud
Burdell "Bud" Winter was born in Schenectady, New York in 1925. An avid skier and mountain climber, Bud eagerly enlisted with the 10th Mountain Division at the age of 18, which led him to Camp Hale in 1943, the Colorado headquarters for that new Army Division. It was formed with the intention of training soldiers to fight in the European Alps, mostly in snowy and mountainous conditions. He was assigned to the Tenth Recon, an elite group of instructors, and was the youngest trooper in that group.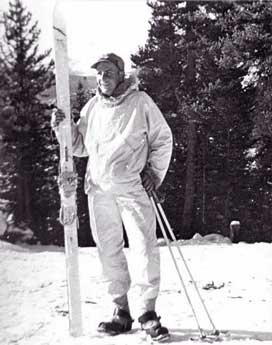 Bud was one of 33 soldiers who took part in the "trooper traverse," a legendary four-day backcountry ski trip from Leadville to Aspen that began on Feb. 21, 1944. The soldiers arrived in Aspen on Feb. 24, spent the night in town, and were trucked back to Camp Hale the following day. Bud described the trip in a letter home:
"… we are going to hike to Aspen. I don't know whether it is on the map or not … we made the trip in four days, what a trip! I have acquired the name 'rugged Winters' from the trip. I guess I was in a little better condition and tired some of the other fellows out when I was trailbreaking … all went well … it was beautiful and something I will never forget."
The same year, he gained the rank of corporal and was sent for officer training. He returned and joined Company M of the 85th Mountain Infantry, which soon after set sail for Italy to join the fight. In April 1945, then a second lieutenant, Bud was wounded by shrapnel from a German 81mm mortar while fighting on Mount Belvedere and was hospitalized in Rome for a month. For his wounds he received a Purple Heart which was sent home by "a Red Cross lady," according to a letter penned to his family from his hospital bed. He goes on, "The only thing I do not like are the penicillin shots in my behind."
In a letter dated May 3, he expected to be released the following day and was encouraged by an article in Yank Magazine informing him of the GI Bill. "You don't have to worry about me studying when I get there. Since being over here, I realize how important an education is!
You can be sure of one thing, though. I'm going to a co-ed college, and I'm going to make a name for myself in skiing …"
Bud never got that chance. On the morning of April 15 that same year, he was killed during fighting around Hill 913, north of Castel d'Aiano in the Italian Northern Apennines. He was following the company commander through mine fields and artillery and mortar barrages, relaying messages to help direct Allied mortar strikes, when he was killed – just two weeks before the war ended. He was only 20 years old. He was posthumously awarded a Bronze Star.
The Hut
In 1988, Bud's brother, Dr. Fred S. Winter, proposed the idea of a mountain hut to honor his brother to the 10th Mountain Division Hut Association. That group was formed in the early 1980s by several Aspen skiers, including 10th Mountain Division veteran Fritz Benedict. Dr. Winter and his family were in Keystone, Colorado for the winter of 1987 and met some veterans of the 10th during a ski-in and learned about the hut system. Dr. Winter had not gotten over the loss of his brother and saw an opportunity to perpetuate Bud's memory.
He and his wife Barbara, along with his sister Laura, contributed funds for the hut's construction. In 1988, John Wells, a resident of Leadville and an avid cross country skier, picked the site for the hut, which was then approved by Fred and Barbara. Architect Elliot Goss of Jackson Hole, Wyoming donated his time and talents to the project. Several of Bud's nephews volunteered with the construction, thus the name "Uncle Bud's Hut." Among them was Dr. Winter's son John, who selected and hauled a large pile of glacial rock from a nearby hillside for use in the construction. The hut was dedicated on Oct. 8, 1989 on a beautiful blue- sky day with 105 people in attendance. Bud's brother Fred passed away in June 2012.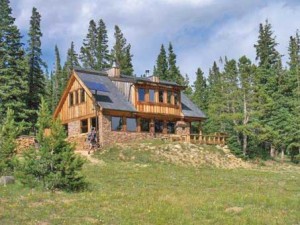 The log-built hut is heated by two wood stoves, one of which is a beautiful old Enterprise cookstove. Firewood is provided; guest duties include splitting and kindling wood, as well as cleaning out the ashes. The hut capacity is 16, with two private bedrooms – one with six beds, one with four beds – and a communal sleeping area with a double bed and four single beds. Drinking water comes from melting snow atop one of the wood stoves and then filtering it. There is also a rooftop catch system with a cistern for washing and rinsing dishes. Pots, pans and all serving utensils and plates are provided, as is propane both of the two-burner countertop stoves. There are two unheated outhouses just outside the back door. Electric light is provided by photovoltaic panels mounted on the roof. Guests pack in their own food, clothing, sleeping bags and beverages.
A dedication book to Uncle Bud can be found at the hut, with photocopies of his letters home, photographs and other memorabilia. Various other mementos of Bud's life can be found throughout the hut. Guest logbooks dating back to 1989 fill a shelf in the reading area.
The hut is open in the summer from July 1 through Sept. 30, and in winter from Thanksgiving through April 30. Dogs and motorized vehicles are not allowed at any hut in the system.
The 10th Mountain DIVISION
Hut Association
Soldiers of the 10th Mountain Division rarely had the luxury of staying in mountaintop huts while serving in the frigid Alps, but several of those who returned embraced the dream of recreating the European hut system they had seen. In 1980, Fritz Benedict and a group of other volunteers created a nonprofit organization they named the the 10th Mountain Division Hut Association. Their goal was to have a group of closely spaced huts, all accessible via intermediate ski touring trails. One of the leading supporter of the project was Robert S. McNamara, former secretary of defense. He personally paid for the construction of the first two huts, which opened in 1982 and are named after him and his wife, Margy.
The Association currently manages a system of 34 backcountry huts in the Colorado Rocky Mountains, connected by 350 miles of suggested routes, 13 of which they own, with the remainder either privately owned or operated by other hut systems. Learn more about them at www.huts.org.
Getting There
In the winter, visitors park at the Turquoise Lake trailhead outside Leadville. The ski-in follows the northern road (C.R. 9) around the lake, which sees quite a bit of recreational snowmobiling, so you won't quite be in a pristine environment. In our group we had skiers and snowshoers. Eventually, the trail breaks off the main road onto USFS Road 107, and this is when the real fun begins. In my case, with skiing skins firmly in place, my 46-pound backpack seemed to only get heavier as we ascended to the hut. The elevation gain of the 5.8-mile jaunt is 1,620 feet, which had me pausing for air every 200 yards or so in the final mile-long push. At a clearing at 11,280 feet, the trail leaves 107 and goes another 1/4 mile northwest to Uncle Bud's, a welcome sight on a winter's day.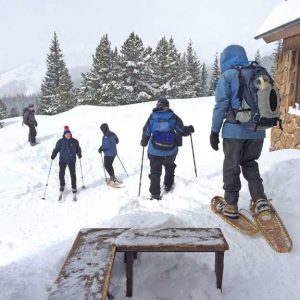 In summer, Uncle Bud's is accessible by driving around Turquoise Lake and taking USFS Road 107 (4WD) to the summer closure gate approximately 1/4 mile from the hut. For a more scenic approach you can hike in along the Colorado Trail from the Timberline Lake trailhead at the west end of Turquoise Lake. Vehicle access is never guaranteed to any hut at any time. The Colorado Trail runs right near Uncle Bud's Hut and provides beautiful hiking in either direction.
CORSAR Card
A Colorado Search and Rescue (CORSAR) Card is a handy thing to have for Colorado outdoor enthusiasts and hut-goers. Just visit www.colorado.gov and search for "search and rescue card."
A video about Uncle Bud's hut, produced by Wildwood Films in Aspen, is available to view at www.vimeo.com/45316977.