By Elliot Jackson
"When I came to Salida and began talking about starting a circus," says Jennifer Dempsey, artistic director of the Salida Circus, "people thought I was nuts. So I stopped talking about it and just started doing it."
If anyone still thinks that, they aren't saying so as Salida Circus stands on the brink of its 10th anniversary celebration. From its beginnings in Jennifer's backyard, with "me, a bag of kids' costumes, and a pair of stilts," as Jennifer puts it, Salida Circus has grown into an organization with a full professional performance schedule, a host of classes for both kids and adults in aerial work, clowning, tumbling and juggling, and an international scope. Two years ago, Dempsey led a small team back to Belfast, Northern Ireland, for the Belfast Community Circus's hosting of the Festival of Fools, an international street performance festival; and in autumn 2016, she led another team to do performances and workshops in Jordan as guests of former Prime Minister Abdul Kabariti. Salida Circus has also performed in London and Newcastle, England, Germany and Guatemala.
In addition to these honors, Salida Circus is the only American member of Caravan, the European "social circus" network, and in 2015 was selected to be part of the Social Circus Network, chosen by Cirque du Soleil and the American Youth Circus Organization. Social circus practitioners emphasize that it is designed to foster community andm to bring people together across class, racial, ethnic, and religious lines.
Dempsey had first-hand experience with social circus's transformative powers as director of the Belfast Community Circus, which helped bridge the gap between Catholic and Protestant community members during the height of "the Troubles."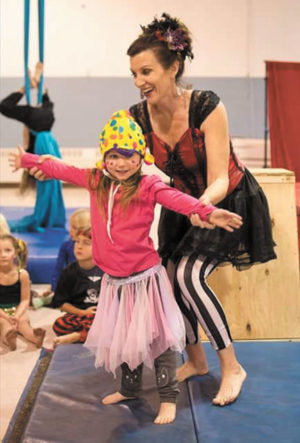 With 12 years experience from Belfast, two years with Circo Rum Ba Ba in London and five years in California performing with sister Jessica as The Scarlet Sisters, Dempsey arrived in Salida in 2007 with plenty of circus experience, but originally her plan was to make a clean break from circus. As she would be the first to point out, you don't necessarily choose the circus, though the circus, very often, chooses you.
"I didn't have a business plan," she said of her years starting out. "I just wanted to make a living doing what I loved to do – teaching kids circus and performing circus." Eight years later, however, the Salida Circus had advanced far enough as a business for Dempsey to win the regional InnovateHer competition for women in business.
"People have joined in the mission of it," Dempsey says. "People have moved to Salida to join the circus, and those new people bring new skills." It also means that she can turn over the managing directorship to others, while remaining  the Artistic and Development Director. "It started as a one-woman show, and it's become a whole organization, featuring ten professional performers and tutors."
In keeping with its internationalist scope, the Salida Circus' 10th anniversary celebration during Memorial Day weekend will feature artists from Jordan, South Sudan and Palestine, as well as locals and perfromers from around Colorado. "Social circus is a route to achieving what politics can't," says Dempsey. "The circus ring is a great leveler. Age, ethnicity, and economics don't matter; skill, teamwork, and circus spirit are all that matter. There's something elemental about circus. People love it all over the world, and everywhere in the world has its form of circus, from South Sudan to Jordan to Northern Ireland."
When asked if she ever thought that Salida Circus would take off the way it has, Dempsey laughs. "I've asked a lot of people over the years to go on faith that it would work. Me? I always knew it would work."
For a full schedule of Salida Circus's 10th anniversary celebration, Memorial Day weekend, please visit thesalidacircus.com or call 719-427-9232. ?
Elliot Jackson lives in Westcliffe and still has fantasies about becoming a trick rider for a Wild West show.