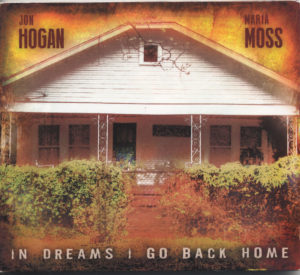 By Brian Rill
Hogan and Moss are BMI artists known for their high paced and powerful live shows. Performing over decades between Central Colorado and Texas they blend a contrite western sound with the upbeat energy of an Appalachian jam. John Hogan sings with a strong instinct of survival as if his very soul depended on the sequence of his songs. They will capture your attention and send you dancing like a frightened grassland grouse.
In Dreams I Go Back Home officially recreates this raw energy from their live performance. Recorded at Def Star Studios in Austin, Texas, the audio quality is super high fidelity, clear, bright and balanced. John Hogan's vocals soar over the multi-instrumental tracks with Maria Moss backing up the main lines. It is with authoritative authenticity that Hogan and Moss shine; out of classic bluegrass grit they pioneer an amazingly genuine sound. A wide variety of dynamic tension, multiple tempos and numerous beats create a unique experience that rarely becomes bland even after repeated plays. After many listening sessions, the CD In Dreams I Go Back Home reveals new and interesting rhythms offering an abundance of passionate Americana music and enthusiastic prose.
If you have ever had the chance to meet Hogan and Moss, the immediate visual stimulus would be the unique turn of the century clothing they wear. I would refer to it as a stage costume; however, I have sourced from a good authority that Hogan wears his antique wardrobe 24/7, even down to the old fashioned union suit very practically used as pajamas. A trustworthy sound rings true to the relative time line of the American west when it was won on the backs of traveling performers and midnight cowboys. If a return to the wild west is warranted in the current political agenda of the United States, then Hogan and Moss are more hopeful representatives of this forgotten pastime leading the way far back into a simple idea of the American night.
"When the sky turns red and the radio's dead and I don't know where I'm from, I always think about you when I turn my headlights on." The song
You At Sunset
paints a beautiful portrait of someone on the road while the sun goes down in the long western darkness that slowly engulfs the interstate. An originality without redundancy concisely explains my feeling for this album. Everything that this band has ever achieved was done so by the sweat of hard work and the numbness of sweet euphoria, in that order. Whoever so witnesses the grand gestures of steel guitars being struck and hears the amazing aural soul of Hogan and Moss will undoubtedly be affected for the better. I suggest exposing yourself to the vibrations found on
In Dreams I Go Back Home
. www.hoganandmoss.com
Brian Rill is a teacher, performer and activist poet. Voted Salida's best musician 2009 and award winning Latin songwriter.