By Mike Rosso
On February 4, 2017, U.S. Forest Service employee and Salida resident Brett Beasley, along with a teenaged boy, set out from 11,380-foot-high Uncle Bud's Hut near Leadville for some backcountry skiing.
The weather then turned bad. A fast-moving blizzard blew in and the pair likely became disoriented, resulting in a frigid night huddled in a snow cave. Rescuers were sent out the next morning after being alerted by the friends and families who were also staying at the hut. Both Brett and the teen were experienced skiers but there was nonetheless much concern about their whereabouts and health. Around 2:30 that afternoon, the pair were finally located in the Porcupine Gulch area, nearly three miles from the hut.
The boy was apparently unharmed and was taken by snowmobile to his family. Meanwhile Brett was treated at the scene for severe hypothermia. The weather conditions did not allow for a medical helicopter which may have aided in his rescue and he died on the scene on Feb. 5, his 47th birthday.
Brett's passing shocked not only the Salida community, but those who worked in natural resources across the state and around the West. He was a dedicated public servant who loved the outdoors, reflected in the vast number of projects he led or was involved with, from trail building, fire mitigation, timber and recreation management and supervision of not just staff, but overseeing many other recreation projects, utilizing youth corps, volunteers, Colorado Correctional Industries and private trail constructions businesses. He was a snow ranger, a trailer and motorcycle certifier and also managed the day to day operations of the developed recreation program (campgrounds and trailheads), managed the sign shop in Salida and helped implement the regional travel management program. He also assisted in coordinating trail work crews with the Volunteers for Outdoor Colorado. On Jan. 12, Brett celebrated his 20th year with the Forest Service.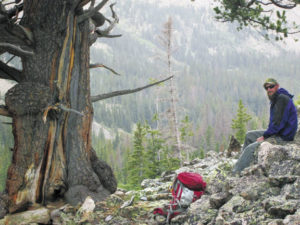 To get a sense of how well-loved he was in the community, a memorial service held at Salida High School on Feb. 10 drew a standing-room only crowd of over 350. A celebration party of his life later that evening saw at least that many. As an additional tribute, a group of Brett's friends braved bad weather to temporarily change the illuminated "S" on Tenderfoot Mountain to a "B."
"His enthusiasm and dedication to the Forest Service was infectious," wrote Ben Lara, Brett's immediate supervisor at the Forest Service. "You could not spend any amount of time with him and not become his best friend. He had an amazing capacity to love and care for people."
He continued, "Brett's career and life choices represent something special that we don't see that often in our line of work. When you combine a 'community-first' mindset like Brett's with the passion, love and respect for the natural environment, amazing things can happen."
Reflecting on his own experience working with Brett, Alan Robinson with the Greater Arkansas River Nature Association (GARNA) Friends of Fourmile said, "In the context of the 100,000-acre Fourmile Travel Management Area, Brett's contributions were consistent, persistent, visible and effective – and appreciated not only by us but by his supervisors and most importantly by visitors. … He was unfailingly positive and even-tempered as well as downright funny and entertaining while sharing in the physical labors our Chapter members and other volunteers contributed. … For his own passion, professionalism and dedication he will be sorely missed, and we honor him."
"Brett helped develop the Ski with a Naturalist program at Monarch Mountain which is now in its seventh year," said Alison Ramsey, GARNA's Executive Director. "For over 15 years he was a generous, upbeat, funny, energetic, supportive, resourceful and professional presence in virtually all GARNA activities within the Salida Ranger District."
"Despite the busy demands of his Forest Service job, Brett was known to volunteer for trail projects outside of work hours, for Salida's Christmas Mountain and with the Ark Valley High Rollers as their Penalty Box Manager," said Ramsey. "We will miss Brett for his contribution to our mission to foster good stewardship of the forest resources he so obviously cared for, and for the gap he leaves in the hearts of a team of personal friends and colleagues who share his dedication to public lands."
At the time of his passing, Brett was working on the addition of several key trails close to Buena Vista as well as additional trails on the Methodist Mountain side of Salida. He was also leading the Cascade Creek Trail project in Chalk Creek Canyon.
Surviving Brett are his wife Cari and daughters, Bari, 17, and Brooke, 15.
Due to the current hiring freeze on federal employees initiated by the new White House administration, Brett's position at the Forest Service is in limbo. A lateral move from someone in a similar type of position at another district could fill that void, but Brett's were some awfully big boots to fill. Just ask anyone who knew him.