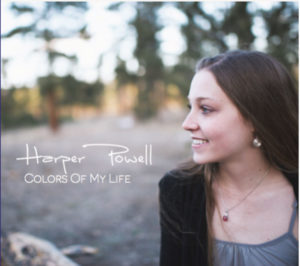 By Brian Rill
Harper Powell is a BMI songwriter from Salida, Colorado, who started singing not long after she began taking her first steps. This freshman solo CD, Colors Of My Life, is a respectable forty minute collection of folk-grass-inspired ditties. A strong bent of classic rock requires a second listen to appear clearly to the average listener. Like a young Alison Krauss, Harper marries the offbeat visionary style of Syd Barrett with the dark conceptualization of Grace Slick to beget a brand new but still retro-inspired musical statement.
Among highly traditional songs from the public domain like Dusty Miller and Hunting The Buffalo, Harper writes honest biographical verse on And I Want To Know, Colors Of My Life and Broken Now Flying. She sings with the softest courage of someone who laughs alone in a crowded room while reading a novel. Whether or not you understand her message, you definitely get the point. Emotionally vulnerable and a bit pensive, her persuasive voice echos in long drawn-out notes that festoon her acoustic guitar chords like floral arrangements among wicker garden gazebos.
Powerful yet humble, while remaining blissfully beautiful, Harper's style yields to questions surrounding the innocence of flowers being born after a lightning storm. Dark and brooding held within limits of grace and strain she implores, "And I want to know, how can my heart be broken if no one ever tore it out of my chest? I'm on a steep mountain crest, lonely." Deep introspective lyrics flow beside smooth steady guitar playing. A three-octave range delves deep into the cadence of her vocals riding the highest wave of sweet falsetto before cracking through into a repressed passionate rasp. "Maybe I'm missing something, maybe I skipped over a clue. Maybe a chunk is cut out, but by whom?"
Colors Of My Life features a Latin language song written for Spanish class called Me Duele El Corazón, "My heart hurts." Mandolin duets with guest musician Ron Thomason also debut on this collection. The lighthearted syncopation of Ron's playing technique breaks up the slower pace and minor key of the original songs. A surprising degree of inspiration and pain run deep in the veins of this album recorded at Mark Derryberry's studio in Arvada, Colorado. Bill Monroe's instrumental tune "Golden West" solidly melds the traditional Appalachian Americana sounds with Harper's cool choral method and solemn gypsy style.
Harper has achieved secular success at a very young age, performing at NPR's eTown Handmade Songs songwriting competition. With the release of her new disc, she is breaking into a promising musical career. "I can write all these cliché words and see if your mind can bear the hurt." Superstition Near Affliction confronts issues of individuality and artistic integrity while fending for one's self within the repetition of music and the sacrifice of sanctification: "Conform to the present, no I am my own descendent. I make my own amendments; courage, my friend, is in the marrow of bones."
Brian Joseph Rill is a detective, teacher and activist poet. He was voted Salida's Best Musician in 2009 and is an award-winning Latin songwriter.