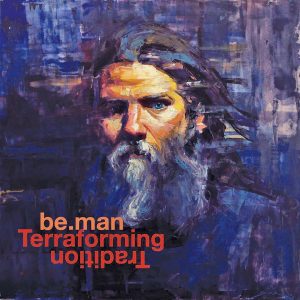 Terraforming Traditions is a 2015 release by Be.Man, The Mountain Rapper. Appearing as an impressively constructed hip-hop portfolio with a serious slant toward the supernatural, rounded bottom bass beats boom along with every groove; highlighting the supremely juxtaposed radiotelegraphic frequencies extracted from the ionosphere by two innovative DJ robots. These denizens of futurity were gifts given to The Mountain Rapper by visionary entities within the Crystal Corridor. Brandon Bergman, or Be.Man as he is known, describes this chasm that "goes right through the planet" and "leads to the answer." If you like hallucinogenic electronica music, you will enjoy the melodic transmittal of high pitched, short wave pulsations from D.J. Old School and the low resonant, thundering tones from D.J. Freakshow. In one of The Mountain Rapper's songs Captin Kid, Brandon clocks his baritone vocalization at a blazing speed of nearly nine words per second.
Sonically, The Mountain Rapper emits vibrations similar to the memorable thug all-stars, Tupac and Biggie Smalls. Be.Man's classic raps were mixed and produced in Minneapolis by Greg Schutte. The mastering of this album is superior since Huntley Miller uses his Grammy Award-winning techniques to assemble the complete collection that is a highly polished gem of creativity from start to finish. Evidence contained within this fast paced pearl of prose is a revelation that decrees aliens and extraterrestrials are living among us and assisting the path of humanity.
In his tune U.F.O.s, Be.Man opens up about his lifelong experience with unidentified flying objects saying, "yeah I believe in flying saucers 'cause I've seen two," sharing his exposition that government association with aliens is a national secret held for decades. On the title track Terraforming Tradition, a hard-hitting rap artist converges with a trigger-happy time traveler named Jack. Be.Man completes this persona by adding some explicit lyrics with heavy metaphysical undertones and Star Trek technobabble such as "I fused computronium with neutronium reversed a tractor beam; telepathically programmed it to be tuned in to me." Further mysteries are solved with the tune Sasquatch Fashion Watch, while Brandon describes his adventures with the Saguache Squatch Watch, an independent organization that assists private citizens in the Rocky Mountains who are searching for a real live Big Foot.
If Aldous Huxley's 1932 sci-fi novel Brave New World were placed in a supercollider with Arthur C. Clarke's classic television series World of Strange Powers and proceeded to explode into a hip-hop anthology, Terraforming Traditions is the result you would expect. The most popular ideas from science fiction are woven seamlessly into old-school rap with prophetic flair. In this new assembly, bassist Jeff Bailey beats and pounds his instrument, producing a shock wave of percussive force facilitating this dynamic style. Backing vocalist Jayanthi Kyle exposes her soulful roots while powerfully crooning beautiful lyrical emphasis alongside Be.Man's spectacular refrain. Kevin Gastonguay generously brings some magic Moog playing, blossoming into a wonderful psychedelic counterbalance.
Blending science fiction with the raw expression of hip-hop may seem like an incalculable collage, however Be.Man – The Mountain Rapper brings colossal negotiation skills into intergalactic relations. This brilliantly composed compilation of fast rhymes and prodigious ideas will shine for eons before the light of its actual achievement reaches the horizon of our modern world. Neither scientist nor researcher has directly linked interplanetary radio signals with signs of intelligence. Until the day when an inauspicious gentleman named Brandon Bergman living in Salida, captured some very sentient sounding inflections from the distant big bang. While exploring boundless ultramodern compositions, Be.Man harnesses the powerful expanse of our solar system. Broadcasting pulsar waves he explains, "They picked up on our T.V. signals." and "They can land in the front yard, we'll instill our goodwill." Since we are free to accept the treaties placed before us we can rightly assume that first contact has been made and a metagalactic spokesman was selected. Through his songs, Brandon labors to bring about a unity of communication between all beings, races, walks of life and even common household pets.
Be.Man's lyrical journey explores vast, unknown reaches of space through an infinite potentiality in our universe. Bergman's declarative illumination of the human subconscious unveils brave, primitive symbols behind our own emotional sea. The humanity of Brandon's purpose is an astounding feat if not entirely misunderstood, because in truth, we slay by laughter, not by wrath. The main message of this universe is that we are one single cosmic capacity focused into form upon a beam of light and sound. We exist not beyond a quantum mechanical field of energy harnessed through entanglement directly influencing communication between the stars. Immense regions of space and time are traversable while progressing faster than the speed of light. Within the footsteps of mankind, we are spread farther across an immeasurable extent, separated by exceeding distance into the future and away from the sun. While The Mountain Rapper so smoothly affirms: "and I commit to submit my legit spit for transmit."
To learn where to purchase this CD,
visit www.mountainrapper.com
Brian Rill is a troubadour, composer and poet.