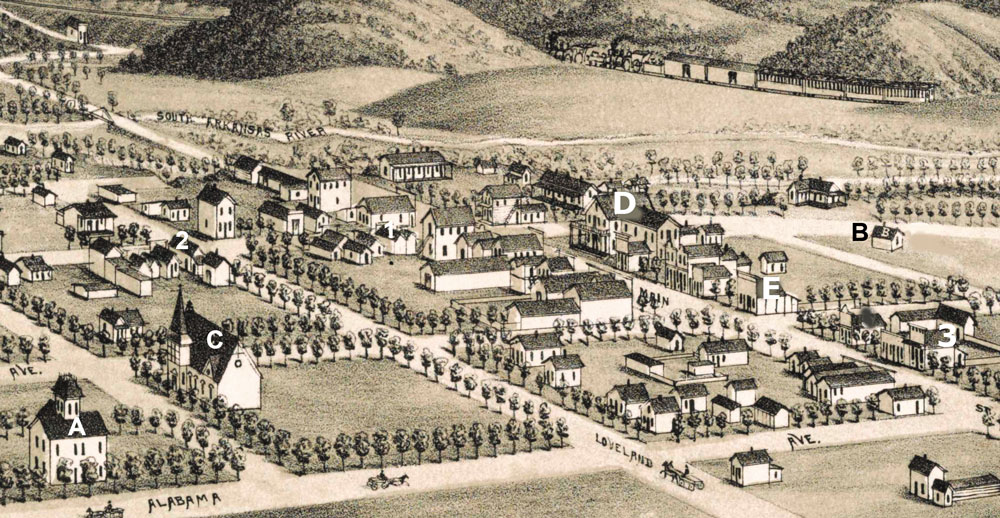 Early Settlers from Lago, Italy to Poncha Springs, U.S.A.
By Dr. Francesco Gallo
On April 5, 2016, Ralph Benjamin "Ben" Scanga was elected mayor of Poncha Springs, a statutory town in Chaffee County where, one-hundred thirty years ago, his great grandfather Giuseppe Scanga had emigrated from Lago (Cosenza), Italy. It's a dream that has come true; it's a good seed planted in fertile soil that gave origin to a solid plant.
While growing up, Ben worked with his grandfather Ralph Lewis Scanga who in 1952 had started the Scanga Meat Company. He learned from him how to run the family business but was also taught the importance of hard work, honesty, education and altruism. Ben always heard positive stories about Lago from his grandfather, who in 1923 went to Lago with his father Giuseppe and studied in Milan for two years.
After high school, Ben studied at Western State College in Gunnison and Veterinary Technician School in Denver. Since 2010, he has been the chairman of the Chaffee County Republican Party and was a long time town trustee of Poncha Springs.
Poncha Springs, founded in 1880, had a population of only 400 in 1885 when the first Laghitan arrived, but a total of 59 pioneer immigrants came from Lago up to the year 1914, forming a significant portion of its population (about 15 percent) and thus played an important role in developing this new town.
Known for its fertile, inexpensive ranching land and close proximity to mining districts, Poncha was the earliest settlement in southern Chaffee County. Among the first Laghitans to arrive were Giuseppe Scanga, Domenico Posteraro, Giuseppe De Luca, Pietro Spena and Giovanni Groe, aka "John Groy." They occupied themselves with farming, mining, raising stock or railroad track maintenance, or were busy working as craftsmen (carpenters, masons, lumber jacks, plumbers and butchers). Miners found jobs at the local Neely Mining and Smelting Company and at Elgin Smelter. After a few years, some immigrants had some money and borrowed additional funds to buy ranches. In fact, by the year 1910, six Laghitans owned ranches which together covered 1,374 acres of land with an appraised value of $12,230.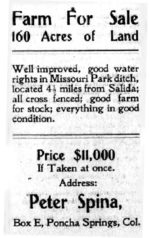 The 1880 Poncha Springs Census gives us a clear picture of the social and financial situation that Laghitans found when they first arrived in 1885. Poncha had just 180 inhabitants with only five foreigners, but there were no Italians. As to their occupations, fourteen were miners, eleven were farmers, eleven businessmen, eight carpenters and five mine owners. Others were assayers, sawmill assistants, blacksmiths, store clerks, hotel clerks, saloon keepers or cooks. There was only one medical doctor, a pharmacist, a lawyer, a mining engineer, a baker, a plumber, a mason, a butcher and a single postmaster (Mr. J. McPherson) and a hotel owner (Mrs. Minerva Burnett).
Regarding possible employment and services, there were five mines, a railway, a schoolhouse, a hotel (Poncha Hot Springs Hotel), a post office, three banks, a drugstore, a medical office, a newspaper (Herald News), a few restaurants, a sawmill, a laundry, a general store, a meat market, a livery stable, a few grocery stores and a few miners' supplies outlets. It was prohibited to sell intoxicating liquor, and as a result, there were very few saloons. There was a Western Union and Telegraph Office where Laghitans sent messages and remittances to their relatives in Lago. The public library had about 1,600 books in its collection.
In Poncha, the South Arkansas River runs between the town and Mount Ouray, which stands in the background. As to the urban plan, its streets came at right angles with each other and Main Street was more important than others, since along it, one found the Poncha Hot Springs Hotel, a restaurant and the meat market. The schoolhouse was located on Alabama Avenue, which led to the D&RG Railway Depot.
In 1883 the D&RG Railway depot was inaugurated in Poncha, causing Poncha's population to jump from 350 to 2,000 inhabitants by 1890. The railroad service facilitated the arrival of immigrants but also attracted to Poncha people affected with rheumatism and muscle pains, ailments that could be treated in its twenty different hot springs sites, one of which was at the Poncha Hot Springs Hotel.
Unfortunately, in 1882 a major fire destroyed most of the business district, and in the late 1800s, two other fires further devastated the town. The fire had spared only the Jackson Hotel and the schoolhouse, which today is still utilized as the City Hall Building. Thus, when Laghitans began settling there, having found a semi-destroyed town, masons, carpenters and plumbers worked hard to rebuild it.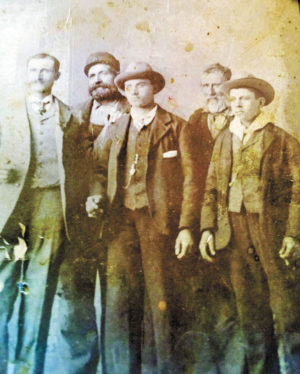 Now, since many Laghitan families had intermarried amongst each other, many lived together, helping each other to make ends meet, find jobs and get adjusted to the new environment. This was important because immigrants could not easily enter the U.S. unless they had sponsors who could guarantee to economically support them for at least the first month. An article published in Leadville on March 27, 1896, clearly shows this, as 400 Italians were sent back home from Ellis Island (New York) because they were penniless.
Their children attended, at least for a few years of grammar school, the local Poncha Springs Schoolhouse, whose construction began in 1881 and was completed by 1883.
Mayor Scanga represents a clear example of how hard work mixed with sufficient intelligence, courage, honesty and good fortune can enable descendants of early immigrants to reach incredible goals. One hundred thirty years ago, his great grandfather Giuseppe, who was illiterate and poor, had no idea that his sacrifice in America would have paved the way for his great-grandson to become mayor of the place where he himself had first settled in 1886.
We can appreciate how all this occurred when we consider that in 1923, Giuseppe and his wife decided to return to Lago to spend the rest of their lives there. However, they took along their 15-year-old son (Ralph Lewis, Ben's grandfather), who was sent to a private school in Milan (Italy) to become a clothing designer. This means that although they were illiterate, their intelligence allowed them to understand and convey the importance of education, private enterprise and social commitment and responsibilities.
In fact, after his graduation, Ralph was encouraged to return to America and worked as a professional tailor-designer in Pittsburgh. He then moved back to Salida in 1948 where he was a supporter of many local institutions, especially the Heart of the Rockies Regional Medical Center, and was a member of the Rotary Club and the Salida Elks Lodge No. 808 for 25 years. In 1952 he started the Scanga Meat Company which still exists today. His son Terry (Ben's father) is a college graduate and general manager of the Board of the Upper Arkansas Water Conservancy District.
These examples greatly influenced Ben who, before being elected mayor and following the footsteps of his great grandfather, grandfather and father, has been active in the community as Town Trustee of Poncha Springs.
In 1935 the City of Salida had the Works Progress Administration pipe Poncha's spring water five miles east to the Salida Hot Springs swimming pool (today called Salida Hot Springs Aquatic Center). Thus, Poncha lost the tourists who, until then, had come for thermal bath treatments. Also, as Poncha's residents became financially secure, including Laghitans, they preferred moving to Salida where more services were available, for instance, St. Joseph Catholic Church, the D&RG Hospital and Salida High School. Consequently, Poncha Springs' population dropped drastically.
Since Poncha's population has been rapidly growing from 466 to 778 inhabitants from the year 2000 (a 64 percent rise in 16 years), causing a construction boom of apartments and homes, Ben's job becomes even more important and difficult. This situation reminds us of what occurred in the year 1886 when his great grandfather settled in Poncha and its population jumped from 350 to 2000 inhabitants in only seven years. We can certainly appreciate the similarities and the fact that Laghitans, and especially the Scanga family, have had a leading role for the past 130 years.
Francesco Gallo, a Medical Doctor and a Psychiatrist of Padua (Italy), tries to understand how social events strengthen the minds of individuals as they attempt to face difficult, sometimes impossible, situations. Similarly to Ulysses in Homer's Odyssey, most immigrants were determined to continue their struggle to live their lives to the fullest without ever giving up!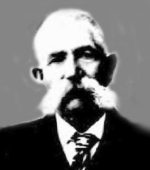 Giuseppe Scanga – Great Grandfather of Ben Scanga
Giuseppe Scanga arrived in Poncha Springs at the end of November 1886 (sailed from Naples to New York on November 11, 1886), worked temporarily as a farmer for Dominic Posteraro a few miles west of Poncha Springs, where in 1890 he purchased the so-called Post Office Ranch because it had been the first post office of southern Chaffee County which John Burnett opened in 1868.
He was the son of Raffaele Scanga and of Nicolina "Nettie" De Luca. When Nettie became a widow in 1898 at age 70, she decided to emigrate to Poncha where her son Giuseppe lived. Her nephew, Pietro Spena, accompanied her to Naples. There they boarded the ship California, reaching New York on August 23, 1899. She lived happily in Poncha Springs and passed away on April 10, 1912, at age 85.
Giuseppe was a cattle raiser who in 1898 had been authorized to mark the hide of his cattle with the letters "SBP" meaning Southern Beef Producers and in 1908 obtained a permit to graze his 157 heads of cattle in public lands within the Cochetopa National Forest, near Poncha Springs.
An article, "Italian Wedding," in the Salida Mail published on January 14, 1910, points out the good reputation and wealth shared by both the Scanga and Posteraro families:
"A wedding of much interest occurred Sunday when at St. Joseph Catholic Church, Rev. Dean T. Wolohan united in marriage Emil Scanga and Carolina Posteraro, daughter of Dominick Posteraro, a wealthy ranchman near Poncha Springs.
A large number of people were present at the wedding and fully 100 guests repaired to the home Scanga ranch, in wagons to engage in the festivities and banquet after the ceremony … The groom is also a ranchman owning considerable stock and property In the vicinity of Salida and is the son of Giuseppe Scanga, a resident of the Italian Rancher's Association which carries a good reputation. Dominick Posteraro's son Ben is to be married to Nicolina Scanga, sister of the bridegroom on next Sunday and over 100 guests will assemble to enjoy the festivities. These young brides are in their teens."