By Brian Rill
SHEL – Just Crazy Enough
The 19th century philosopher Friedrich Nietzsche prefaced his book The Will To Power with this line, "Of what is great one must either be silent or speak with greatness, that means cynically and with innocence." I will attempt to relate honestly the virtue of music amidst my own opinions in order to set free for the listener the product's appeal and cultural relevance. Discovering pathos within modernity can be a difficult task, but within the right hymns sometimes there are steps that lead us to hope. Not outside the advent of SHEL's present work lives this new faith.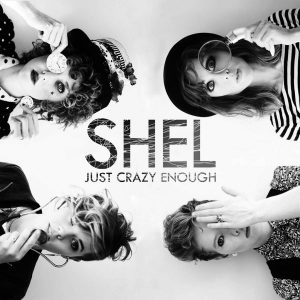 Just Crazy Enough encompasses a huge wave of groovy tunes that roll into a single solid album. Four sisters from Fort Collins form the acronym namesake, Sarah, Hannah, Eva and Liza Holbrook. They have prodigious voices and are each also dynamically talented musicians in their own right. The Blue Room Studios in Nashville recorded an aural masterpiece with crisp, cool notes flowing graciously throughout harmonious interplay. Female voices form quartet choirs wavering inside dense beats underlying violin bird calls. Mandolin and piano dance together in synchrony like devious whirling dervishes achieving nirvana.
SHEL's style stupendously suspends any contemporaneous notion of moral equivalence in pop music, achieving popular sounds without populism or plurality that are naturally inherent within a plebeian folk movement. SHEL remarkably integrates the timeless appeal of classic rock within an amorphous envelope of Delta blues, eternally cementing the standard of progressive pop into an audible revolution. In the past virtuoso groups were a dime a dozen: Pink Floyd, Jefferson Airplane, Crosby, Stills and Nash. The rare DNA of SHEL is infused with highly combustible rhythms and soaring sing-song serenades. All ears are cocked towards this source for sounds from the future.
Most notable is a cover of the very popular Metallica song, Enter Sandman, in the style of a lullaby sonnet. Eva's vocals are at once effervescent, fluid and consoling while whispering into the mic preceding a slow chirp from Hannah's hands thumbing piano. Sarah's pizzicato throws down to follow Liza on percussion, and with brevity SHEL reinvents the classic metal tune for a new millennium. You Could Be My Baby mixes Zeppelin infused song structures under soulful style. "You could be my baby, you seem just crazy enough to love." Stronger Than My Fears invokes native heritage, sings vocal chants and wraps around world beats. "Every day we have a choice, fear has nothing but a voice, it may whisper it may scream, but I no longer listen."
If you like SHEL, you'll absolutely go bonkers for this new album! Still only the sophomore studio CD from an independent group, I venture to say this is definitely the best work of their career to date. If you're unfamiliar with the powerful sounds escaping from these young majestic musical pioneers and want to hear what the fuss is about, please visit www.shelmusic.com and taste a sample of solace or drop in on a dose of fun.
Brian Rill is a teacher, performer and activist poet. Voted Salida's best musician 2009 and award winning Latin songwriter.