By Hal Walter
It was one of those awkward encounters. A casual acquaintance threw out a random statement and it made me think.
In this case it was in a grocery store and the statement was essentially that there's such a gap in this country, everything from homeless people "doing nothing" begging in the streets and living under bridges, all the way up to Bill Gates.
This seemed interesting to me because it is believed that a high percentage of homeless people may be autistic, and it's also been speculated that Bill Gates may be on the spectrum.
My answer to this was that yes, we sure do have a gap and I'm not sure people at one end are doing more than people at the other. This brought a look of total surprise, and the response that "I think Bill Gates does a lot" and that he does so much philanthropy.
I said Bill Gates probably does appear to do a lot because he is wealthy enough to have people do a lot of things for him. In fact a close friend received her Masters in Library Science from Denver University through a scholarship from the Bill and Melinda Gates Foundation, though I'm fairly certain the benefactors did not personally sign the check.
But homeless people do a lot, too – they have to scrounge for food, and yes, often alcohol and drugs, find places to sleep, worry about their safety and try to stay warm in the winter.
This exchange stuck with me for some time. Does anyone really do a great deal more or less than anyone else? Or is there a value system we place on certain activities? Especially those things we call "work."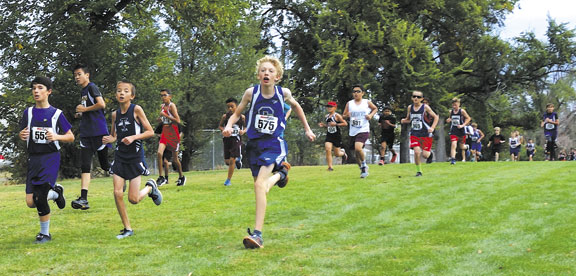 What is work, anyway? We typically equate it to generating income. The implication is that with an income we can contribute to the "economy." We suck on the jugular and the blood keeps flowing. While this is actually the same ideology as a tick or a leech, we somehow buy into the myth that, in my case editing, or for other such things as pushing papers around a desk at an insurance agency or real estate office is somehow more honorable than standing by the roadside with fiction written on a sign and holding out your hand.
Lately I've been feeling like I do a lot. Aside from writing this column, I edit a website and also caretake a small ranch. Compensation for the former is so much less than the latter that it actually costs me to write. I do it anyway because I feel that I have something worthwhile to say. Yet, somehow it does not make me feel exactly like Bill Gates.
Aside from the work for hire, I am the primary caregiver for my autistic son Harrison, another job that comes with certain costs. For when the school calls, or even when I help out with his cross-country team, the time is not billable. It has, however, given me a greater appreciation for the plight of panhandlers and those who live under bridges, as it has completely changed my perspective on everything.
A health-care professional I see recently told me, "War changes people. You are in a war." I'd never really thought of it that way until then.
I wonder what wars some of these homeless people have fought, and I wonder what wars Bill Gates has fought too. We're all fighting some war.
For about the past year I've been working toward getting Harrison designated as "disabled" and qualified for Medicaid through a Children's Extensive Support waiver. This would allow us to pursue some much-needed behavioral therapies. Private insurance of course does not pay for such things. And we can't afford it out-of-pocket. Just an assessment, for example, can run upwards of $1,500.
After being denied once based on an IQ test, we recently resubmitted our application and were granted the disability designation. Now we are in the process of applying for the actual Medicaid waiver. It feels a little like they've only opened the door to the maze.
Meanwhile, some work is play. Perhaps the best therapy – both mental and physical – we can afford has been Harrison's participation on the middle school cross-country team. I have often joked that we could not have gotten away with such an likely scenario anywhere but here in Custer County.
This season was his third and final before entering high school next year. Over the past two years I can't describe in this space the roller coaster of outright failure, challenges, disappointments and breakthroughs that we've experienced through his participation in sports. All the while, he's wanted to run. We've not given up even when other people thought we were nuts because I've always believed in his capabilities. I also believe that sports are a metaphor for life, and that "winning" often means something quite different than first place. Perhaps Harrison's experiences on the cross-country team will set the stage for success in other areas of life down the road.
As part of the deal with the school and athletics staff, I attend all practices and meets as a volunteer parent coach. And this has been the real gift for me. For not only have I had the opportunity to be a co-creator and witness to my own son's progress, I've also had the opportunity to work with the other kids and to see Harrison's success through the eyes of his teammates and coaches. He's literally worked his way past the "Will he finish?" question to running third man on his team.
Thus in his final year I watched as he ran well in one meet after another in Avon, Westcliffe, Gunnison … and I began to wonder if a perfect season was possible. We went on to Pueblo, Salida and finally the last meet of the year in Monte Vista, tackling what some would have said impossible and what was at the very least improbable, often running with a smile on his face.
As I looked back on this amazing three-year project, I found myself grateful for all those who supported us along the way, and equally as well to those who thought we were crazy. Because what more important lesson is there for all of us than that of overcoming adversity?
The bittersweet finish to his middle-school cross-country career also brought another jolt to my system as suddenly the workouts and meets were over. I decided we should stay as active as possible after school, running, biking, hiking or whatever, until track season starts in spring.
We had already done a lot but we could still do more.
On one such workout, we turned our bikes around in the fading evening light. I asked Harrison to be still and listen. Against the background of quiet there were ravens croaking and nutcrackers calling out as they flew to their roosts. I asked if he heard them and he said he did. I asked if he could hear the creek trickling faintly in the background and he said he could. Then he simply asked, "Why?" I said because it is important to listen to Nature. He said okay. Then we pointed the wheels downhill toward home.
There is no end to the perfect season and the work has only just begun.