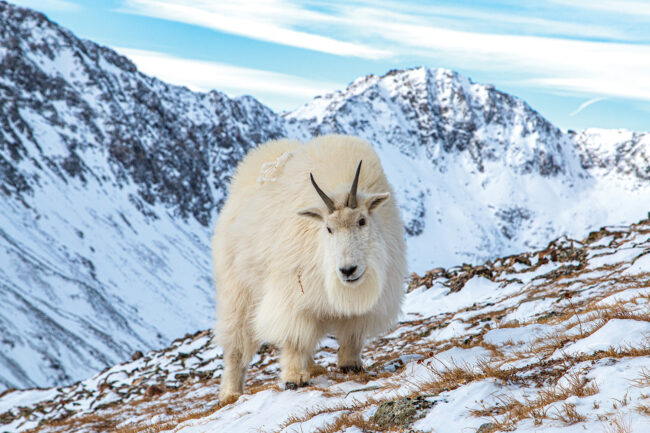 SHORTLY AFTER MOVING TO SALIDA IN 2001, I began noticing random license plate frames around town embedded with the words "Old Goats." I soon learned there was an organization founded in Salida for the purpose of helping preserve the Rocky Mountain goat. Members are referred to as "Old Goats." While hiking a section of the Colorado Trail above Maysville on Labor Day weekend in 2002, I saw a large contingency of campers and RVs parked in what is locally referred to as the Goat Wadi meadow — an aspen-ringed, grassy meadow that sits adjacent to the trail. This gathering turned out to be the "Fall Wadi," an annual gathering of members of the International Order of Rocky Mountain Goats. ("Wadi" comes from Arabic for "waterhole," a spot where "the goats gather to frolic and play," according to an early brochure for the organization.)
Long-time locals told me that it was limited to men only and much of the time was spent playing games such as horseshoes, eating catered meals, exchanging stories and consuming adult beverages.
In the Salida Museum 20 years later, I discovered a 1960s group photo taken in the Goat Wadi meadow that included most, if not all, of the founders of the IORMG. This got me wondering. I'd heard they were no longer holding the annual "Wadi'' in that meadow, but did the organization still exist?
My research began by posting a copy of the old black-and-white photo on a Facebook page entitled "You know you are from Salida, CO when," a public group for old-time Salida folks to share memories, history and stories. I asked for help to identify the gentlemen in the photo. The response was overwhelming. About 50 comments were left, and folks were very helpful in identifying whom they could. Among those pictured was Elmo Bevington, a well-known Salida resident who owned the Monarch Ski Area from 1967 to 1979, developing it into one of the most successful ski areas in the state. An original board member of the IORMG, Bevington also owned the Monarch Crest gift shop and restaurant, Monarch Scenic Tram, the Madonna Mine tours and Monarch Lodge. Also pictured was George Oyler, another original board member and publisher of the Mountain Mail from 1951 to 1971.
Bevington died in 1999 at the age of 88. So I decided to reach out to Arlene Shovald, a longtime writer for the Mountain Mail and author of The Man Who Amazed Himself: The Life Story of Elmo Bevington, which he had commissioned her to write in 1993. Arlene was very helpful in filling in the missing names of the photo. She also offered some of her own research about the "Ol' Goats." It all began in 1966, when a group of Salida men founded the IORMG. Among those founders were Oyler, Bevington and Bill Burtness from Denver. The stated purpose of the group was to conserve wildlife and preserve the mountain goat, which they believed to be endangered. Also known as the Rocky Mountain Goat, this hoofed mammal is endemic to mountainous areas of western North America. An IORMG brochure from that time period reported a goat "plant" in 1948 in which Montana Fish and Game personnel relocated nine Rocky Mountain goats from the Bitterroot Range to the base of Mt. Shavano in the Sawatch Range near Salida. Included were three kids, four nannies and two billies; all except one nanny survived.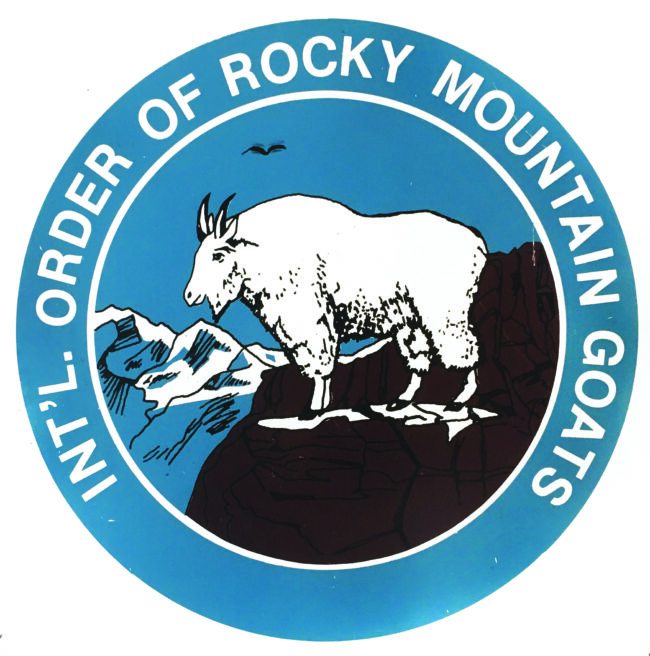 To celebrate the formation of the IORMG, a "Fall Wadi'' was held Sept. 24-25 at the base of Mt. Shavano, on Bevington's 160-acre Lake Ranch outside Maysville. Among the attendees of the first Wadi were members of the press representing Rocky Mountain News, The Mountain Mail, The Pueblo Chieftain, Gunnison News-Champion and the Associated Press, which brought nationwide publicity to the organization. That first gathering of "Ol' Goats" numbered about 30 members for "three days of lying, fishing and sleeping out in sleeping bags," recalled Bevington in his biography.
According to the brochure, the inaugural event cost "30 bucks" for "registration, food, slough juice and your room at the 'High Country Inn'" (a nickname for the great outdoors). Attendees were asked to bring "yourself, old clothes, bedroll (tent if you want), camera, film, sense of humor, songs, stories, friendship." Not welcome at the Wadi were "dogs, minors, shooting irons, politics or 'wimmin.'" Strictly for men, this event included an Initiation Ceremony ("Conversion of Tender Lovin' Kids to Ol' Goats"), a Songfest (led by Burtness and members of the Goat Quartet), Goat Court ("Fair trial followed by a 'hanging'") and a wildlife program by what was then the Colorado Game and Fish Department. A highlight of that first Wadi was a helicopter ride to see the actual goats in their natural habitat.
"We found there was a lot of interest in the Old Goats. They came from all over — Nebraska, Kansas, Wyoming, Texas, Colorado and other places," said Bevington in his book. After that first Wadi, membership quickly swelled to 300. Over the years, the organization continued to grow, with a peak membership of 2,300 according to David Swezy, past Grand Herdshire and member since 1981. Counted among the early members were crooner Bing Crosby, actor Slim Pickens and Air Force General Curtis LeMay as well as Monty Pike, a descendant of famed explorer, Lt. Zebulon Pike. "From the early '80s, '90s and early 2000s, we were really rocking," said Swezy, who now lives in Kentucky.
Currently more than 1,800 Rocky Mountain goats (Oreamnos americanus) live in 20 or more herds in Colorado, according to the IORMG website. It claims the Rocky Mountain goat is native to Colorado based on research by Dr. Lou Taylor, a former research associate for the Denver Museum of Natural History and member of the IORMG. In 1993, the Colorado Wildlife Commission produced a resolution acknowledging the Rocky Mountain goat "has inhabited numerous parts of the State of Colorado prior to reintroduction in 1948 and that the Rocky Mountain goat is an indigenous (native) species of Colorado."
No mammal on earth lives at a higher elevation, and its closest living relative is the European Chamois (Rupicapra rupicapra), a species of goat-antelope native to mountains in Europe. As herbivores, Rocky Mountain Goats enjoy nearly 200 species of grasses, moss, ferns, wildflowers and shrubs. Billies can stand up to 40 inches at the shoulder and weigh up to 300 pounds. Smaller nannies can weigh as little as 125 pounds. The goats can be seen perched on the side of massive mountain peaks, seemingly defying gravity. Perhaps such preferred habitats help explain why these goats are the least studied large mammal in North America.
Beginning in 1967, the organization started holding its annual Wadi at the Meadow, located off County Road 224 outside of Maysville on U.S. Forest Service land adjacent to a section of the Colorado Trail — where I first witnessed their encampment in 2002. The Wadis were catered affairs, first with Denver resident Bill Rossi, who, in 1974, started serving up the vittles for Saturday night dinner and Sunday lunch. An open bar with appetizers began at 3 p.m. on Friday. Dinner often consisted of steaks and prime rib. After Rossi stepped down in 1976, catering was subsequently done by the former Country Bounty Restaurant in Salida and by Rustingram Catering out of Poncha Springs.
The final Meadow gathering occurred in 2016; soon afterwards the USFS fenced the meadow off for restoration purposes and to prevent additional damage to it. Tent camping is still allowed within this meadow but motor vehicles are prohibited. For a short time, gatherings were held nearby, on the original meadow at the former Lake Ranch. But that land was sold to a dog-sled operation and was no longer available.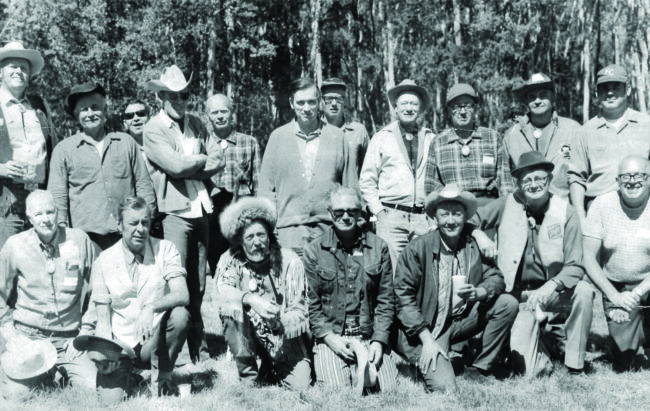 The organization continued to grow. In 1993 it formed the Rocky Mountain Goats Foundation, a 501(c)(3) nonprofit to formalize a space for tax-deductible donations. The Bill Burtness Fellowship scholarship fund was created, offering scholarships of around $3,000 to college seniors or graduate students studying either biology or botany. To date, these scholarships have helped students earn 19 master's degrees and two doctorates. For example, Mike Serrecino, from CSU-Pueblo studied the feeding habits and summer diet of the mountain goat in the Colorado Rocky Mountain Range. Rocky Spencer, also a CSU-Pueblo student, researched the goat population in Colorado to determine if they were infected with a parasite that causes lungworm/pneumonia. Scholarship funding is raised through silent and live auctions held at the annual Wadi as well as from donations. Applicants must be approved by their instructors and are then asked to send a letter to the IORMG stating why they should be considered for the scholarship, according to Keith Kohrs. As a scholarship recruiter for the IORMG, Kohrs has been a member of the organization since the early 1990s. The RMGF also supports the Rocky Mountain Goat exhibit at the Cheyenne Mountain Zoo in Colorado Springs as well as their Rocky Mountain goats breeding and habitat project. It has placed a 6-foot, 600-pound mountain goat statue at the zoo. They also facilitated the transfer of "Albert the Goat '' from the Woodland Park Zoo in Seattle to the CMZ.
In 2022, the all-male organization is still going strong with a little over 350 members from across the U.S. The IORMG still hold their annual Wadi from Thursday to Sunday on Labor Day weekends in Colorado. But they are currently seeking a permanent location for the event, preferably somewhere in the Mt. Shavano area. The Ol' Goats also have an annual jamboree, held on the third weekend in July, which includes wives and family members. Small gatherings called "Waterholes" are held biweekly or monthly where members enjoy luncheons, after-work cocktails and/or evening dinners and attend films, slideshows or talks by local wildlife specialists or lawmakers working on wildlife measures. There are currently around 15 "stray herds'' across the country. The fee to apply for membership is $15 and annual dues are $30. Applicants are required to have a sponsor. Information on membership can be found on their website, iormg.org. Scholarship applications can be obtained from Keith Kohrs, 210 Bridle Trail, Pueblo, CO 81005.
The IORMG has a simple creed: "To be a society of congenial good sportsmen mindful of conservation, respect for landowners and all wildlife regulations, proper use of all wildlife and in particular the noble Rocky Mountain goat."
I just might have to become an Ol' Goat myself.
Mike Rosso prefers grassy mountain meadows to high mountain ledges.