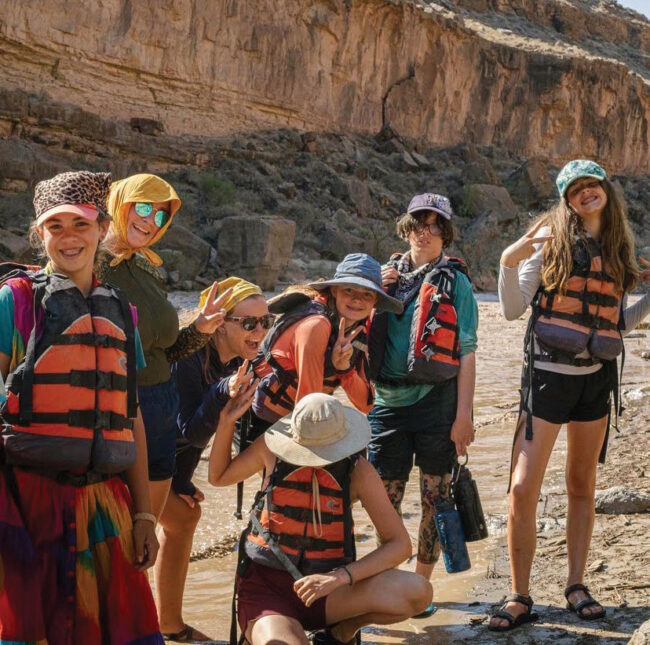 WALKING UP STUFFING MY HANDS INTO my pockets, not breaking eye contact with the freshly mowed grass, I tried to make my presence around the 14 other girls standing in a circle the least known. I faltered closer to meet some of the women who would change my life: Josie and Kristen. That was the start of my first summer where I spent my time trying new activities like rock climbing, backpacking and rafting. 
When I first joined elevateHER, I had no idea how to do most things outside, I had never tied a rope to myself to scramble up a rock wall, or trusted six other people to help paddle me through a gigantic wave, or shared the weight of group gear to hike to a beautiful lake and stare at the stars for hours. 
After that first summer, I was hooked. I had fallen in love with the program and, more importantly, the people who made it special. I have been in elevateHER for seven years, and every year I find myself falling in love with the program all over again. When I first joined, I didn't know how to breathe.
elevateHER has become like air to me, and more importantly, the skills I've gathered through the program have provided me with tangible skills and prepared me, not just for the outdoors, but for everyday life. While I did learn how to rock climb and snowshoe and work as a team to make it through the wilderness, I also learned how incredibly capable women are. Being surrounded by talented and strong women for the past seven years has been an experience I wish I could live through again. I learned how to make my presence known in a group of men and show them I am capable.
Before joining elevateHER I felt small and had no will to branch out because I had the overwhelming feeling I would be overshadowed by a man or shut down because of my "lack of capabilities due to being a woman." elevateHER proved to me and to many, many other young women the exact opposite. Coming into the program knowing nothing, coming out being able to climb anything I set my mind to, trusting the strong women surrounding me to help paddle me through a gigantic wave, and sharing all of our group gear to go build new memories by a lake under the stars has proven to be life-changing and life-affirming.
Through this experience of grounding my view of how amazing it is to be a woman, I also made a ton of friends experiencing the same thing who are now my inspiration and motivation to keep proving people wrong about my abilities as a young woman. Not only have I met other participants, I've been fortunate to get to know Josie, Kristen, Daniela, Kelli, Jenny, Lauren and all of the jaw-dropping volunteers we have had throughout the years.
These women, who I am proud to have known for the past seven years, have helped shape me into the woman I am proud to be today. After seven years of going through the program as a participant, I was recently hired to work as an intern and help to teach other young women the things I learned when I was just starting out, and I am so lucky and beyond excited that I have the chance to mentor them in the lessons that helped build my confidence, strength and perseverance.
elevateHER is a nonprofit program that works to inspire and teach young women, from summer after sixth grade until the summer after high school, outdoor education and invaluable life skills. There are four different sessions: a summer session, a fall session, a winter session and a spring session. Each session ends in a capstone — a trip designed to encapsulate the skills learned throughout the session, strengthen our bonds with our fellow participants and forge great memories of good times together. Each session varies in length but the longest session is the summer session, which lasts 10 weeks and includes backpacking, rock-climbing and rafting.
Throughout my time with elevateHER, I learned untradable skills and memories I wouldn't give up for anything. I encourage all girls and young women who live close to Buena Vista or Salida and are interested in joining, to do so. The program and, more importantly, the staff have changed my life, and I know that the incredible staff will change many more young women's lives for the better.
Sydney Myers is a junior in high school and is in love with all things outdoors!!