By Tyler Grimes
Colorado has been known as a beer-brewing mecca for years, and recently that trend has shifted to micro distilleries. In early 2011 the Alcohol and Tobacco Tax and Trade Bureau had issued 18 distilling permits in Colorado. In November, Wood's High Mountain Distillery in Salida received the 38th permit in the state. The distillery on 1st Street opened its doors to the public on March 2, becoming the second distillery in the valley. Deerhammer opened in Buena Vista in February 2012, and two more distilleries hope to open this spring: Two Guns in Leadville, and Boathouse Distillery in Salida. The boom in craft-beverage making has certainly made its way to the Upper Arkansas River Valley.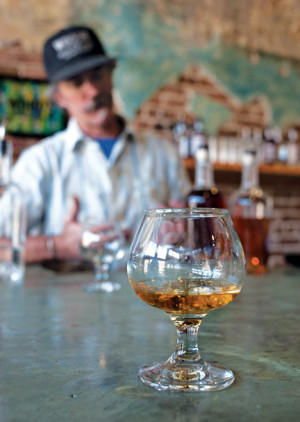 The opening of new breweries and distilleries will provide the Upper Ark Valley with the highest per capita craft-beverage makers in the country. Colorado Central will be running profiles of these producers in the coming months. For now we focus on the spirits:
Deerhammer Distilling Company
In December 2012, Deerhammer released its first barrel-aged whiskey, Downtime Single Malt. For owners Amy and Lenny Eckstein, it was a sign that their dream was coming to fruition. The couple moved the operation into the current location on East Main in downtown Buena Vista in April 2011 and opened their tasting room less than a year later. They began selling White Water Whiskey, an unaged white whiskey, while Downtime aged.
Recently Deerhammer added Buena Vista Brandy to its product line, which begins life at the Vino Salida Winery. Right now Lenny, who heads distilling, is waiting on a label before he can release Bullwheel Gin, a malt-based gin that uses Deerhammer whiskey instead of grain neutral spirits, the industry norm. "It's a completely homemade product from start to finish," says Eckstein, standing in front of his still. The Ecksteins are also looking forward to Deerhammer Deviations, which will allow them to bottle various spirits under the same state-issued label. Two Deviations will be a wheat and rye whiskey, made from San Luis Valley wheat and rye.
Along with new products, Deerhammer is increasing production from two barrels a month to seven, thanks to new equipment: a 600-gallon still, a larger silo, three 700-gallon fermentors and an automated mash tun. "It'll be nice to just push a button that will scrape out the malt barley," said Eckstein, "instead of doing it by hand."
Eckstein discredits the idea that older whiskey is better whiskey. "In Colorado it doesn't take as long to age whiskey because of the huge shifts in pressure systems and big temperature swings," he explains, pointing to a stack of oak barrels. Deerhammer's Downtime Whiskey ages about 9-12 months to prevent it from getting too oaky a flavor. "It's not that I want to rush; I'm excited to share it."
Wood's High Mountain Distillery
Brothers PT and Lee Wood began dreaming of opening a distillery over 10 years ago. PT, a longtime Salida entrepreneur, took a Grand Canyon rafting trip in 1996 and was introduced to craft whiskey. Afterward, he took up homebrewing and found a new pasttime. "I started making my own and kayaking wasn't as much fun, so I looked into opening a distillery," recalled PT. The Wood brothers gained capital through a number of personal business ventures.
Lee owns a conference management company in Broomfield. PT bought and sold Moonlight Pizza in Salida after a stint as a kayak dealer. The brothers then collaborated on a development project at the base of Tenderfoot Hill. Lots were developed and sold to help finance the distillery. The waiting, planning and capital gaining culminated on March 2 when Wood's High Mountain Distillery held its grand opening. PT nows heads up distilling and the tasting room, while Lee runs business and marketing operations from Boulder. "He's always been the responsible one," jokes PT about his brother. "Unlike me, he's always had a job."
PT's boating background remains evident in the distilling room, with kayaks, paddles and river gear leaned against the walls next to barrels of whiskey – he even uses a paddle to stir the malt barley. "It's my own take on whiskey," says PT of his unique style. Wood's gives away extra silage to be used for cattle feed, and they currently use a 130-year-old still. However, that still will be replaced this spring to increase production to a barrel a week by the end of the summer. "It'll be two to three years before we're putting out a steady stream of whiskey," said PT.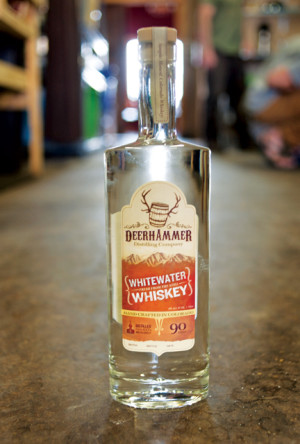 The Wood brothers currently have two spirits and variations of each, Tenderfoot Whiskey and Treeline Gin. The Tenderfoot is a bourbon barrel-aged single malt, and a variation of the whiskey is due out this summer. Treeline comes as either a clear gin or a darker, barrel-aged gin called Treeline Barrel Rested; both contain London-dried botanicals to make a less harsh gin. "Only a handful of guys are aging gin in barrels," says PT, looking closely at the glass he's just poured. "It's a sipping gin. If you sit down and spend some time with it you can pick out the different flavors that come out."
Boathouse Distillery
Jerry Mallett, founder of Boathouse Distillery in Salida, has an exasperated tone as he describes the painful process of jumping through the legal hoops to start distilling. Mallett has been working for seven months to be able to open. "The building and the equipment have to be in place before you can get the permit, and you can't use them," says Mallett. Now the holdup is waiting for labels. The process goes even further back for Mallett, who decided he wanted to distill ten years ago. He trained at Downslope and Stranahan Distilleries in Denver to learn the industry.
Mallett has played a large role in protecting Arkansas River Valley public lands, helping solidify a number of the area's notable sites. He also helped bring river parks to both Buena Vista and Salida, and while working for the Wilderness Society, helped draw the boundaries for local Wilderness areas. A longtime boater, Mallett used to lobby congressmen by taking them on river trips. "This is my first for-profit venture after a career in nonprofits."
Boathouse will offer a number of different products once they open: single malt craft whiskey, moonshine, rye whiskey, bourbon and vodka. Mallett says he won't be opening a tasting room, at least not at first, and will focus on distributing to tasting rooms and liquor stores on the Front Range. His warehouse is in Smeltertown, north of Salida.
Two Guns Distillery
Two Guns Whitecast, Chief of the Blackfoot Indians in Arizona, was the last to tell the stories of the Blackfoot Indians in the late 19th century. During the same time period, Leadville was at the height of boom with a population over 50,000. The town was thriving and so were the saloons selling 100-proof whiskey and moonshine. Ben Dallas learned the story of Two Guns while on an Indian Reservation – the story built on his fascination with that time period. Dallas brought the name to Leadville and combined it with boomtown whiskey and moonshine recipes to bring a taste of history back to Leadville.
Dallas was turned on to distilling while living in Kentucky. "I was tasting better bourbon from friends than what was on the top shelf of bars," recalls Dallas. He built his own still and started experimenting. Dallas moved back to his home state of Colorado in 2010 and landed in Leadville, a town he loved for its rich history.
"We hope to have a soft opening in late April and a grand opening in early May," says Dallas, "but right now we're just waiting on the state license."
The Ark Valley Libations Society
In anticipation of this new growth, a few local artisan crafters have joined forces with the creation of the Ark Valley Libation Society. Founded this year, the goal of the society is to pool resources to promote the microbreweries, distilleries and wineries of Chaffee and Lake Counties. PT Wood, cofounder of Wood's High Mountain Distillery, said the guild's goal is "to promote the valley as a liquor tourism destination." AVLS is also a sponsor of Salida Mountain Trails. The brewers and distillers take turns providing the liquid refreshments for SMT's monthly trail building shindigs and will join together to provide refreshments for signature SMT fundraisers.
Tyler Grimes bemoans all the field research required for this article.