Article by Marcia Darnell
Local Artists – February 2006 – Colorado Central Magazine
IF LIFE IS, as it's said, a journey, some of us take the express train to the end of the line and others take the local. Then there's poet Stewart S. Warren, who gets off at each stop and explores every new place.
Born in Tulsa in 1950, Warren was 13 the first time he ran away. Like any adventurous American boy, he ran away with the circus, becoming a makeshift carny. This was anathema to his affluent parents.
"My family members didn't work with their hands," he says.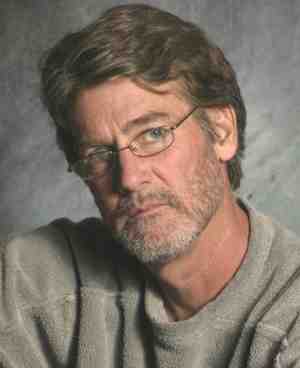 Warren drifted and learned, picking up manual skills from construction to ranch work.
"I enjoyed working," he says, "and I was looking for various things."
His search led him to Haight- Ashbury in his teens, during the height of the hippie age. His exposure to protests and progressive thinking gave him the gift of social awareness. Unfortunately, his exposure to marijuana led to a stint in the Oklahoma penitentiary.
"It was an important part of my upbringing," he says. "I saw how a system perpetuates itself through fear and ignorance. I saw good people being completely destroyed by a bad system and I feel lucky to have survived.
"I think there are a lot of artists incarcerated in this country."
Warren picked up a GED and a year of college, then he was offered a counseling position.
"I found myself at 26 with no degree, teaching at an alternative high school in Utah."
He also found himself using drugs and alcohol pretty heavily. Arrested again in Austin, he did time on a farm instead of jail, and started to get clean. He's been sober since his early 30s.
"That dance with addiction is also a part of my story," he says.
It was then Warren started writing in earnest.
"I've always been writing, always keeping a journal in my travels," he says.
HE MOVED TO Taos in 1992 and studied with Christine Hemp, a writer, teacher, poet, and facilitator.
"She began teaching me the craft of writing," he says. "She demanded honesty in my art. It was one of the greatest gifts, making me be true."
Warren stayed in Taos for 10 years, learning and writing. He published five chapbooks of poetry. Then he moved to the San Luis Valley in 2001.
"I needed a community that was more grounded," he says.
He had friends in Del Norte and looked into the area, investigating its natural surroundings, the arts atmosphere, and housing.
"It was one green light after another," he recalls. Everything fell into place, he bought a house and moved in.
"Then five days later we had 9/11," he says. "I found I had a place I could anchor to, to be grounded while expressing my art."
Warren is repaying his community by bringing art and artists to town. Last fall he organized the Festival of Imagination, a three- day bacchanal of performance art. Artists came from around the state for the event, which included poetry, dance, music, and plays. And to keep the festival non- commercial, vendors weren't allowed,
"This has plugged me into Colorado, to find the artists everywhere," he says.
Warren finds deep satisfaction in creating venues for other artists.
"Basically, I'm an instigator," he says. "I like to give people permission to express themselves and deliver."
He especially enjoys combining art forms on one platform. A recent event included poetry reading, flamenco music, and a Japanese dinner.
"I'm moving away from the overly produced art forms," he says.
Warren is in the enviable position of supporting his art by doing IT from his home in Del Norte. His computer skills have led him to create short films on the net, using his photographs and poetry to limn places and people he loves. His latest production, Like an Angel, can be downloaded free.
HE'S ALSO PROMOTING his book, Shape of a Hill, published by Mercury HeartLink. Toward that end, he'll tour with Sparrows throughout the state (and will be in Salida in March). For more info on that, check www.sparrows.com.
Warren will read his work at Hazlerig House in Crestone in February, and is slated to conduct a writing workshop in Carbondale in July. Naturally, he's also working on another book of poetry.
Another project in the works is a community collaboration with those who live along the Upper Rio Grande, which he defines as "from Albuquerque to Lost Trail." The book, tentatively titled A Walk Along the River, will include poetry, prose, short short stories, and essays from or about the region. He's co- editing with Maria McConnell, another San Luis Valley writer.
The anthology has a March 1 deadline. Wannabe contributors should send submissions and a bio to www.heartlink.com/anthology.
"Everything I do eventually involves the community," Warren says.
His book, Shape of a Hill, can be purchased at the Rio Grande County Museum in Del Norte, Mudpuppy's Coffee House in Monte Vista, the Narrow Gauge Newsstand in Alamosa, or online at www.HeartLink.com. His work can be heard around the state as he spreads his gospel through Spoken Word performances and with the collaboration of poets and musicians.
"It is the responsibility of a poet to be true."
Marcia Darnell lives, writes, and eats poetry in the San Luis Valley.