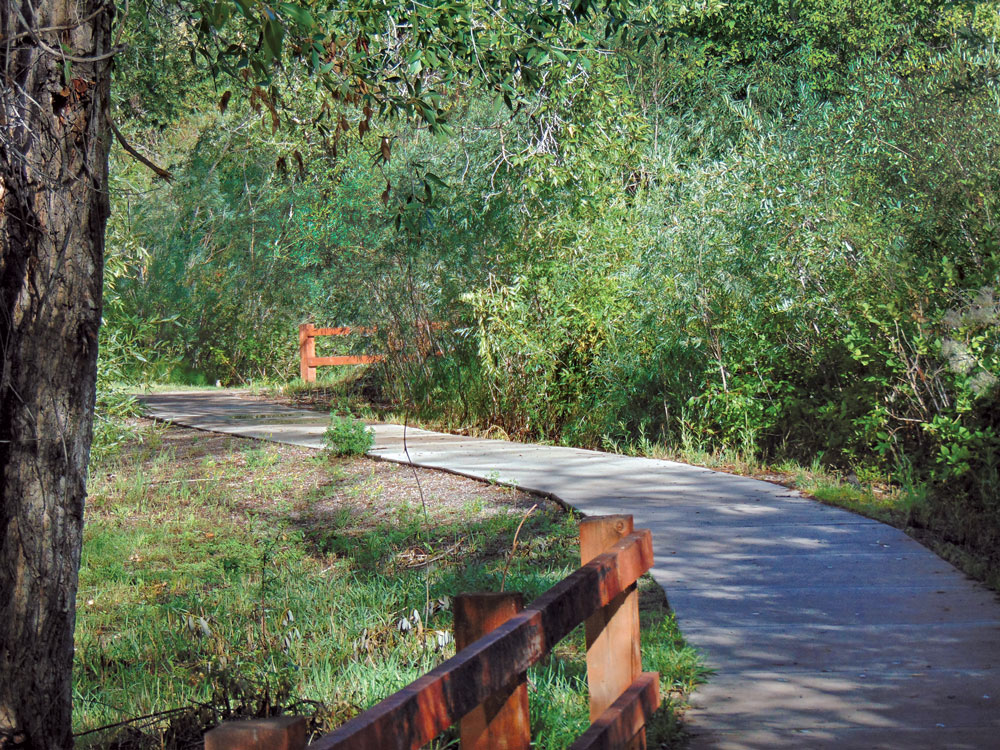 Article and photos by Anthony Guerrero
Deep in the San Luis Valley is a hidden gem of a small old mining town known as Del Norte. In recent years, the quiet and historic town has positioned itself to be the hub of all-season fun for the area and is increasingly being recognized throughout the state of Colorado as well as nationally for its amazing natural beauty and redevelopment and economic efforts.
One such effort bringing attention to the town is the Del Norte Trails Organization (DNTO). Beginning in 2007, this organization has built and worked on six trails with breathtaking views of the mountains and the San Luis Valley. Completed trails and those currently being worked on include: Middle Frisco Trail, Pronghorn Trail, Bishop Rock and Del Norte Parks and Trails,  which include Lookout Mountain, Linear Walking Trail and Del Norte River Walk, Stone Quarry and Penitente Canyon.
Led by Marty and Bonnie Asplin, who demonstrate a great love for their community by engaging in multiple economic development projects, DNTO partners with various organizations, including the Bureau of Land Management, United States Forest Service, Volunteers for Outdoors Colorado, Southwest Conservation Corps (SCC), Great Outdoors Colorado, San Luis Valley Great Outdoors and multiple other organizations throughout the region and state.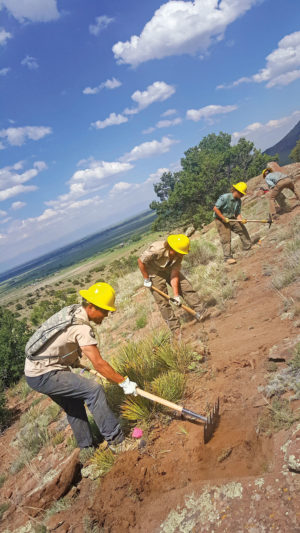 Every summer volunteers from different organizations visit Del Norte to help build new trails. Since 2007, over 2,700 volunteer hours have been logged. This summer, youth volunteers from the SCC are visiting and are busy building the Pronghorn Trail System south of town. What makes this trail and many other upcoming projects unique is that the trail will connect into town allowing residents and visitors the opportunity for easy access. The trail will be one of DNTO's most impressive and will give hikers, equestrians, runners and others spectacular views of the Sangre De Cristo range.
Regretfully, at one point locals had made the Pronghorn Trail area an illegal dump site. "It's unfortunate with all the positive that is going into the trail system to see this." said Marty Asplin. Through progressive effort, warnings of possible citations and the arrival of volunteer crews into the area the, situation has improved.
Pronghorn Trail will also connect to the 200-acre Lookout Mountain Trail and Park System. Lookout Mountain is a defining feature in Del Norte and a surefire way to know that you have arrived. It is well known for a painting of the letter "D" which can be seen for miles from multiple directions. The mountain is 8,745 feet tall and the summit can be accessed by way of a difficult one-mile trail.
DNTO also maintains a beautiful trail right in the town limits. Known as the River Walk Trail, it is a 2,600 square-foot concrete path right next to Del Norte's most used North Park. Adjacent to the Rio Grande River, it offers a serene and close experience with nature. "The town of Del Norte has partnered with the Rio Grande Headwaters Restoration Project and Trout Unlimited to create recreation on the river. We're going to get a boat ramp put it in. There will be work to restore the banks and to create better fish habitat," said Marty. Del Norte locals have also expressed interest in an amphitheater in the area which would make this trail and park truly remarkable. "It will be a nice feature to have on the river and it would be the first entertainment venue along the Rio Grande River. We are very conscious to ensure there is no interruption to water appropriation and irrigation rights. We have to make sure we don't interfere with the business of water."
DNTO works hard to connect the trails to the community and has used the system as an opportunity to connect with economically beneficial endeavors. Every year the historic Windsor Hotel hosts a trail showcase in the month of May. They invite travel bloggers and magazine writers to experience the trails on tours led by those who built them and high-ranking bikers and runners. There is a party in the park, and local businesses offer beer and other refreshments.
In 2015, the first ever "12 Hours of Penitence" endurance race was held in Penitente Canyon. It was wildly successful, and the second event is scheduled for this October 8. "It's shaping up to be bigger than last year. It's a very tough course. You're in high desert canyons and there's a lot of vertigo that's not for the weak," said Marty. The lap is 21 miles and gains 2,000 feet in elevation per lap. This race is tough and is named after "Los Hermanos Penitentes" a Catholic sect known for atoning for their sins by flagellation, binding their body to a cross and tying limbs to hinder blood circulation and carrying heavy crosses. Those who may be interested in the race are encouraged to visit and practice through the summer, as it is definitely not for the non-penitent. The race this year will also be completely held at the Canyon including vendors, camping and entertainment. "I think people will enjoy it more," said Bonnie Asplin. Riders will see a flight-for-life helicopter in the area as they did last year. "It adds a level of comfort and fear," she said.
The trails organization is also currently partnering with SLV GO to provide services through the GOCO Inspire Grant that was awarded to the San Luis Valley in the amount of $5 million. The goal of the grant is to help connect youth with the outdoors. "We're working on how to get the kids connected to the outdoors. The easiest part for us is we have all of these federal lands and there are rangers who can speak all day long about the animals, the biology and ecology. We just need to get the kids there to interact and get a chance to see what's right outside," said Marty. "We also want to do things like fishing and camping. We're in the process now of getting public input including from the kids. That's a major part," said Bonnie.
The Del Norte Trails Organization is definitely leaving its mark on the town of Del Norte, the San Luis Valley and indeed the entire state of Colorado. To learn more about their projects and trails, please visit www.delnortetrails.org.
Anthony Guerrero is a news reporter in the San Luis Valley. He started his career as a political organizer but quit after never receiving a paycheck. He now enjoys being blamed for public controversies.