photos and story by Mike Rosso
A prominent Pueblo-based architect with multiple buildings listed on the National Historic Register is responsible for the "Art Deco" style typified in the original Chaffee County Courthouse in Salida.
Walter DeMordaunt, who practiced architecture in Pueblo, Colorado from 1920 to 1962, was hired to design the courthouse in 1929 after a controversial 1928 election was held that moved the county seat from Buena Vista to Salida. But the controversy did not end there. Disputes over the use of contractors and local labor overshadowed the construction. Over DeMordaunt's objections, county officials decided to brick over the stained glass windows he designed for the records vaults citing security issues, according to the book, Trails of the Columbine. "Private citizens" supposedly took matters into their own hands and removed the offending brickwork but it was later reinstalled where it remains to this day. The courthouse officially opened in its new Salida home in January of 1932.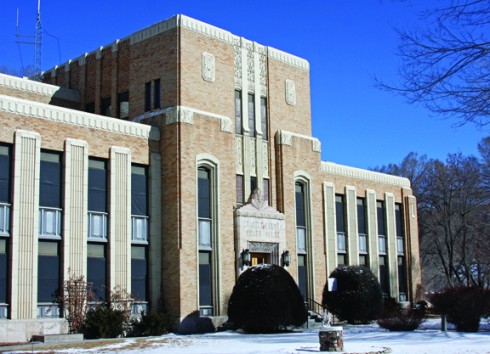 The Art Deco style chosen for the courthouse was popular at the time in U.S. cities as well as in Europe. It was said to have been a reaction to the Industrial Revolution and was typified by decorative moldings which "grew" into flowers and other plant designs. It also utilized stepped forms and sweeping curves. It employed a variety of ornaments and motifs and was defined by its eclectic nature. Art Deco is also said to have been a reaction to political tensions of the day brought about by the Great Depression.
Geometric shapes, chevrons and zigzagged patterns were commonly employed in its designs. Art Deco style was also the inspiration for the Golden Gate Bridge in San Francisco and the Chrysler Building in New York City, as well as in ocean liners such as the Queen Mary. Many movie theaters built between 1925 and 1940 featured an Art Deco motif.
These elements can still be found in the stair-railings, light fixtures, floor tiles and carved flower designs both on the interior and exterior of the Chaffee County Courthouse, which was listed on the State Historical Register in 1996, and is one of only two Art Deco courthouses in Colorado. DeMordaunt also worked in both revival and modern styles. He is predominantly known statewide for the YMCA Building in Pueblo, a Mediterranean Revival style built in 1935 and listed on the National Register of Historic Places along with five of his other projects statewide.
DeMordaunt was educated at the University of Utah and served as an apprentice at his birthplace in Butte, Montana, before moving to Pueblo in 1920 to work in the offices of architect William H. Stickney. He established his own firm in 1926 and, along with his staff, created hundreds of designs which were constructed around the West. According to a biographical sketch released by the Colorado Historical Society, he was more interested in structure than style, and put his staff in charge of decorative elements in the designs. The firm was involved with several New Deal Public Works projects during the 1930s depression-era including dining halls at the Colorado State Hospital and a building at Pueblo Community College.
He and his firm designed schools ranging from Buena Vista, Hooper, Mosca, San Luis and La Junta among other locations in the west. He also designed a women's dormitory at the University of Colorado in Boulder. Among his buildings in Colorado listed on the National Historic Register are the McClelland Orphanage in Pueblo and the Lamar Post Office.
Walter DeMordaunt died in Pueblo in 1962 at the age of 67.