Building Community Since 2014
By Mike Rosso
Photos by Lee Robinson
There had been heavy rainfall in the days leading up to a visit to Agnes Vaille Falls by the Johnson family of Buena Vista on September 30, 2013.
Agnes Vaille, on the southern slope of Mt. Princeton near Nathrop had been a popular spot amongst tourists and locals alike due to the relatively short hike to the scenic, cascading waterfalls. But tragedy struck that fateful morning when falling rocks from a cliff shelf above the falls triggered a huge rock slide, nearly 100 tons, which rained down on the unsuspecting family of six.
A witness, Adam Rogers watched with horror as the family was buried under the car-sized boulders and he ran the 1 1/2 miles down the trail to call for help. By the time first responders arrived at the scene, all members of the party were hopelessly buried under the rubble except a thirteen-year-old girl, Gracie Johnson whose screams caught the attention of rescuers and was dug out from the rock debris. Unfortunately, her father Dwayne, a local electrician and part-time assistant Buena Vista High School football coach, and her mother, Dawna, a track coach at the high school and part-time waitress had perished in the slide, along with Gracie's sister, Kiowa-Rain Johnson, 18, and two cousins, Baigen Walker, 10, and Paris Walkup, 22 who were visiting from Missouri. Gracie's father had the presence of mind to push her to a bigger rock, shielding her and likely saving her life.
The tragedy was devastating for the close-knit community of Buena Vista and made national news. A giant rock outside Buena Vista High School was painted with words and symbols of support for the family and for Gracie, the lone survivor who had been airlifted to Children's Hospital Colorado in Aurora with a broken leg. Vigils for the family also broke out in the town, and the local sheriff's office asked the U.S. Forest Service to permanently close the trail to the falls.
One year later, the idea of a community dinner to celebrate Buena Vista's community spirit and to honor those whose lives were lost was held on Main Street, one day before the one-year anniversary of the tragedy and was attended by nearly 1,700 people. The idea for the dinner was conceived of only weeks before the anniversary and volunteers of all ages managed to find 232 tables and hundreds of chairs as well as enough food for the attendees. The event was dubbed the BV Strong Community Dinner, and despite rain and damp weather, the Dinner was a big success.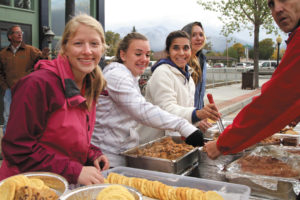 Since then, the town has continued the tradition of the Dinner and it continues to grow, representing a community of diverse opinions celebrating their commonality. In 2015, there were 302 tables, serving about 2,400 people. In 2016 that number rose to 396 tables seating nearly 3,200, according to Amy Lively, Chairperson of the BVStrong Board of Directors, who along with her husband, moved to Buena Vista in 2015 partly because of the sense of community embodied in the Dinner. For 2017, they anticipate 450 tables for nearly 3,600 guests. Each table has a Table Host. "They invite guests to their table(s), welcome new friends to empty seats, provide the place settings, and supply all the side dishes, drinks, and desserts for their table. They can make their table as simple or elaborate as they'd like, and they can also ask their guests to help. Personally, I bust out my best paper plates and do a pot luck at my table!" said Lively.
The Dinner is free to attend and there is no cost to host a table of eight. It is completely funded by donations from local businesses, organizations and individuals. All gifts go directly to the Dinner expenses which include; renting tables and chairs, covering the tables, providing a simple centerpiece with the table numbers, obtaining a ton of meat, "literally 2,000 pounds of meat, and serving 320 dozen rolls." says Lively.
"There is a Planning Team made up of local business owners, physicians, government employees, police officers, school officials, clergy, camp managers, and people who simply love our town."
The team starts meeting in June with the job of ensuring all goes smoothly including; food preparation and service, sanitation, sound, setup and cleanup, public awareness, fundraising, and working with the town and law enforcement.
"The simple mission of the Planning Team is, 'Just dinner!' We strive to create a locally-funded and locally-organized annual activity where the residents of Buena Vista come together in a non-political, non-commercial, event to share food and friendship as we celebrate and nurture a sense of community," says Lively.
Another volunteer is Dr. Eric Gibb who was the primary care physician for the Johnson family. He's been involved with the Dinner since its inception, as a private citizen and previously as a member of the town trustees.
"I really think this is a unique event. I am not aware of any similar event in Colorado [or] the U.S. There are other towns with mountains and tourists, rivers, fishing and hot springs … is there any other community that cares so much about community that it invites everyone in town to sit down and break bread? In a deeply divided time in our country's history the Community Dinner is our Kryptonite against apathy, isolation, and hate," said Gibb.
"The event is full of hugs, dogs, kids and greetings," he added.
This year, the board of directors was formed and are working on getting a nonprofit status to provide a strong foundation to continue the Dinner well into the future. Lively says the board is also compiling resources in order for other towns to have guidelines to host their own Dinners.
The 4th Annual BVStrong Community Dinner will be held on Monday, September 25. To donate, there is a secure online donation that is tax-deductible through a fund managed by the Community Foundation of Northern Colorado. Donations are also accepted locally at High Country Bank, 516 US Highway 24 North in Buena Vista. More information and a giving link are at www.bvstrong.com