by Mike Rosso
They met in Berkeley, California in the early 1950s. She was an art student at the University of California; he was up from his home in Riverside, California to live with a friend after graduating from two years of art school in Los Angeles, awaiting his inevitable induction into the Army.
But their meeting is probably the least remarkable part of the story of artists Mel and Bernice Strawn of Salida.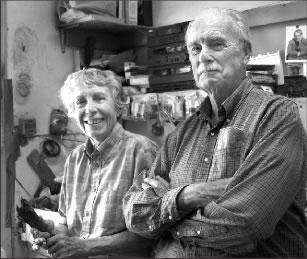 He is known as a pioneer of early digital art, a painter and an accomplished printer with stone lithography, but his real passion is for Asian calligraphy and Oriental composition. She spent many years as an arts educator and is a highly-regarded sculptor.
A major life influence on the work of both is Sabro Hasegawa, considered an ambassador of Japanese art, whom the Strawns met in the mid-fifties. Hasegawa was very instrumental in the post-war exchange of Eastern and Western art, and the introduction of abstract calligraphy during the 1950s, and once made a large lithograph on Strawn's basement press.
Hasegawa died in 1957, only two years after meeting and working with the Strawns, but his work continues to influence both artists to this day. Figurative elements of Asian calligraphy can be found in mnay of the paintings, prints, and manipulated photographs Mel produces. These same elements are also found in the graceful, sculptural depictions of boats and planes which have become Bea's signature style.
Mel's interest in "working with information" led him to early experimentation with digital imagery after learning basic computer programming and acquiring a Commodore VIC-20 home computer with a whopping 5K of RAM (memory). This was around 1981, long before the advent of software such as Adobe Photoshop and digital camera technology.
He created his unique digital artwork using bits and bytes of information with self-written programs which he would display on the family television. Before this, he had created a series of paintings based on a limited set of shapes on a grid. The new home computer, he thought, "might allow him to explore such compositions" in new ways. The digital work allowed him the freedom to explore a variety of traditional abstract mediums in combination with computer processes. In the process, he came to be on the cutting edge of what is now referred to as "digital art." As the technology progressed, so did his work, with the eventual realization that the shelf life of modern computer equipment was so short that keeping up with it was becoming futile. So, he currently finds creative contentment with a Sigma digital SLR camera, a Macintosh laptop and smaller printers, as well as painting and creating solar prints.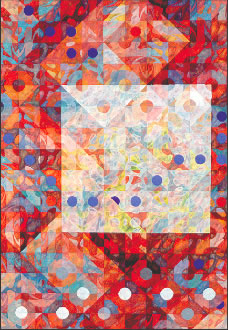 Bernice (Bea), like her husband, employs organic symbolism in her works. Her sculptures combine wood, metals, color, found natural objects, graceful balance and a sense of wonder. Several of her pieces were selected to hang at the REI flagship store in Denver and she has exhibited her work nationally.
It was through Mel's cousin in California that the two artists first met. They married in 1951, several months before he was shipped off to the Pacific. While in Korea he was assigned to the now-infamous United Nations Command POW camp on Koje-do Island that held nearly 130,000 communist and non-communist prisoners when riots broke out, during which a Brigadier General was taken captive and prisoners began to take charge of some of the compounds. Troops had to be rushed in from the front lines to secure the prison and Strawn held the unenviable position of hospital clerk, spending most of his time publishing casualty reports. In 1953 he was released from the Army and moved back to California to be with his wife and, with the help of the G.I. Bill, began taking classes at the California College of Arts and Crafts (now California College of the Arts) in Oakland.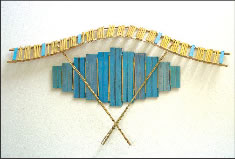 Meanwhile, Bea received her Bachelor's and Master's degrees in art with a teaching credential after studying under a "pretty auspicious faculty," which included noted Abstract Expressionist painter Hans Hoffman, who greatly influenced the young artist. After graduating, she found employment teaching at an Oakland junior high school and taught art classes through the Oakland Recreation Department, only to be "saved" from the daily grind of the classroom by getting pregnant with the first of seven children.
To help make ends meet during that time, Mel worked at a local print shop, and both he and Bea tried their hands at a home silk-screening endeavor, printing Christmas cards in the dining room of their modest Oakland home.
While in the Bay Area, Mel helped create the Bay Printmakers Society and curated the first national printmaking show in that region at the Oakland Museum, displaying his own work as well.
Upon graduation from CCA, Mel was offered a teaching position at Midwestern University in Wichita Falls, Texas where the Strawns spent the next two years. A tip from a Bay Area friend, Will Peterson, led Mel to a two-year position at Michigan State University, filling in for a professor who was on sabbatical.
It was during the move from Texas to Michigan the Strawns had their first encounter with Colorado, spending most of the summer of 1957 with Joe Hershey, the father of a friend, who owned a mine near Granite, camping out in their green Chevy station wagon with their first two children and falling in love with the mountains.
After two years at Michigan State, a position at Antioch, a liberal arts college in Yellow Springs, Ohio opened up and the family moved again. They spent the next ten years in Ohio, where four of their children were born. During this time Mel taught, "everything but ceramics and art education," eventually becoming chairman of the Art Department. In addition to raising her rapidly growing family, Bea taught art through the local recreation department and at the elementary school level, exhibiting her own work at area churches. While in Yellow Springs, the Strawns also designed and built a house and studio and spent a year on sabbatical in France and Spain from 1956-57.
In the late 1960s, a position opened up at the University of Denver, due to the retirement of Vance Kirkland, the well-known founder of the art department. Mel applied for the position, eager to teach graduate studies. He was offered the job, and, in 1969, they moved their seven children to Colorado and "walked right into the riots," which were rocking campuses across the nation during that volatile time.
While in Denver they lived in Cherry Hills Village and both were actively creating art – Mel doing mostly painting, and Bea creating sculpture and again putting her teaching talents to work through the local school districts, artist-in-residence programs, and the Colorado Arts Council. She also worked with the gifted and talented program at DU and taught at the Denver Art Museum.
While working with the Adams County School District she helped produce, with the assistance of Arapahoe Community College, seventy videotapes demonstrating hands-on art classes which were sold and distributed to other state school districts.
In 1985, DU was experiencing a "time of crisis,'" as Mel put it, with budget cutbacks and financial difficulties at the university. He was offered early retirement which he accepted. But it wasn't long before he was in the classroom again, taking a position as Chair of the Art Department at Western Michigan University in Kalamazoo, where he and Bea remained for three "Michigan winters" before deciding to move to Salida in 1988 and "coming back to my true job as an artist," said Mel.
Their passion for art has also had a profound influence on their children – of their seven children, five have gone on to become successful artists in their own right.
Since moving to Colorado full-time, both have been very active in Colorado arts. In 1995, Bea helped start the sculpture garden at the the Salida Steam-Plant theater, which is reopening in June 2009 with a Celebration of Sculpture featuring nine new outdoor installations. Mel continues lecturing and exhibiting throughout the state.
His work can be seen in a number of permanent collections including the Kirkland Museum of Fine & Decorative Art in Denver. It is also shown at the Sandra Phillips Gallery in Denver. A retrospective of his work, All Together Now, 1940s-2000s, was exhibited at the Denver Public Library in 2007. In addition, he is a Professor Emeritus at DU. Bea's work can been seen at cultureclash gallery in Salida.
Earlier this year, both Strawns, along with their son Ben, were featured in an exhibit – Colorado Abstract: Painting and Sculpture, at the Metropolitan State College Center for Visual Art in Denver. The exhibit accompanied the release of a book of the same name, published by Fresco Art Publishers and the University of New Mexico Press, and is available for viewing at the Salida library and for purchase directly from the artists.
More information can be found at Mel's website:
www.melsbrush.blogspot.com