Compiled by Mike Rosso
Farm markets in our region are becoming more popular every year as locals strive to buy and consume regional produce and goods. We've compiled a guide to most of the markets operating this summer. Eat well, buy local!
Salida
Now in its third year, the Salida Farmers Market is held in Alpine Park, on the corner of 5th and E Streets, beginning June 20 and running every Saturday from 8 AM to 12:30 PM through October 10.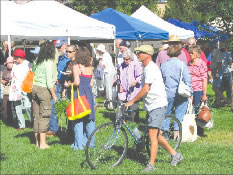 On hand at the green, shady location is an average of 15 vendors selling products ranging from fresh vegetables, fruit, various meats, cheeses, bread, honey, mushrooms, flowers, roasted chilies, coffee, soaps and other bath products, handmade crafts and prepared foods.
Vendors are primarily from Chaffee County, but come from as far as the Front Range and the Western Slope. ?Organizers' goal is that all vendors are from within a 100-mile radius of Salida.
The market also features live music every week and will host a special event once a month at the market. The Salida Farmers Market is a project of the Central Colorado Foodshed Alliance which is a cooperative.
More info can be found at: www.ccfa.coop
Alamosa
Downtown is the location for the Valley Farmers Market featuring up to 25 vendors with an emphasis on fresh, seasonal produce. The market runs every Saturday from July 11 through October 10, from 7 AM to 2 PM, just south of the intersection of State and Main (U.S. Hwy 160W). There is an additional entrance off Sixth Street.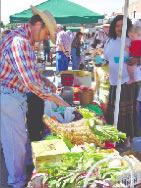 They are a local and regional market featuring vendors from Colorado and New Mexico. In addition to San Luis Valley greens, peas, squash, potatoes and garden produce, including organics, there are Palisade peaches and nectarines, Rocky Ford melons, Olathe corn and New Mexico apples, and roasted NM or Pueblo chile. They also have baked goods and some locally made handcrafts.
Growers and other vendors come from from the San Luis Valley, including local Amish and Mennonite communities and organic farms in the Valley, with the high season for produce running early August through September.
The Valley Farmers Market began around 1985 and has been held at various locations in Alamosa over the years. In 2001 the Alamosa Uptown & River Association (AURA) took over operations of the market from volunteers who were ready to retire and brought it into the heart of downtown.
AURA is a small non-profit dedicated to downtown revitalization and historic preservation in Alamosa. The city donates use of the site and electricity to the market. The group is very interested in continuing to build the local grower contingent and looks forward to the efforts of the recently formed SLV Local Foods Coalition to encourage gardening and local food production for local families.
The Healthy Habits Group, a group of local nutritionists and health care providers, have brought their mobile kitchen and volunteer chefs to the market every Saturday since 2002 to demonstrate simple, tasty recipes utilizing seasonal produce. In addition to the cooking demos, they provide free samples and recipes at every market and sponsor a produce voucher program for low income families through their partnership with LiveWell SLV. LiveWell also helps to sponsor the electronic food stamp program, helping more families get access to fresh produce. They are a member of the Colorado Farmers Market Association, which has assisted the market with the EBT program for three years through a USDA grant.
Alamosa Live Music Association sponsors a season of local musicians to play at the market as well.
For more information, contact: 719-589-3681.
Buena Vista
New this summer, Buena Vista Heritage is sponsoring a farmers market at the historic Turner Farm, 829 West Main in Buena Vista.
The market will be held on Sundays from 11 AM to 3 PM beginning June 21 and running through September 13 with free admission.
Vendors will offer a variety of edible goods including produce, cheeses and local honey. There will also be food vendors, arts and crafts, healthy living products and entertainment. The goal of the market is to promote agriculture in Buena Vista and to encourage a feeling of community pride and enthusiasm for Buena Vista and its surrounding environment.
The Historic Turner Farm and Apple Orchard is an early 1900s "living museum," which features about 50 apple trees and five buildings: a two-story farm house, a "mother-in-law cabin," homestead cabin, a garage/workshop and barn/tack room.
For more information and vendor info, contact BV Heritage – 719-395-8458.
Gunnison
From June 20 through October 10, Gunnison-area residents can choose from a variety of locally grown fresh fruit and vegetables, locally raised beef, pork and lamb, fresh breads and pastries, egg, wine, pottery, jewelry, clothing, furniture, soaps, and a variety of crafts and concessions selling food at the Gunnison Farmers Market.
The market, which began in 2004, takes place on the corner of Main and East Virginia Streets in downtown Gunnison from 9:30 AM – 1:30 PM, weather permitting. The 14-20 vendors consist of mostly local folks, several farmers and producers from Western Slope towns such as Paonia and Hotchkiss, as well as other Central Colorado communities.
The market is non-profit and self supporting and is run entirely by volunteers – both a ten-member board and by community members who assist at the market on Saturdays. The City of Gunnison grants a permit and offers assistance in blocking off the street each week.
Each year volunteers work to expand the market to increase the variety of products offered to shoppers. This year they are offering programs to educate consumers on the nutritional, health and environmental benefits of buying locally grown produce and meat, as well as how and where such foods are produced. In addition, they plan to offer fun and educational programs for children to better serve the families that frequent the market. They always looking for new vendors and ones who will commit for the better part of the market season.
For more information, call 970-642-0208 or visit www.gunnisonfarmersmarket.com
Westcliffe
Founded in 2007, the Westcliffe Farmers Market anticipates nearly 15-25 vendors this year and includes local produce (including Javernick Family Farms and Maytag Ranch) as well as hand-forged iron for the home and garden, local eggs, local herbal products, pottery, delicious baked goods, and more.
The market is located on the patio at Sangrita Restaurant at 212 Main Street and begins May 28 and runs every Thursday from 4 PM-6 PM and every Saturday from 10 AM-2 PM through September.
Sangrita is a new experiment by Robyn Turner. She has created a "collaborative" restaurant where essentially there are three restaurants in one. The vision has been to create a restaurant where no one person has to bear the "burden" of running a restaurant 24-7. By sharing in the effort each chef gets to do what they do best and still maintain their?sanity.?The restaurant utilizes locally grown, fresh produce, meats, and eggs when possible and available,?and plans to offer demonstrations and recipes to visitors of the Farmers Market. They hope to build in an educational component to their market in support of the Local Food Shed movement: www.sustainableways.org
A farmers market also takes place every summer in Crestone but we were unable to obtain any info in that market by press time.
Compiled by Mike Rosso