by Kenneth Jessen
Jaroso was founded in 1910 as the southern-most point reached by the San Luis Southern Railway originating in Blanca, 31.7 miles to the north. A year later, Jaroso (pronounced Hah-roh-soh) got its own post office and with rail access, it grew to become an agricultural trade center. The Dust Bowl, the Great Depression, sustained droughts and the fact that the land was never developed caused the town to fade away. The railroad was dismantled and its depots abandoned. Located just north of the Colorado – New Mexico line in Costilla County, it could have become one of the 1,500 or so Colorado ghost towns. The Anderson family became its only occupants.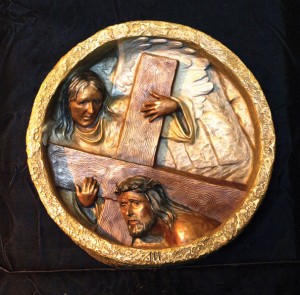 Part of the movement to revitalize Jaroso involved Lynn Kircher. He left his teaching job at the Colorado Institute of Art in Denver to pursue a career as a sculptor. In 1986, he purchased the abandoned adobe Jaroso Hotel, the old bank, the Costilla Land & Development Company office and one other structure. He ended up owning his fair share of the town. Since 1989, he has produced hundreds of sculptures from his spacious studio.
Kircher reflects back on his first work of art at the age of five or six when he was growing up in Illinois. His family lived in a row house, and in his sparse surroundings, Kircher decorated the wall of his room with a crayon drawing – but not with his parent's permission. Despite his impromptu artwork, his family supported his desire to become an artist.
Kircher can also recall his first sale. He was living in a suburb of St. Louis working as a shoeshine boy in a barbershop. For the barbershop owner, he did a large four-foot by eight-foot mural of a fisherman in Colorado's high country. He was paid $75 and given all of the supplies he needed. After the barber retired, he took Kircher's mural with him to hang in his basement.
Kircher looked inside a matchbook cover and saw a drawing of a pirate with an invitation to draw it and send it to the Minneapolis School of Art. He won a full scholarship, but he was still in high school and a tour in Vietnam followed – one that disrupted his education. After his tour of duty, he became the arts and crafts coordinator for the City of Lakewood serving in this position for four years. In 1978, he applied as a teacher at the Colorado Institute of Art. To maintain his teaching credentials, he entered the "University without Walls" program at Loretto Heights College followed by courses at Denver's Metropolitan State College. Upon his retirement after nearly two decades at the Colorado Institute of Art, he received an Associate's Degree in Art. As Kircher quips, "I thought they designed art school for me."
A devout Catholic, Kircher turned to religious art and his first commission was in 1990 for the St. Bernard Church in Bella Vista, Arkansas. This was followed by many more commissions for 65 churches in 14 states. Some churches have purchased as many as 20 of Kircher's pieces.
"I dreamed of having a piece at the Vatican," says Kircher. And his dream came true in 2002 when Pope John Paul II accepted "At Peace," an anguished bust of Christ with arms outstretched on the cross. His meeting with the Pope was arranged through his close connection as an artist for the Archdiocese of Denver.
As far as his style, it is highly representational and in Kircher's words, "Humanity has always been a part of my search as an artist – and as a teacher." His works depict Jesus, the Virgin Mary, Joseph and host of biblical scenes including the Stations of the Cross.
"Teaching was a calling for me and not a job," states Kircher. Using his spacious studio, he plans to hold symposiums and workshops. He is a member of 50 or 60 other artists that reside in the greater San Luis Valley and has been part of the Rio Costilla Studio Tour for the past 13 years.