By Daniel Smith
It was Senator Gaylord Nelson of Wisconsin who initiated Earth Day in 1970, the first national effort to focus on environmental issues. Later that year the Environmental Protection Agency was formed, to be followed by the Clean Air Act, Occupational Safety and Health Act; and the Clean Water Act, Endangered Species Act and other first-of-a-kind measures.
Some of those and subsequent measures were later weakened by national administrations, most notably the most recent, that of Donald Trump.
Still under the pandemic, Earth Day's 51st milestone ceremonies this year are likely to be subdued, as they were for the 50th last year; at the same time, many feel renewed focus on the climate crisis is an imperative, virus or not. Climate scientists say the pandemic that's killed millions and shattered economies around the world should underscore the urgency of reversing climate change.
Personally, this year's Earth Day (Earth Week, as it's being celebrated by some) is a bittersweet occasion.
One of our most passionate activists for the environment and well-known local artists has passed from the scene, all too soon.
My friend Robert Parker of Coaldale died April 1, 2021. He and his wife, Kay, have been ardent supporters of environmental causes; banning fracking, the right to quality affordable healthcare, wildlife conservation and many more.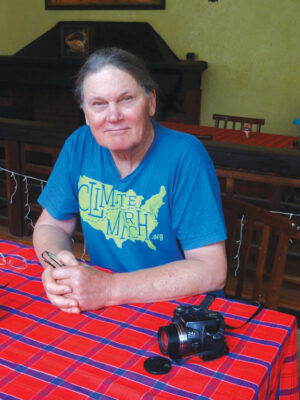 Bob, his late mom Mary Lou Church and sister Cindy, helped organize and participated in many marches, including the Earth Day Parade of the Species through downtown Salida to Riverside Park.
Bob was also often recognized for his Slushy the Polar Bear persona, the costumed giant teaching kids the iceberg walking game at the park and delivering a message of caring for Mother Earth.
Bob will also be remembered for his artistic talent in multiple disciplines. Many Salidans remember fondly his metal sculpture of a roller-skating ostrich when the sculpture garden at the SteamPlant first opened.
His multi-faceted talent was well-documented earlier by Mike Rosso in a 2010 edition of Colorado Central: www.coloradocentralmagazine.com/creating-and-selling-art-in-coaldale/
This Earth Day will be the 51st—and undoubtedly scientists and sociologists will look back, perhaps to assess our status on earth, whether we're winning or losing the climate crisis war. It's good that we do, the experts say, and recognize that whatever gains we've made, the losses have been greater, and we need to work, together, a lot harder in a short period of time.
Marking and celebrating Bob's life hopefully will have that kind of influence on myself and many others—to redouble our efforts to protect and defend our planet.
Those wishing to donate in Bob's memory to the Central Colorado Climate Coalition should visit: www.paypal.com/donate?hosted_button_id=FMPJK688S4XZU 
Daniel Smith retired from the Denver Post in 2012, and has been ruminating in Salida ever since.